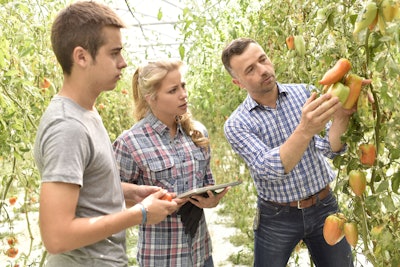 As a green industry professional, you know better than most how important it is to find qualified and dedicated employees, and one of the best places to find such employees is within the upcoming generation.
While there are many employers out there who believe millennials and Generation Z aren't the most reliable sources when it comes to workers, investing in the next generation of landscapers is one of the most beneficial moves your company could make.
Check out what green industry professionals have to say about working with and taking time to mentor younger landscapers.
Building student interest
Middle and high school
While it's hard to believe that you could ever find truly interested individuals in middle and high school, this could actually prove to be one of the best areas to begin with when getting students interested in the green industry.
"We have to start by communication with the schools and students in the elementary and high school level," says Stephen Corrigan, president of Mountain View Landscapes."We have to show them the possibilities in our industry from entry level to management. We need to communicate the possibilities, especially to the students that may not be set going to college after high school."
Clinton Tucker, a landscape architect and owner of Sugar Hill Outdoors in Dacula, Georgia, says that introducing students to this industry in middle school could ultimately prove to be more helpful to the future workforce than waiting until high school.
"At that age, they can be taking pride in cutting their own grass and making it look good," he says. "Then they can notice stuff they might not think about, like swells on the side of the road and different types of plant material."
At the high school level, Amber Fox, human resources director for Grunder Landscaping Company in Dayton, Ohio, says Grunder has identified local schools with landscaping programs, and members of the Grunder team pay visits to these schools to meet with students, give presentations and serve on advisory boards for some of the schools.
"Recruiting student labor is no walk in the park," says Fox. "Enrollment in these programs is low, and employers are all trying to recruit the same students. This is where you have to stand out in the sea of sameness. Be consistent, honest and show a path for growth within your organization."
Gerardo Rodriguez, president and owner of Pullmann's Landscape and Associates Inc. in Morehead City, North Carolina, agrees that more needs to be done to help shed light on the industry before students graduate high school.
"Not every kid is college material," says Rodriguez. "They put it in the kids' minds that they have to have a college degree, but they don't tell them that one out of 100 kids will get the CEO job. If they find in high school that a kid is not college material, they can pitch him a career. And this kid in the future can have a great career and make a lot of money."
College and young professionals
Corrigan has had multiple opportunities to work with students and young professionals, and he has found them to be a valuable asset to his company and the green industry as a whole.
Corrigan notes that his company has partnered with the University of Massachusetts over the years to fill intern positions in their landscape architecture, landscape operations and arborist tracks.
Additionally, Corrigan says they continue to keep in contact with local vocational schools with landscape programs, looking for students who might show an interest in the green industry.
"Continue to work on your relationships with local schools and colleges," he says. "We have had a strong relationship locally with our schools and have over 20 percent of our staff that's come through some kind of green industry education."
Tucker hopes that by talking to students early on, more will come to understand the vast amount of opportunities that the green industry offers.
"(People need to) get over the misconception of thinking that landscaping is just cutting grass or running a weed eater all day," Tucker said. "There's an interest, and it's an industry that most people don't even think about going into."
Some landscapers might not fully see the value of bringing in student workers, especially those simply searching for summer employment or those still in high school, but what they might not realize is that those summer opportunities and young workers could turn into long-term investments.
Corrigan says that there's a large portion of the green industry workforce between the ages of 18 and 25 that haven't gone to college and are undecided on their long-term career paths. This, he says, creates an excellent opportunity to talk to them about what all the green industry can offer them, with or without a college degree.
Without the upcoming generations taking an interest in the green industry, it's not very likely that landscaping companies will continue to grow.
"The idea is that if the company is going to grow, we're going to need younger people to start in labor positions and move them into team leader positions so that as we grow, we have enough bend strength," says Michael Pickel, owner of Pickel Landscape Group in Landenberg, Pennsylvania.
Before you count these millennials and Generation Z workers out, take time to talk to them about the benefits of working in the green industry, and don't be afraid to invest in their futures. They could very well prove to be the driving force behind the future success of your landscaping company.