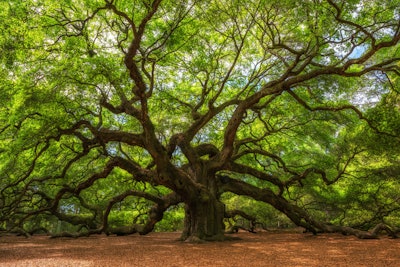 Caring for and maintaining trees is a task that isn't always easy, but the job becomes even more in-depth when it involves historic trees and trees located on historic sites.
Total Landscape Care reached out to Sam Hill, president of Sam Hill Tree Care in Dallas, Texas, to find out what kind of training and education goes into taking care of historic trees, as well as trees located on historic sites, and what mistakes professional landscapers and arborists need to avoid.
Care and maintenance
When dealing with historic or older trees, Hill says the process doesn't vary too much from typical tree care.
"In general, older trees require the same basic types of care that younger trees do," Hill says. "However, mature trees are much less tolerant of sudden change – even positive change. For instance, if the soils are infertile, making rapid changes in fertility can stimulate shoot growth at the expense of the root system."
According to Hill, the Tree Care Industry Association (TCIA) provides American National Standards Institute (ANSI) standards to guide the development of specifications for the management and care of mature trees, including:
Part 1 – Pruning
Part 2 – Soil management
Part 3 – Supplemental support systems
Part 4 – Lightning protection systems
Part 5 – Management of trees and shrubs during site planning, site development and construction
Part 8 – Root management
Part 9 – Tree risk assessment
Part 10 – Integrated Pest Management (IPM)
For trees located on historic sites, Hill says greater care must be taken to protect the sites and structures present, which could include the use of additional ground protection matting and the use of aerial lifts and cranes.
"Since historic sites frequently have many visitors, the timing of the work must be carefully considered," he adds. "Sometimes, this occurs during the overnight hours."
Since damage caused by trees that are improperly cared for could potentially damage the historic site it's located on or the rest of the tree itself, Hill says trees must be carefully assessed for issues that may increase their failure potential.
Hill says there are multiple technologically advanced techniques that can be used to assess decay and other structural issues in a tree, such as tomography, tree radar, ground penetrating radar and resistance drilling.
Structural issues, he adds, can be managed through structural pruning and the installation of supplemental support systems, such as props, cables and brace rods.
"Care and treatment are often lower in intensity (dose) and higher in frequency," Hill says. "Special attention is given to improving site conditions through judicious irrigation, improving the root zone with appropriate mulching and managing significant and secondary pests and diseases. Reducing competition from turfgrass and preventing soil compaction is critical."
While your typical tree care project could take only a few hours, Hill says maintaining mature trees or ones on historic sites can take much longer, as the trees often prove to be larger, they may have more issues and will require more protection.
When working with historic trees and sites, Hill says a closer inspection of the trees is required, along with more extensive documentation such as photographing the trees and preparing reports.
"Managing historic trees and sites often occurs in a political context, so excellent communication and public relation skills are essential," he says. "It is also important to stick to your assignment and allow the tree/site owner/manager to deal with the public."
In the event of a disease outbreak or insect infestation, Hill says the best plan of action is to utilize an IPM plan that includes regular scouting to detect changes in the tree's condition and pests early.
Hill says that in nearly all cases, a holistic approach is best, which includes correctly identifying the pest and understanding pest biology to make the most appropriate management decision. It's vital, he says, to always consider the ability of a mature tree to respond to treatment.
"Sometimes, it may mean choosing not to intervene when action is unlikely to make a significant difference," says Hill. "Resources may be better invested in planting a replacement. Removal is a difficult decision, but oftentimes a necessary decision. Where appropriate, dead and dying trees may be retained for wildlife habitat if they do not pose an unacceptable risk to the site or people."
Qualifications and training
Hill says that while no special qualifications are required to maintain historic trees and sites, given the special needs and high value of historic trees, he says it would be unwise to take on this type of project without the proper experience, training and education necessary.
Hill says that Registered Consulting Arborists (RCA) through the American Society of Consulting Arborists and Board Certified Master Arborists (BCMA) through the International Society of Arboriculture (ISA) often have the training and experience to evaluate, specify and supervise the management of mature trees.
"It is critical to interview and check references of any arborist that is caring for mature trees," he adds. "Almost without exception, tree management should be performed in accordance with ANSI A300 Standards and ISA Best Management Practices."
Hill says that both RCA and BCMA credentials have education, experience and training requirements, along with Continuing Education requirements. He adds that often, it can take several years to meet the pre-requisites of each credential.
"Mature trees frequently have issues that may increase their failure potential, so being able to systematically evaluate tree risk is key," he says. "Being Tree Risk Assessment Qualified through the International Society of Arboriculture is helpful."
Hill says that the biggest mistakes he's seen when it comes to historic tree and site maintenance is taking on the process of caring for these projects without the proper preparation.
A common mistake he's seen in the past involved professional landscapers and arborists inappropriately pruning these trees. According to Hill, mature trees tolerate little to no removal of living tissues, which means that excess pruning can permanently destroy the tree's structure and health.
"These trees and sites are irreplaceable and inappropriate management can be devastating," says Hill.
Challenges and rewards
While it can prove to be a challenging project to undertake, Hill says it's also proved to be a rewarding line of work.
Hill says one of the most challenging aspects associated with historic tree and site care deals with developing strategies that are able to meet the needs of both the tree and the site. Oftentimes, he adds, there are multiple stakeholders with conflicting values.
Other challenges include being brought in late in the process or after the fact, as there's usually very little that can be done to help the tree at this point, and combating the abundance of misinformation regarding trees and their care.
"Much of this comes from outdated practices and specifications," says Hill. "It is widely disseminated on the internet."
But even among the challenges that accompany these types of projects, Hill says the most rewarding aspect is being able to preserve century-old trees for his lifetime and beyond.
His most memorable historic tree project came when he was able to assess the structural integrity of a 150-year-old post oak, and he found that the defect was much less significant than anyone thought. He says he was then able to recommend its retention and preservation near a historic structure.
"In my line of work, the relentless march of development often conflicts with the needs of veteran trees," he says. "But there are people who value trees and their contributions to our community, and they will work to preserve them. Sometimes, it is even the most unlikely that will step in and advocate for the tree."
Advice to other landscapers
For other professionals out there looking to either get into the world of historic tree and site care or for those who've been asked to manage a historic tree or site, Hill recommends taking great care before integrating it into your daily workflow.
"This is a highly specialized group of services that must be carefully integrated," he says. "My advice (to landscapers) would be to work with a knowledgeable, consulting arborist to educate themselves on the unique needs of these trees and carefully follow their recommendations until (the landscapers) have gained significant experience."
Before jumping headfirst into the process, Hill recommends starting off with managing smaller trees that won't require any aerial work while working to gain the specialized skills needed to perform this type of work.
"I would become members of the International Society of Arboriculture, the Tree Care Industry Association and the American Society of Consulting Arborists (ASCA)," he says. "I would prepare for and earn credentials, and I would perform tree care in accordance with ANSI A300 Standards."
While he doesn't think it's necessary for every landscaping company to have a certified arborist on staff, he does highly recommend cultivating relationships with a qualified and credentialed arborist. He also encourages professional landscapers to educate themselves on good tree care.