Nick Schrapp was recently promoted to product reliability and testing manager for ASV Holdings Inc.
The company says Schrapp will primarily be responsible for managing products testing, reliability and field issue resolutions involving the manufacturer's products. ASV says Schrapp will focus on ensuring customers receive maximum productivity, durability, ROI and comfort out of their ASV machines.
This, they say, includes monitoring new and existing machine performance on a test track and making changes to improve performance and longevity.
The company says Schrapp brings 20 years of experience in equipment manufacturing to his new role, and he previously worked as a design engineer at ASV. In this role, ASV says he researched innovations and ideas to design products that make life easier for the end user. During that time, ASV says Schrapp played a key part in designing some of the company's current compact track loader lineup.
"We have the mentality at ASV that any machine we design and build should be something we'd want to buy and operate ourselves," says Schrapp. "In this role, I'll play a firsthand part in making sure our customers get the best features in a reliable design."
Apex by Fecon announces appointment of Earth & Turf Reps (ETR) in Southeast
Apex by Fecon has announced the appointment of Earth & Turf Reps (ETR) as their representatives in the Southeastern United States territory.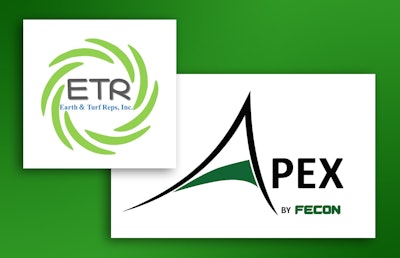 Based in West Columbia, South Carolina, Apex by Fecon says ETR provides a comprehensive range of erosion control products to distributors, contractors, engineers, inspectors and others in the states of Alabama, Georgia, North Carolina, South Carolina, Mississippi, Tennessee, Louisiana and Florida.
"We're excited to partner with the ETR team in the Southeastern U.S.," says Apex by Fecon director of sales John Imm. "They offer their customers the best equipment as well as education and resources to help them attain the highest profit on each project, especially those in harsh environments with abrasive mixes where the Apex excels."
Along with Apex hydroseed applicators, ETR says it represents erosion control equipment and products from manufacturers including Profile, Flitrexx, Water Wind Soil, Burchland Manufacturing, Boss Gloves, Cat Gloves and Tenax.
Vectorworks announces 2019 design scholarship
Vectorworks, Inc. is inviting undergraduate students and recent graduates to enter the 2019 Vectorworks Design Scholarship.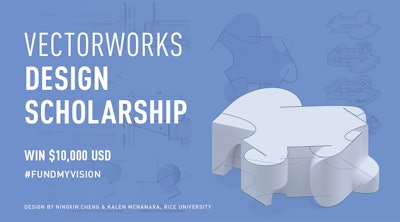 The company says applicants that share their best work will have the opportunity to win up to $10,000 USD, gain professional recognition and propel themselves into a future of design.
Submissions are now open and due by August 29, 2019, and interested students can enter here.
Ruppert promotes Kyle Meissner to branch manager
Ruppert Landscape has announced the promotion of Kyle Meissner to the position of branch manager in the company's Forestville, Maryland, landscape management branch.
The company says Meissner holds an associate degree in business administration from Carroll Community College and is a Landscape Industry Certified Technician (CLT). He began his career at Ruppert in 2013 as a crew member in the Laytonsville branch, where the company says he was quickly promoted to field manager.
He transferred to the D.C. branch in 2016, where the company says he earned the company's Branch Impact Award that enabled him to move up the ladder to area manager. He has been in the Forestville branch since October as an associate branch manager, training for his new role and building the mid-level management team.
"As an area manager in D.C., Kyle led the branch in enhancement sales and grew to be one of the top enhancement sales leaders in the division in 2018," says Doug Halsey, region vice president. "In addition to his sales prowess, Kyle is also adept at creating strong ties with his customers, which has enabled us to maintain valuable relationships. The Forestville branch will benefit tremendously from his talents in customer service, enhancement sales and recruiting, retaining and coaching new talent."
As a branch manager, the company says Meissner will be responsible for the overall welfare of his branch, including the safety and development of the team, strategic planning and budgeting, training and day-to-day operations.
Boxer adds to distributor network
Boxer recently added six new companies to its worldwide Boxer distributor network:

Axe Max Outdoor Power Equipment, in Katy, Texas
Bradford Rental Sales & Service, Ltd., in Bradford, Ontario, Canada
Kent Power Equipment, Inc., in Sparta, Michigan
M & D Truck and Equipment Sales, LLC, in Monroe, Wisconsin
Sandpoint Marine & Motorsports, LLC, with two locations in Idaho
Strupp Implement, Inc., in Slinger, Wisconsin
The company says Cavalier Industries, Ltd., in Alberta, Canada, signed a Manufacturer's Representative Agreement with Morbark to promote the Boxer line to rental companies in Canada.
"We continue to grow our Boxer distributor network around the world, adding companies that will give our customers the same high-quality service they know and expect from Morbark," says Casey Gross, Morbark director of tree care products. "Our goal is to have the industry's best customer support, delivered locally by knowledgeable distributors who will help our customers succeed."
2019 Hardscape North America regional installer competitions will send winners to Louisville
The first of seven regional championships leading up to the final 2019 Hardscape North America (HNA) Installer Championship began last month, and competitions will continue through August.

Launched in 2016, HNA says the regional championships have been so successful that they have expanded to include seven locations around the country, and regional winners will have the opportunity to compete for the title of HNA Champion later this year.
Regional competitions include:
Southwest Region, Chandler, Arizona – February 23

1st place: Trip to HNA (sponsored by HNA) and $1,000 cash
Winner: Urban Earth Landscaping
New England Region, Providence, Rhode Island – March 14-15

1st Place: Trip to HNA (sponsored by HNA) and $10,000 cash
Winner: Clarke Landscapes
National Collegiate Landscape Competition, Fort Collins, Colorado – March 22

1st and 2nd Place: Trip to HNA (sponsored by HNA and GIE+EXPO)
Winners: 1st Place: Cuyahoga Community College; 2nd Place: Brigham Young University – Provo
Northern California Region, San Martin, California – May 18

1st Place: Trip to HNA (sponsored by HNA) and Hardscape Equipment
Pacific Northwest Region, Tacoma, Washington – August 24

1st Place: Trip to HNA (sponsored by HNA) and iQ PowerTools Saw
Central Region, Fort Worth, Texas – August 2019

1st Place: Trip to HNA (sponsored by HNA), $1,000 cash and trophy
Southeast Region, Kennesaw, Georgia – August 2019

1st Place: Trip to HNA (sponsored by HNA), $1,000 cash and trophy
The Installer Championship finals will take place at HNA on Oct. 16-18 in Louisville, Kentucky. HNA will provide the seven winning teams (of two people each and an alternate or coach) from the regional championships roundtrip transportation to Louisville, individual accommodations at a downtown Louisville hotel (Wednesday-Friday), complimentary trade show admission to HNA and complimentary registration for the HNA Installer Championship. The total prize package is valued at up to $3,500 per team.
The 2018 Hardscape North America Installer Champion, Segmental Systems, of Otis Orchards, Washington, will also receive complimentary travel, hotel accommodations, trade show admission and entrance to the national competition from HNA to return and defend their championship title.
Preliminary rounds will take place Thursday, October 17, in the Hardscape House at HNA in Louisville, and the final championship round to determine the 2019 National Champion will take place at 10 a.m. on Friday, October 18. The Hardscape House is the new outdoor display and demonstration area at the Kentucky Exposition Center.
HNA says the Installer Championships are intended to test and recognize the skill, dedication and passion of hardscape contractors from Canada, the United States and Mexico.
Teams may participate in the HNA Installer Championship in Louisville without competing in a regional championship if space is available. Registration opens in May and the fee is $150 per team before the early bird date of Sept. 6, 2019, or $200 after. After the conclusion of the trade show, each team who competes will be refunded $150 of their registration fee.
At the final HNA Installer Championship, all teams will have their understanding of industry best practices and guidelines tested in a race against the clock and other top installers in the industry. The teams will compete for the HNA Installer Champion trophy, cash prize, tools and gear from participating sponsors and recognition on the HNA and ICPI websites and in various industry publications. In 2018, the grand prize package was valued at approximately $12,650.
Target Specialty Products launches Turf Fuel GTM24-0-11 Mini
Target Specialty Products has recently launched Turf Fuel GTM 24-0-11 Mini, which the company says has multiple nitrogen release technologies in the blend, including a proprietary methylene urea technology and a polymer coated urea.
The company says this exclusive formula is designed to improve spreadability and deliver consistent growth and color for three months. In addition to this, the company says the product promises quick green-up and a non-staining and controlled release micronutrient pack.
"Our new Turf Fuel GTM 24-0-11 Mini offers golf customers the best solution tailored to professional turf applications," says David Helt, Target Specialty Products' president. "Our continued partnership with Scotts – one of the most trusted names in turf – allows us to continue to engage customers with the latest products and technologies in the professional turf business."
The company says the Turf Fuel GTM 24-0-11 Mini also features Target Specialty Products' proprietary Nutrifense technology, which they say is designed to promote increased plant health during stress periods by activating the plant's own defenses.
"Our continued partnership with Target Specialty Products will result in the launch of new products specifically designed for turf professionals," says Trevor Whitson, general manager of Scotts PRO. "Target Specialty Products is well-positioned within the professional market to leverage the power of Scotts PRO technologies in its new line of turf fertilizer products."
Kujo Yardwear introduces lawn care and landscaping shoes
Kujo Yardwear, a startup footwear company specializing in shoes for working in the yard, recently developed a yard shoe that the company says is breathable, lightweight and has been designed for anti-fatigue wear and all-day comfort and mimics the durable tread and water-resistance of a boot.
"Hands down, these shoes are a game changer for my business and the way we work," says Brian Fullerton, owner of Brian's Lawn Maintenance LLC in Wixom, Michigan. "We're no strangers to clunky work boots that become hot and sweaty during the workday. These lightweight shoes have made doing our lawn care maintenance work a breeze."
While the company says the current model of the shoe is only offered in a soft toe version, they are currently developing a composite-toe version with higher ankle support and 100 percent waterproofing for professionals who encounter more than dewy grass or who require safety-toe footwear.
The shoes are available online at www.Kujo.com, Amazon and Dick's Sporting Goods.
Jeffrey Scott hosts two-day design-build growth summit
Jeffrey Scott is partnering with Jason Cromley and Matt Seiler of Hidden Creek Landscaping to host a two-day summit that includes a workshop and facility tour at Hidden Creek Landscaping. The summit will take place August 27-28 in Columbus, Ohio.
Scott says this summit will help show attendees how to align every aspect of their design-build business so they can improve profitability, build a more "sellable" business and allow them to be home for dinner at the end of the workday.
During the summit, Scott says he will share approaches, mindsets, tools, systems and case studies designed to run a more profitable enterprise that attendees can scale.
Program outline:
August 26 – Optional golf outing, followed by a private evening reception with owners of Hidden Creek Landscaping (space is limited to 20 people).
August 27 – Full day of interactive workshops at the Grand Event Center, Columbus, focused on building skills and businesses, with Scott and guest speakers.
Evening networking reception:
August 28 – Facility tour of Hidden Creek Landscaping, where attendees will meet their leadership team, learn their secret sauce and see their best systems.
Takeaways and growth opportunities:
Dramatically raise margins and efficiency through an integrated approach to sales, production and compensation
Differentiate yourself from the competition by turning the selling process on its head
Increase your production "throughout" in order to achieve a more profitable bottom line
Learn how "20 percent net profit" companies operate differently from standard companies
Time is your most precious commodity, learn how to save it and where to invest it
Walk away with your own blueprint for success with our tools and systems so you can take action immediately
Learn how to sell more maintenance at high margins to all your install clients
Learn best practices from the best of the best