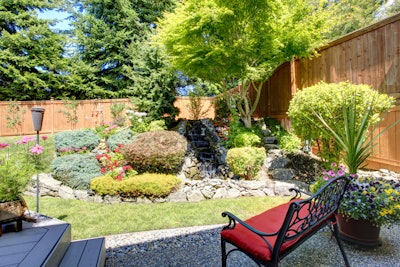 Not all trees have to be soaring specimens in a landscape in order to be effective. A number of ornamental trees are ideal for many spaces, especially in shrinking backyards.
Ornamental trees are grown to provide more beauty to a site with their flowers, bark, shape, fall color, or a combination of these beautiful features.
The landscape design possibilities for ornamental trees are great as these plants can provide height, structure, and interest to a property. Below are just some of the design options for ornamental trees and some suggested species to consider.
Specimen tree
Since ornamental trees are meant to be decorative trees, it makes sense they would be the ideal choice for specimen trees. These types of trees function as focal points in the landscape and are meant to cause the viewer to stop and take notice of them.
If your customer is looking to add some drama to their garden, it's best to pick a tree that can do it year-round. Look for those that have early spring blooms, vibrant fall foliage and some way to attract wildlife either with seeds or berries.
Eastern redbud (Cercis canadensis) has vivid pink blossoms in the spring, yellow foliage in the fall, and brown pods in the winter. It does best in full sun to partial shade and can grow 20 to 30 feet tall. It thrives in USDA zones 4-9.
Crape myrtle (Lagerstroemia indica) is another good option that offers beautiful flowers throughout spring and summer in a number of colors depending on the cultivar, bright fall foliage and exfoliating barks that stands out in the winter. Varieties can be as short as three feet or as tall 40 feet at maturity. It does well in USDA zones 6-9.
Ornamental flowering trees like apple serviceberry (Amelanchier x grandiflora) and Kousa dogwood (Cornus kousa) both offer showy white flowers and have good fall color. Serviceberry can reach heights of 20 feet and grows in zones 4-9.
Kousa dogwood grows between 15 and 20 feet tall and grows in the USDA zones 5-8. Kousa dogwood has better disease resistance and cold hardiness compared to flowering dogwood.
Privacy screen
If your customer is looking to create a more secluded setting, living privacy fences are somewhere that ornamental trees can pitch in. Evergreen ornamental trees are best for privacy screens because they are able to provide coverage year-round, unlike their deciduous counterparts.
One solid choice for screening is blackhaw viburnum (Viburnum prunifolium), which can grow 12 to 15 feet tall.
"They're really nice because they tend to be more upright than wide," says Jennifer Brennan, manager of the education center for Chalet Landscaping, Nursery, & Garden Center in Wilmette, Illinois. "It has great fruit that birds love and great fall color. Its leaves are a shining red in the fall."
North Pole arborvitae (Thuja occidentalis 'Art Boe') is an evergreen that has a columnar shape that works well in tight spaces. It grows 15 feet tall and has USDA zones 3-7. Arnold Sentinel pine (Pinus nigra 'Arnold Sentinel') is another tight columnar evergreen that grows 25 feet tall and thrives in USDA zones 4-8.
Don't forget to mix up your plant material when creating your privacy screen so your customer's wall of green isn't taken out in one fell swoop if a disease or pest attacks one species.
Small spaces
Because ornamental trees tend to be on the smaller side, they are ideal options when working in tight spaces. Not all ornamentals are small trees though, but you can look for dwarf ornamentals if your client is set on having a specific species in a space that is too small for the traditional version of the tree.
When picking a tree for a smaller space consider the mature size, shape, and rate of growth.
Small ornamental tree species that work well in these confined quarters include Japanese maple, vine maple, and crabapple.
Japanese maple (Acer palmatum) is probably one of the most well-known options for an ornamental tree and customers can choose from a number of cultivar sizes to fit their space best. This tree is resilient and has leaf colors ranging from green-gold to fiery red.
Vine maple (Acer circinatum) and crabapple trees (Malus spp.) attract wildlife with vine maple's seeds and buds feed squirrels and birds. Birds will eat the fruit of some species of crabapple.
Vine maple tends to grow 12 to 14 feet and crabapple tree sizes vary based on the cultivar.