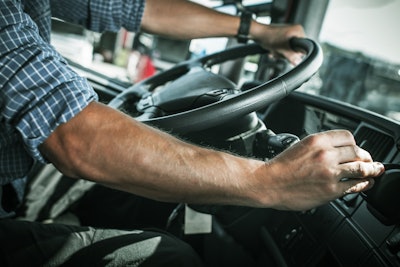 Throughout your time in the green industry, you or members of your crew have asked when a commercial driver's license (CDL) is and isn't necessary.
Along with knowing when a CDL is required, it's also important to understand gross vehicle weight rating (GVWR) and gross vehicle rating (GVR).
Take a look at what you need to know about different classes of CDLs, the importance of following the rules and regulations associated with GVWR and GVW and the penalties that accompany not following these guidelines.
CDL
According to TruckingTruth.com, a CDL must be obtained by the driver of any of the following vehicles:
Any combination of vehicles with a GCWR of 26,001 or more pounds, providing the GVWR of the vehicle being towed is in excess of 10,000 pounds.
Any single vehicle with a

GVWR

of 26,001 or more pounds, or any such vehicle towing another not in excess of 10,000 pounds.
Any vehicle, regardless of size, designed to transport 16 or more persons, including the driver.
Any vehicle required by federal regulations to be placarded while transporting hazardous materials.
The basic steps for obtaining a CDL are the same in each state and are in accordance with Federal Motor Carrier Safety Administration (FMCSA) regulations to get a commercial learner's permit and driver's license.
You must first take the test for and successfully obtain the commercial learner's permit (CLP), then you must hold this permit for a minimum of 14 days before you take the road skills test for your CDL.
In most states, applicants can be 18 years old with one or two years of personal driving experience, and to drive intrastate (within the state), you must be at least 18. Federal rules state that to drive interstate (out-of-state) or to transport hazardous materials, you must be 21 years old and have no prior disqualifying criminal offenses, as certain criminal felonies could disqualify you from eligibility.
Additional endorsements can be added after the proper testing occurs, and these additions can allow drivers to operate trucks with tanks, trucks with double or triple trailers, a truck carrying hazardous material or a passenger vehicle.
The CDL Manual can be found in field locations, as well as downloaded and printed from your state's Law Enforcement Agency website.
There are three classes for the CDL, depending on what additions you want on it and what vehicle you intend to operate, and all have specialized qualifications that need to be met.
Class A
A Class A License allows you to drive commercial vehicles where the GCWR is more than 26,001 pounds, and the rear portion must weigh more than 10,000 pounds.
Class B
A Class B License allows you to operate commercial vehicles that are 'straight' or combination, where the GCWR must be 26,001 pounds or more, but any towed portion must weigh less than 10,000 pounds.
Class C
A Class C License allows you to operate a single vehicle less that 26,001 pounds GVWR, or any such vehicle towing a vehicle not in excess of 10,000 pounds that falls within the FMCSA regulatory framework, such as vehicles designed to transport 16 people or more plus the driver. It also includes vehicles that must be placarded for hazardous materials, select agents, toxins and waste.
GVWR, GVW and loading penalties
Both the GVWR and GVW are thought to be the same, but they are, in fact, different. A truck's GVWR is the maximum weight rating established by the chassis manufacturer, and the GVW is the total weight of the truck and payload at a point in time.
According to the Association for the Work Truck Industry (NTEA), the common misconception regarding GVWR is that it is determined by adding the gross axle weight ratings (GAWRs) together for all axles. This might have proven a common calculation method in the past, but today it is no longer accurate.
"The chassis manufacturer task of establishing a vehicle GVWR is much more difficult today due to advancement of safety system standards and how vehicles meet these requirements," the NTEA says online. "This is why many trucks have a GVWR much lower than the combined axle ratings. It is not uncommon for a truck with a GVWR of 19,500 pounds to have a front axle rated at 7,500 pounds and a rear axle rated at 14,700 pounds."
According to the NTEA, safety standards that apply to braking, vehicle stability and chassis manufacturer internal standards for durability, dynamic stability and handling can restrict GVWR. This is true even though the sum of the axle ratings exceeds 22,000 pounds.
The NTEA notes that when fleets are looking to either purchase or specify the proper chassis for their needs, there are different driver qualifications and regulations that are part of the process. A key part of this process is the CDL, and federal CDL requirements help clarify what is considered a non-CDL truck and how GVWR will come into play. Each state will have varying CDL license requirements.
When assessing CDL operator requirements for commercial work trucks involved in towing a trailer, the NTEA says there are three key aspects to consider: truck GVWR, trailer GVWR and GCWR of the truck-trailer combination.
According to Armstrong Legal, the penalty for committing a mass overload offense is a monetary fee, and the maximum amount of the fine will depend on the size of the overload. Maximum penalties are increased each year and published on the National Heavy Vehicle Regulator's (NHVR) website.
"The law recognizes that sometimes, mass overload offenses will occur even when a person has done everything that they can to prevent it," Armstrong Legal says online. "For this reason, a 'Reasonable Steps Defense' is provided."
Under the Reasonable Steps Defense, courts could rule a person not guilty of mass overload offenses if it is found that the person did not know and could not reasonably be expected to have known of the contravention, and that they took all reasonable steps to prevent it or there were no steps they could reasonably be expected to have taken.
Armstrong Legal says the court will consider a wide range of factors when deciding whether or not a person has taken reasonable steps, and some examples include:
By how much the mass limit was exceeded
What facilities were available to weigh the vehicle
Training provided to employees
Steps taken to address similar problems in the past
As of June 2017, Armstrong Legal says for a minor risk where the amount of overload is less than 0.5t or 105 percent of the maximum permitted mass, the maximum penalty is $4,260. For a substantial risk where the amount of overload is between 105 percent and 120 percent of the maximum permitted mass, the maximum penalty is $6,400. For a severe risk where the amount of overload is 120 percent of more of the maximum permitted mass, the maximum penalty is $10,650 plus an additional maximum $530 for every additional 1 percent over a 120 percent overload.
To find out the overweight and oversize fines and penalties for your state, click here.