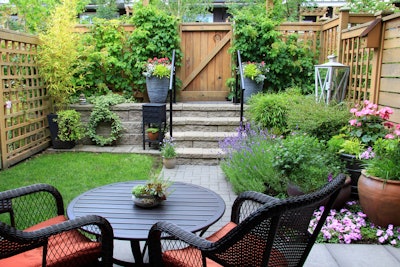 In the past, it was a common occurrence to have customers who wanted the biggest and most impressive lawns around. While it's still true that they want their spaces to stop traffic, having a larger lawn has become a less popular option, as more customers are living in smaller homes and spaces.
Tiny gardens, while smaller than a traditional garden, have many benefits that come with them that customers might not think of initially. With larger scale gardens come a higher price tag for maintenance and larger applications of water to maintain a lush, green look. With a tiny garden, customers can still have the appeal and enjoyment of a garden without the larger hassle.
Take a look at a few reasons why your customers might ultimately love having a tiny garden if they are questioning the concept and how it will play out in their available space.
Your own green space
For customers just taking the leap into the world of gardens, starting off with a tiny garden could be a great step. Instead of immediately going all out and investing in a huge garden space, dipping a toe into the water and testing it out with a tiny garden could prove ideal.
Along with providing beginners with a less hectic way of starting out with gardening, having a tiny garden in a space located in an urban area can help customers make the most of the space they have available.
Talk to them about taking advantage of this space to create a beautiful and inviting green space that will allow them the opportunity to grow anything from flowers to vegetables, all in one smaller space.
Don't forget that adding in grasses and other ground covers can create a lush, carpeted space to allow customers the chance to sit and relax after a hard day, and to help add more height to the space, consider the use of climbing plants and vertical gardens.
Vertical gardens can showcase narrow trees, arbors, climbing vines and more, and they will definitely show off height change without taking up a lot of ground space. If your customers live in a particularly small area, having multiple vertical gardens scattered around the landscape could be the ideal solution. Keep in mind that irrigation will be necessary for vertical gardens, and it's important to establish a watering schedule from the beginning, as gravity may cause plants to fall out of the wall as the soil dries.
Personalize it
Regardless of how your customers plan to use the space, tiny gardens can really be used for anything, whether as a relaxing oasis or an adventurous little jungle.
Tiny gardens not only offer a size space that easier to maintain and keep up with, but they also offer a more intimate setting for getaways and rendezvous.
If the space is big enough to add in one or two comfortable lounging chairs, take advantage of this and create a more intimate space for your customers to enjoy, whether alone or with their loved ones.
Even if the space isn't necessarily large, having a smaller patio lined with greenery and beautiful pops of colorful flowers can make the space feel like a secret garden where they can escape the trials and tribulations of their day.
If your customers really want to lean into the secret garden escape aspect, talk to them about adding in some taller trellises, raised beds, hanging leaves or potted plants that could help create a canopy of green all around them.
Even though the space is literally smaller, that doesn't mean it will actually feel small once customers begin using it. Having the right type, amount and placement of plants in the area can really make the space look more spacious when placed perfectly in the garden.
To create a space that's lush and jungle-like, layer different plant types to create more height and depth in the space. Incorporate climbing plants to draw the eyes upward while filling the bottom spaces with plants that have dense, larger leaves to have a more grounded look towards the footpaths, and bring in perennials to fill in the bed spaces to help create interest all throughout the year.
Since customers will more than likely be saving money by not having to put in as much maintenance and water care into their tiny garden, that could mean they would have a little money left over if they wanted to splurge on some higher quality materials for decorating.
If customers want to invest in some stepping stones to lead the way throughout the area or even have a small pond or water feature installed, it could be feasible for them.
No matter how your customer wants to use the space, be sure to let him/her know that it's all about personalizing the space to fit his/her needs. Allow customers the opportunity to be creative and show off their individual taste with plant, furniture and water feature options.