Case Construction Equipment has upgraded its F series compact wheel loader lineup with new adjustable electro-hydraulic controls.
The company says this added functionality allows operators to adjust the responsiveness of the lift and tilt bucket functions for improved control and efficiency on the jobsite.
Case says the lift and tilt settings can now be adjusted with two new 3-way rocker switches (high, medium and low) mounted on the side console, allowing operators to adjust the responsiveness of the loader lift arms independently of the attachment tilt functions.
The company says the new programmable settings allow operators to program the machine's response based on their personal preferences, or to better meet the demands of the job at hand.
Case says the electro-hydraulic controls also offer automated bucket metering functionality, providing operators more precise and consistent movement of the bucket edge while metering or sifting material into a truck or feed wagon.
The company says the E-inching pedal uses an electronically controlled inching valve to provide greater response and more control in applications where the operator requires precise movements at slow speeds, and Case adds that the pedal also has been ergonomically positioned.
Case says the F Series compact wheel loaders provide operators with more reach, lift capacity, visibility and comfort compared to other light equipment. The company says the F Series compact wheel loaders feature maintenance-free Tier 4 Final solution that requires no regeneration or related downtime, and a compact frame and articulating rear axle provide stable lifting strength of over 8,300 pounds at full height.
Basic operating specs:
21F: Operating weight: 11,272 pounds (5,113 kg), lift capacity: 5,287 pounds (2,398 kg)
121F: Operating weight: 11,618 pounds (5,270 kg), lift capacity: 5,265 pounds (2,388 kg)
221F: Operating weight: 12,547 pounds (5,691 kg), lift capacity: 8,317 pounds (3,773 kg)
321F: Operating weight: 13,303 pounds (6,034 kg), lift capacity: 8,354 pounds (3,785 kg)
New products to debut at HNA 2019
Industry members heading to Hardscape North America (HNA) this Oct. 16-18 will find new products available from hundreds of exhibitors.
The HNA website has a new products spotlight feature where exhibitors' new products will be showcased leading up to HNA 2019. Attendees are encouraged to check back frequently to see new products as they are added. The full HNA product spotlight can be viewed here.
Below is an overview of some of the products that will be featured at this year's show:
Belgard – Booth 20040
Melville Wall – Belgard's Melville Wall masters contemporary, modular design with smooth textures and subtle edges.
Granulati Zandobbio S.p.A. – Booth 29017
ESAGONO – Stone Gres: Anti-slippery product, with a hexagonal shape of 24″ in diameter, a breaking news for the gardening world. Ideal for creating personalized and distinguishing landscapes thanks to the five available colors, designed to adapt to any type of garden.
PAVÈ – Stone Gres: The first porcelain stoneware cobblestone. A product aesthetically comparable to natural basalt, but much more resistant, sustainable and durable, as it is made of porcelain stoneware.
CUBETTI – Stone Gres: A new line for reproducing cobblestones modules in a tile of 24″x24″ in 0.8″ thickness of porcelain stoneware. Available in three different colors and three different graphic games.
90x90x3 cm – Super Hard Keramik 3 cm: The most popular format with a high thickness of 1.2″. The solid porcelain stoneware paving is designed to last over time. A valid alternative to composite, concrete or natural stone pavers because it can bear heavy loads even when laid on sand or gravel.
Landmark Ceramics – Booth 22056
New Frontier 20 American Stone Colors: Travertine Cross Cut Noce, Travertine Cross Cut Silver, Travertine Cross Cut Cream & Travertine Cross Cut White. Frontier20 Michelangelo Extra White: This precious marble look is the ideal solution for designing spaces with a superior technical performance, where safe, anti-slip surfaces are matched by the highest level of aesthetic quality.
OBERFIELDS – Booth 25036
Americana Collection: Color infused pavers with a top layer that's colorfast and resilient to wear and tear. Various styles, textures & colors. #DuraDenz
Sinnov Inc. – Booth 24007
6″x6″ Paver drain by Sinnov: Keep your drain tight, prevent that sink and give a touch of class and elegance to your projects. Same thickness as 60 mm pavers. Available in stainless steel or brass. Easy to install.
Warming Trends – Booth 29034
FireStorm Steel Gas Log: Hand-crafted steel gas log with integrated CROSSFIRE Brass Burner maximizes unique flame pattern.
BrightView's GROW celebrates two years
BrightView recently celebrated the second anniversary of its first employee resource group: GROW (Growth in Relationships + Opportunities for Women). The company says GROW's mission is to attract, promote and retain women within BrightView.

Led by a group of women committed to the mission and who volunteer their time to ensure its success, BrightView says GROW offers networking, professional development and leadership opportunities for the women of the company.
To date, BrightView says more than 300 women have participated in professional development with hundreds more benefiting from online programs.
"Women are clearly an under-represented, yet capable group within the landscape industry and even here at BrightView," says Andrew Masterman, BrightView president, chief executive officer and executive sponsor of GROW. "I've challenged our team to double the number of women in BrightView over the next three to four years, which will have a positive long-term impact on the company."
GROW is comprised of five initiatives:
Professional development – Have in-person events across the country and webinars with external coaches and internal speakers who inspire, teach and help develop women.
Networking – Create channels for organic, lasting relationship development, including an online community.
Task forces – Create cross-functional committees of women working together to solve business challenges and enhance existing programs.
Community service – Build a partnership with Dress for Success, a global nonprofit organization that provides professional attire for low-income women, to support women re-entering the workforce following challenging life circumstances.
Mentorship – Currently in development, this program will offer more opportunities to develop the talents of BrightView's female team members.
"Nurturing the talented women of BrightView through GROW is something I take tremendous pride in," says Amanda Orders, BrightView's senior vice president for Human Resources and GROW co-leader. "GROW brings women together across BrightView to support each other, develop future leaders and create lasting, professional relationships. It started as a small idea and has grown into something rewarding for all involved."
OPEI launches TurfMutt Foundation
The Outdoor Power Equipment Institute (OPEI) announced the official launch of the TurfMutt Foundation.
OPEI says this foundation will continue to encourage outdoor learning experiences, stewardship of green spaces and care for all living landscapes for the benefit of all. The organization says it will likely expand into new areas in the next few years.
OPEI says the foundation launch has a bittersweet beginning, as its founding "spokesdog," Lucky the TurfMutt, passed away recently while at work at the TurfMutt Foundation office in Alexandria.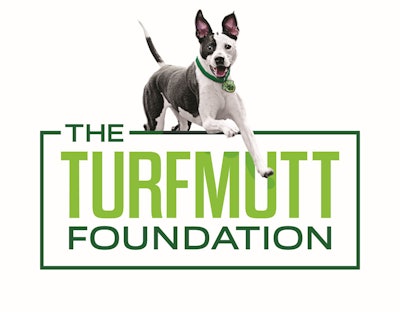 "TurfMutt got started thanks to a little black and white dog from Indianapolis who 13 years ago I rescued from an Indianapolis roadway," says OPEI's president and CEO Kris Kiser. "He shot in front of my car on a freezing winter morning, cold and hungry, and we've been together ever since."
OPEI says Lucky will be remembered as a dog who lived a full and purpose-driven life.
"The TurfMutt program was greenlighted by the OPEI board of directors, but Lucky was the 'dog force,'" adds Kiser. "People, and especially children, related to the personality of a real dog and he became a great teacher for many. Lucky's story is a redemption story because he went from being a street dog to being a backyard superhero that inspired others."
Over the last 10 years, OPEI says environmental education lessons featuring Lucky were distributed to children in grades K-8 through partners Weekly Reader, Discovery Education and Scholastic, the TurfMutt youth curriculum's current home. OPEI says Lucky also was animated and "cartoonized" in videos and the program developed a robust online presence and social media platforms.
"Thanks to this dog, we at the TurfMutt Foundation look at yards a different way," says Kiser. "We see through TurfMutt's eyes, realizing that ordinary home yards, parks and school yards have a larger purpose than just our human one. They are suburban and urban habitats that support our ecology and climate, provide homes and food for pollinators and wildlife and give us a safe and healthy place to play, relax and de-stress."
OPEI says Lucky's passing comes as the TurfMutt program marks its 10th anniversary year. The program's educational materials are free and support Science, Technology, Engineering and Math (STEM) standards. The TurfMutt environmental education program has reached 70 million students, teachers and families since 2009. OPEI says TurfMutt educational materials can also be found on the U.S. Green Building Council's Global Learning Lab, a national database offering environmental education curriculum to teachers.
OPEI says animal rescue was part of the TurfMutt education equation. This year, the TurfMutt program will host its second annual pet adoption event, Lucky's Mutt Madness, in Louisville, Kentucky, at GIE+EXPO, the leading trade show in the outdoor power, landscape and hardscape industries.
LiveWall added to TSA checkpoint at Appleton International Airport (ATW)
The renovation and expansion of the Transportation Security Administration (TSA) checkpoint at Appleton International Airport (ATW), Appleton, Wisconsin, now features a 276-square-foot green wall installed with the LiveWall Indoor Living Wall System.
Completed in August 2018, LiveWall says the three-sided living wall is positioned at the end of the security lines, where it serves as green design element that has a natural, biophilic calming effect.
"We set out to make ATW's TSA checkpoint the most visually appealing and pleasant in the U.S.," says Patrick Tracey, marketing manager, ATW. "The living wall is essential in realizing this goal."
"The living wall serves to calm and de-stress the checkpoint," says Mitchell Walker, designer, aviation architecture, Mead & Hunt.
LiveWall says the transformation of the security area is part of a multi-million renovation and reconstruction of 50,000 square feet of ATW's commercial passenger terminal designed by Mead & Hunt.
The project included opening up and maximizing the space in the security area and establishing dedicated lanes for entering the security lines from the terminal and exiting to the terminal from the gates. LiveWall says adding glazing, both at the exterior and for interior partitions, brightens up the area with borrowed light.
The living wall is situated at the end of the security lines in the "composure area," where passengers can sit, put their shoes back on and gather their belongings.
Installed by SMA Construction Services in Green Bay, Wisconsin, and maintained by Beauty By The Yard in Neenah, Wisconsin, the green wall at ATW covers three sides of a structural wall. The section facing the TSA checkpoint is 10'-8" x 8'-3 3/8".
The wrapped corner section is 6'-8" x 10'-11 3/8". The section facing toward the gates is 10'-8" x 10'-11 3/8". In total, the wall includes 148 LiveWall modular planter boxes, which the company says are high-impact, UV-resistant, architectural quality moldings. They contain re-usable inserts that hold the growing medium and contain a mix of five different indoor plants.
"The LiveWall green wall softens the feeling of the terminal, where many other materials for the flooring and walls are hard," says Scott Volberding, C.M., ACE, operations and maintenance manager, ATW. "Not only does it provide a calming effect, it quickly became an unexpected attraction."
"Travelers are delighted with the wall," says Tracey. "We see passengers taking selfies in front of the wall after they go through security. Their positive experience of the living wall makes for a memory they want to save and share on social media."
Bayer makes organizational change to Environmental Science Field Solutions
The Environmental Science business of Bayer has announced appointments for several leadership positions. These changes, Bayer says, will enhance focus on finding innovative solutions for the evolving needs of customers.
"We are thrilled to welcome this change among top innovators within our organization," says Richard Rees, Ph.D., Head of ES Field Solutions in North America. "At Bayer, we're dedicated to keeping strong leadership in customer-facing roles to provide the innovation and support our professional customers need."

The company says Axel Elling, Ph.D., will lead the Turf and Ornamental product development team responsible for disease, nematode, insect, weed and turf stress management. Elling will remain responsible for disease and nematode management solutions, and will lead a team including: Bruce Spesard, focused on weed management; Xulin Chen, focused on insect management; and Chenxi Zhang, focused on stress management.
The company says Jake Doskocil, Ph.D., has been named global project leader of Pest Management and Rodent Control for Environmental Science. He most recently served as product development manager for insecticides and led the Clayton Development and Education Center for Environmental Science.
The company says Nonggang Bao, Ph.D., has been named as head of the ES Field Solutions Development and Experience Center in Clayton, North Carolina, biology team manager and will also be responsible for leading projects within the ES Global Specialty Actives Team.
The company says Xulin Chen, Ph.D., joins the T&O Field Solutions team as product development manager for Environmental Science. She brings more than eight years of broad entomology expertise to the team. Xulin obtained her Ph.D. in entomology from the University of Florida.
Talbert hires dealer development manager
Talbert Manufacturing welcomes David Henderson as a dealer development manager.
With the expansion of their Liberty, North Carolina, facility earlier this year, the company says it created the position to support their growing dealer network. Talbert says Henderson works closely with dealers and the company's regional sales managers to develop and grow the 80-year-old company's recognition across the U.S. and Canada.
"Talbert Manufacturing had outgrown our capacity, so, with the North Carolina expansion, we made a strategic step toward maximizing our potential," says Troy Geisler, Talbert Manufacturing vice president of sales and marketing. "Along with increased production, we recognized the need to increase support for our dealers through a centralized position. Their success is our success. We believe David is a valuable addition to the Talbert team and will provide the necessary support for our continued growth."
Henderson joins Talbert with nearly 30 years of experience in the heavy truck and equipment industry. Previously, he held the position of territory manager and OEM sales for Patz Corporation of Pound, Wisconsin, where he helped build company coverage by growing its dealer network, in addition to other sales and management positions for large equipment dealers over the past three decades.
"Growth has been a constant theme for me," says Henderson. "I enjoy the challenge that comes with growing sales, networks and relationships. Every situation is different but finding the right solution for a customer or dealer is always rewarding. I'm looking forward to working with the Talbert team to build long-lasting dealer relationships through one-on-one support and industry-leading products."
Talbert says Henderson's initial focus will be support for Talbert's Tag-A-Long Series, Traveling Axle Series and Hydraulic Tail Series trailers. The company says expansion of the Liberty facility doubled production capabilities for these lines, which Talbert's says also allowed the OEM to specialize their production between Liberty and the original facility in Rensselaer, Indiana, increasing overall productivity.
"Talbert Manufacturing has always been at the forefront of the heavy-haul industry," says Geisler. "As the industries we serve evolve, we will be there with the customer-driven designs needed to find hauling success. By investing in the right person for the job – much like the right trailer for the load – we can ensure our dealers and customers can reach their full potential."
Marr Bros., Inc. awarded distributor of the year by Country Clipper
Country Clipper recently recognized Marr Bros., Inc. as its Country Clipper 2019 Distributor of the Year during the company's annual distributor conference.
Marr Bros., Inc. operates in Dallas, Texas, and says it serves dealers in Texas, Oklahoma, Arkansas, Louisiana, New Mexico and Mississippi. The company says this award recognizes Marr Bros., Inc. for their exceptional sales growth, dealer development and excellence in delivering on customer needs.
Country Clipper says Marr Bros., Inc. is a Dallas-based distribution hub, celebrating over 70 years of delivering exceptional customer service and providing high quality products.
"Country Clipper is pleased to present this outstanding achievement award for the second year in a row to Marr Bros., Inc," says Blaine Fields, national sales manager at Country Clipper. "We commend them for all they've accomplished and congratulate them on delivering exceptional service to our customers."
Arborjet's Taking Root Scholarship awarded
Arborjet recently announced that it has awarded the 2019 Taking Root Scholarship to this year's deserving students.

Now in its sixth consecutive year, Arborjet says the program offers $10,000 in scholarship to students who plan to pursue full-time studies in forestry, plant sciences, horticulture, entomology or a related major at an accredited two- or four-year college.
"We want parents, educators, counselors and the tree care community to join us in encouraging young students to transform their ingenuity and passion into a career in this important industry," says Russ Davis, president and COO, Arborjet. "Through this scholarship program, we recognize dedicated students whose philosophy aligns with our company's mission to help save trees and preserve urban forests. This year's winners have demonstrated achievement in their schools and want to lend their skills and talents to help grow our industry, which we truly value."
Arborjet says this year's scholarship recipients plan to major in forestry, agriculture and environmental sciences and are matriculating at the following schools: Abraham Baldwin Agricultural College, Austin State, Colorado College, North Carolina Agriculture & Technical State University and The University of Tennessee.
Recipients for the scholarship program must be graduating U.S. high school seniors planning to major in forestry or a related major for the entire academic year at an accredited two- or four-year college or university. For further information on this year's recipients and to find out more about the scholarship, click here.