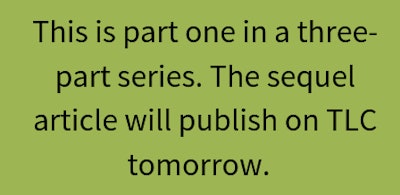 Nestled in the historic district of Cedarburg, Wisconsin, is a quaint building that used to be a cobbler's home in the late 1800s. This building houses the offices of Ginkgo Leaf Studio, a landscape design firm owned by Jim Drzewiecki, APLD.
From an early age Drzewiecki was interested in landscaping, and by the time he was a teenager he was redesigning his parents' backyard.
"Without any knowledge of what I was doing, I would just go to the garden center and say 'Oh, that looks cool, or that looks cool,' and then start moving stuff around. It was totally an experimental, trial by error kind of thing."
Drzewiecki went on to earn a degree in architecture and worked for an architecture firm for about two and half years. When the economy took a turn south, he began to look for jobs at landscaping companies. Eventually he landed a job as a CAD draftsman with the largest landscape design/build company in Wisconsin.
One of the landscape architects with the company took Drzewiecki under his wing and eventually Drzewiecki was allowed to start taking on design work. After 12 and half years with the design/build company, he got the itch to go off on his own.
In the fall of 2007, Drzewiecki started his own landscape design firm right before next economic downturn. He says it was terrifying at the time and thankfully his part-time job teaching in the horticulture program for the Milwaukee Area Technical College helped.
"It was fun, and it was good money," he says. "And that's probably what kept my business afloat at the beginning because I think my first year I had 10 clients."
Drzewiecki started contacting landscape companies that didn't have designers on staff and freelanced for those companies.
"Slowly, just word of mouth and luck and the internet, I started getting more and more inquiries," he says. "I knew some architects in the area, so I also went through them and did actually more commercial projects at the beginning. We barely do commercial anymore. We just don't pursue it."
90 to 95 percent of Ginkgo Leaf's business is residential design work, but Drzewiecki says they won't turn down commercial customers if they're approached.
For about eight years, Ginkgo Leaf was just Drzewiecki working on his own. He brought on a full-time employee who stayed with the company for two and half years before she ended up moving to Colorado.
"Honestly, when my last employee quit, I thought it came at a really bad time, because the business was on this trajectory," Drzewiecki says. "I considered shutting down the business because I thought, 'I'm not going to go through this again, trying to find a new employee, trying to train them from scratch, only to have them leave, a year or two later.'"
In the end, Drzewiecki hired landscape designer and horticulturalist Hannah Paulson, who also happened to be one of his best students from school, around a year and a half ago.
"I thought, 'No, I've built this thing to where it is. I will find another great employee,'" Drzewiecki says. "Using that negative turn of events, and saying, "Well, maybe it happened for a reason, because an even better employee is out there' and that was honestly Hannah."
Drzewiecki says he sees their relationship as more of a collaborative effort, rather than a boss-employee relationship.
"It's a pretty good gig," Paulson says. "I feel like I have a decent amount of freedom here, creatively, which is really nice."
"I've always looked at it that this is an us thing," Drzewiecki says. "This isn't me and a sales staff. I think that's a huge plus compared to all the other designers out there working at big design build companies who have to worry about 'Am I going to hit my sales?' and 'Have I prospected enough work in the last month?' That doesn't exist here."
As for how Drzewiecki came up with the name of his landscape design firm, he says an arborist friend showed him a silver dipped ornament of a ginkgo leaf and he liked how ginkgo leaves are associated with arts and crafts.
"I had a website designer tell me that it was a dumb name because everyone would think we were an art studio selling art," he says. "I said, 'Well, that's not the worst thing if people think that,' because actually, that is what we do. We just selling external art."
Drzewiecki adds that in hindsight ginkgo leaves are also a symbol of longevity as they are living fossils. He jokes that at the time he though ginkgo would be easier for customers to spell compared to Drzewiecki Design Studio, but clients still struggle with company's name.
Almost as a signature on his work, Drzewiecki also incorporates ginkgo trees into his designs.
Being a design-only firm
Ginkgo Leaf is a design-only company, but they do offer project supervision as well.
"That's a great way for us to be involved during the installation process," Drzewiecki says. "We love being out on projects as they're being built. We really like the plant part because we will go out there and hand lay out every plant on the site. It allows us to tweak things, if need be and it just allows us to get out of the office."
Drzewiecki says their clients love the project supervision aspect because there is no one better oversee the installation than the person who designed it and knows what it's supposed to look like when it's getting done.
Around five percent of clients will hire Ginkgo Leaf for just the drawing, another 5 percent will balk at the pricing of the contractors the design firm works with.
"When our clients hire one of our contractors, we've pre-qualified them on their behalf," Drzewiecki says. "Because we wouldn't be recommending a contractor if we didn't have 100 percent faith that they were going to do a good job at a fair price."
Currently Ginkgo Leaf designs around 50 projects in a year, but Drzewiecki says he would like to do a little less and focus on more unique opportunities. Both he and Paulson greatly enjoy the creative freedom they find in residential design work.
"You can be a lot more creative," Paulson says. "You get to tap into all different styles because your clients are always changing. They're always different people with their own flair and different styles that they're into. So you get you get to play around with some different aspects, maybe stuff that you wouldn't personally have in your own yard, but you still like to create because someone's appreciating it."
Some of the common design issues Ginkgo Leaf deals with are drainage issues and other poor site conditions. As for landscape design trends, they're seeing people move away from the full-on outdoor kitchen. Drzewiecki notes outdoor kitchens are more of a challenge in Wisconsin. Instead, they are opting to design more grill islands with some countertop space without sinks or fridges.
Ginkgo Leaf says fire pits are always popular in Wisconsin as they help extend the season and pergolas are also rising in demand.
The ideal client
Drzewiecki says his ideal client doesn't ask what the design fee is during the first meeting.
"That means they care about the design more than they care about the cost," he explains.
He also says an ideal client cares about the design process. These customers aren't expecting a design in two weeks and aren't talking to six other landscaping companies at the same time.
"You can tell because those clients get excited through our whole process," Paulson says.
Ginkgo Leaf's perfect customer fills out the design questionnaire they send them and the customer adds extra notes as well. Drzewiecki says he enjoys working with plant people who actually care and know what plants they like and dislike.
He finds it discouraging when clients say they don't like being outside, but sometimes he uses it as a challenge to transform the space into something a person wants to be in.
"I will tell people, 'You say you don't come outside a lot, but I wouldn't either if this is what my backyard was and we're going to transform it. You will want to be out here all the time.'" Drzewiecki says.
Check back tomorrow for part 2 of this series where we'll look at how Ginkgo Leaf's design process works from start to finish.