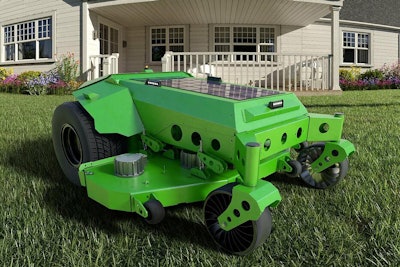 At this year's GIE+EXPO, Mean Green Mowers unveiled its new autonomous commercial electric zero-turn mower, also known as ATOM.
By partnering with The Kobi Company to create the ATOM, Mean Green says it hoped to develop a safe and affordable, large area robotic mower that could lend a hand to the increasing labor shortage facing the green industry.
According to Joe Conrad, president of Mean Green Mowers, there have been numerous autonomous mowers created over the years, but so far, none have been able to meet market expectations regarding accuracy, price, versatility and safety. That is, he says, until ATOM came on the scene.
"Everything's kind of going wild in the autonomous mower world, and (ATOM) is certainly the future of autonomous mowing and large area mowing," says Conrad. "We are proud to be working with The Kobi Company to convert our latest electric mowers to quiet, zero emission autonomous mowing machines. It's a natural fit to combine our latest commercial electric mowers with high tech robotic automation."
"The biggest problem landscapers face today is the labor shortage," says Steven Waelbers, co-founder and CTO of The Kobi Company. "They have problems finding qualified people that mow all day."
Waelbers says that the ATOM utilizes an artificial intelligence (AI) system to navigate around properties and mow, which he says is very different from any of the other robotic mowers present at the expo. There is no set up or base station required on the ATOM; it simply operates off of the sensors and cameras.
"We have designed our autonomous mowing module with mower speed,
accuracy and safety in mind," says Andrew Ewen, Kobi CEO. "By using the latest in computer vision technology and artificial intelligence, we have been able to produce a system that can easily navigate any environment, even below trees and up close to buildings. After years of writing code and exhaustive testing, we now have a safe and affordable autonomous solution for commercial landscape operations."
Since the machine is equipped with AI technology, Waelbers says it has a human detection element that will prevent it from running into a person working alongside it on the jobsite.
"It knows you guys are humans, and it colors all humans red and all the grass green," says Waelbers. "If this mower is driving around and it sees a human, it will know what to do. It will slow down to avoid driving into (the person). It also recognizes trees, flower beds and more like that. It really interprets the world around it so it can operate fast and safe at the same time, which is what landscapers want."
Kobi says the KobiVision system continuously calculates the position of the mower with an accuracy of within half an inch. According to the company, KobiVision is typically more accurate, more reliable and faster than autonomous systems based on wires, beacons and/or GPS.
In addition to the cameras of the KobiVision system, Kobi says there are several other safety sensors. The company adds that it will also ensure safe distance and speed, as well as mowing close to boundaries and edges and around obstacles.
The company also announced that it has been granted a patent for its ORV-Blast! vehicle-mounted battery-powered debris blower.
Since leaf blowing in a necessary job in the landscape industry, Mean Green says this vehicle-mounted debris blower features patented technology and is designed to be as powerful as it is green.
The company believes that conventional mowing equipment, including debris blowers, is often inefficient and exposes employees to toxic fumes and high levels of noise. With Mean Green's patented technology, the company says this machine delivers a solution that is quiet, zero-emission and free of fossil fuels.
The company says the ORV-Blast! achieves 2 speed 120/155 mph velocity, and Mean Green says the run time is better than most commercial gas debris blowers since users are only limited by their vehicle's large battery pack.
Mean Green says the machine is designed for the toughest, biggest commercial jobs, and it quickly attaches to any vehicle. The company adds that the strong, lightweight aluminum construction ensures maximum durability.