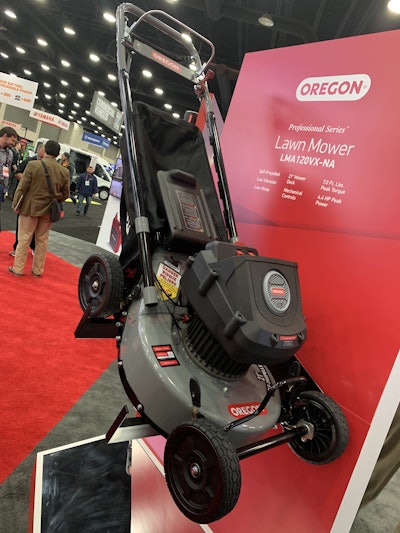 Bringing two new products to showcase at this year's GIE+EXPO, Oregon debuted both its new professional series BLH120VX handheld blower and its LMA120VX-NA lawn mower.
"A true high-performance handheld blower makes landscaping maintenance clean up a breeze in any weather with Oregon's IP56 ingress protection rating and a full 18.5N of blowing force," the company says.
Weighing in at only 7.3 pounds, the BLH120VX has a max air speed of 166 mph, an air volume of 529 cfm and a sound rating of 56 dB(A) max.
"(The handheld blower) is another one we knew we needed," says Paul Vanderwal, senior global product manager, outdoor power equipment with Oregon. "It's for people who don't want to take the backpack on and off."
Vanderwal says the blower also comes equipped with a stealth mode button that acts similarly to the Eco mode button found in many vehicles today, as it will lower the power and extend run time while not sacrificing work quality. The blower has a run time of up to 90 minutes when using the stealth mode.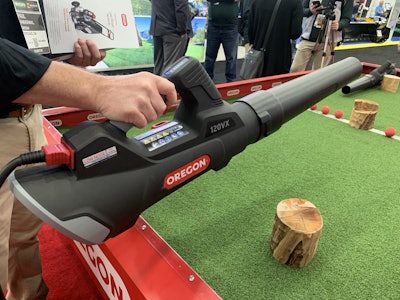 "Most handheld blowers have a turbo setting, but guys will put it on full and hit the turbo, which will blow through the batteries quicker than they need," says Vanderwal. "We're trying to force them backwards into more of an efficiency mindset."
The second item to break onto the Oregon scene is the LMA120VX-NA battery-powered walk-behind lawn mower, a 21-inch mower with a standard gas deck.
"Engineered to replace a 197cc gas-fueled mower, the self-propelled LMA120VX-NA is equipped with 4.4 horsepower of peak torque and 7.0 ft. lbs. of peak torque, and it features a high-lift reinforced steel deck with the option of rear-bagging or mulching," the company says. "And, you can power up without the noise, as the mower runs at a comfortable 61 dB(A) on full power and an amazingly low 58 dB(A) when activating Oregon's stealth mode feature."
Vanderwal says this mower comes with 2-speed transmission, 2.5-bushel bag capacity, an all-weather IP56 rating and has cutting heights of 1" to 4.5".
"It's a real gas equivalent, which has not been done before," says Vanderwal. "If you look at the mowers some brands are calling a battery-powered, you will not see this kind of construction that's meant to be wheeled on and off an American trailer, but it might be appropriate for a lot of the European use and homeowner."
Vanderwal says for this mower, the company put a primary focus on the engine and the technology that goes into it. He adds that it's very robust and, essentially, contains a small vehicle engine so it is able to produce the kind of power needed for a mower.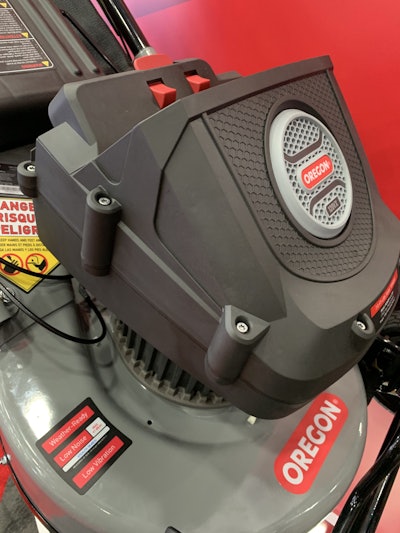 According to Vanderwal, landscapers will be able to get about an hour and 10 minutes of run time with this mower. He adds that it produces more torque and power than the Kawasaki FJ180 and is the "equivalent or better than" that 180cc engine.
"It's able to handle a power spike that puts it well above what a gas can do," says Vanderwal. "And because it's electric, it has all the torque it needs for zero spin. We know nobody's got anything like this right now; we're waiting for someone to try it. When we can offer this kind of power that you won't see on anybody else's electric, we know we've done something special here. So, we're expecting a lot out of this guy this year."
These mowers will be available at dealerships in March 2020.