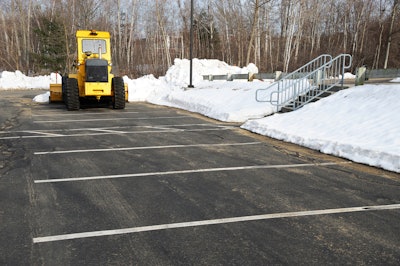 Snow and ice management can be a lucrative service to offer but it can also be chaotic and unpredictable with the fickle nature of weather.
"It's like firefighting except you need to account for every drop of water you spray and how many hours each person worked on the fire so you can bill accurately," says Kevin Speilman, founder of Yeti Snow + Ice Management System and CEO, Cassian Commercial Services. "We needed something like Yeti and just couldn't find it, so we built it."
Yeti Snow + Ice Management System is a software platform that is designed to help professionals manage the challenges of snow season, before, during and after winter.
Speilman says the system gets its name from the way snow and ice crews are like the legendary abominable snowman.
"They sneak around in the snow and dark and leave only tracks (clear pathways and parking lots)," Speilman says. "In most cases, clients and the public don't see us doing the work and only see the evidence that we were there. Snow and ice professionals are really true yetis."
The system was created in 2012 by Speilman for his own business. It originally was a simple web form that his operators would log in from their mobile devices and enter their timesheets after an event.
It evolved in 2014 with the Yeti Snow Operator mobile app and has grown into an all-in-one snow removal company management system. Speilman opted to share Yeti with others in the industry, seeing it as an invaluable tool.
"One of our values as an organization is collaboration," Speilman says. "Collaborating with competitors, clients and service providers makes us stronger as an industry and makes our organization better too. There is a lot of room in our industry for professional operations that want to deliver quality services to clients, and if Yeti can help them, then we are happy to share it with everyone."
Yeti's features include a dashboard for managers, a mobile app for crews and a historical weather forecast archive. Users can import their existing routes, build new ones and order routes for the fastest drive times.
On the web portal, landscapers can set virtual fences around jobsites, causing Yeti to automatically log crews when they are on or off a site. Users can utilize GPS tracking on both the web portal and the app to know where everyone is. The system also helps professionals keep track of their equipment.
"Some of the most popular features of Yeti include our real-time monitoring of crews, our robust route builder and our site map creation tool," Speilman says. "In addition to that, the feedback has been that our mobile app is extremely user-friendly and requires almost no training."
Yeti can also help reduce slip and fall claims thanks to service verification using GPS, photos and geofencing. Combined with weather forecast tracking, it can help reduce risk and liability from slip and fall claims.
"Customers are amazed with the backup data that a Yeti contractor can provide them," Speilman says. "Our Service History Reports provide comprehensive backup to service visits. These reports are customizable by the landscaper, so they deliver exactly what they want to the client."
Overall, Yeti can reduce paperwork, improve billing accuracy, optimize routes and improve communication with clients, as well as with crews.
"Yeti facilitates pre-season site inspections, site map creation and route planning," Speilman says. "Its advanced real-time planning dashboard gives ops teams critical data and the flexibility to reallocate resources and modify plans to ensure success during highly stressful events. Yeti also manages scheduling, billing, subcontractor invoicing and payroll — it's a full-cycle solution."
The company also encourages end users to let them know if system is lacking any features a professional can't live without.
"We understand how unique every snow removal company operates; help us help you," Yeti says online.
According to Speilman, approximately half of Yeti subscribers are also landscapers. While the system is primarily for snow and ice operations, he says it's easy for landscapers to adapt Yeti to their summer activities as well.
Pricing for the system is tiered based on the number of properties. The base pricing is $249 per month for up to 50 sites.
An unlimited number of users are able to access the system under this one price. A company's subcontractors, their operators and staff will receive mobile access under this single price as well.
For pricing that goes over 50 sites, Speilman asks those interested to contact them at 833-201-7674 or [email protected].
"There are several tiers available depending on how many sites our users have," he says. "We'd be happy to discuss higher tier pricing with each landscaper interested in subscribing."