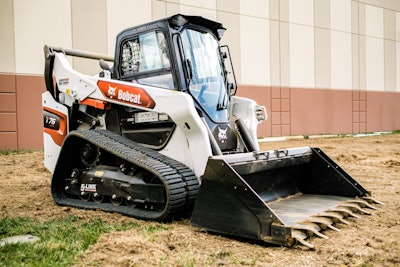 Doosan Bobcat Inc. has announced plans to acquire the assets of Bob-Cat Mowers and the Steiner and Ryan brands from Schiller Grounds Care Inc.
The transaction is expected to close by Dec. 31, 2019. Under the agreement, Doosan Bobcat will acquire the Johnson Creek, Wisconsin, manufacturing facility. The Schiller Grounds Care Inc. employees working at that location as well as the distributor and dealer direct field sales and technical support teams will join Doosan Bobcat as well once the acquisition is finalized.
"We see tremendous opportunity in these brands and the grounds care industry," says Mike Ballweber, president of Doosan Bobcat North America. "We look forward to welcoming these employees to our North America team and are excited about what we will be able to accomplish together."
The purchase price of the assets was not disclosed. BDO Capital Advisers LLC served as the exclusive financial advisor to Schiller Grounds Care Inc. Doosan Bobcat says this acquisition is part of its long-term, strategic growth initiative as a global leader in the compact equipment industry.
"As a pillar of our growth strategy, this acquisition will complement our existing business and expand our footprint to additional, growing industries," says Scott Park, president and chief executive officer of Doosan Bobcat Inc. "These successful brands bring market leadership and closely align with our vision, which will further diversify our business as we expand the reach of Doosan Bobcat to more customers and markets."
John Deere upgrades G-Series skid steers and CTLs
John Deere has recently enhanced its G-Series lineup of small-frame skid steers and compact track loaders (CTL).
The five models were introduced to the market more than three years ago, but John Deere has been continually working with its customers in the landscape, construction and other industries to improve their machinery for maximum productivity.
"As we constantly source feedback from our customers, we heard them request minor improvements to the small-frame lineup, such as simplified maintenance, increased visibility and easier connections to attachments," says Gregg Zupancic, product marketing manager, skid steers and compact track loaders, John Deere Construction & Forestry. "We used this as an opportunity to upgrade our equipment so that it meets their needs and continues to provide quality and performance that our customers expect."
In response to customer feedback, the upgraded G-Series machines can be equipped with an optional rearview camera and has easy-to-clean cab windows for improved visibility.
The cab has been upgraded with more comfort features so operators can remain in the cab for longer durations on the job. The cab features a new Bluetooth radio option and redesigned manual control levers with better ergonomic grips.
The small-frame G-Series model changes includes protected hydraulic lines that run within the boom. There is also the option to support two sets of counterweights, providing the operator with greater stability and capacity to lift heavier materials.
A new 4-point-tie down system enables operators to securely and safely transport the machine to different jobsites.
Maintenance has been streamlined with color-coded fluid fills and key filters are mounted near the rear door. John Deere says the models have optimized air-conditioning ducts, improved cab pressurization and debris ingression to reduce time spent cleaning.
Operators can also get the most out of their G-Series machines with a five-year subscription to JDLink telematics. The application allows operators to view information about machines in their fleet. It provides real-time data and health prognostics to suggest maintenance solutions that decrease downtime. Dealers can read codes, record performance data and even update software without having to visit the jobsite, thanks to remote diagnostics.
Worksaver offers new electric grapple for sub-compact tractors
Worksaver Inc.'s new electric grapple is designed for sub-compact tractors (up to 32-horsepower) can handle debris, brush, limbs and more.
No auxiliary hydraulics are needed to operate the grapple clamp since it is electric. An industrial duty 12-volt linear actuator with an 8-inch stroke operates the clamp instead.
The grapple comes with a wiring harness for direct connection to the tractor's battery and pre-wired rocker switch controls the grapple's actuator.
The 28.5" wide single upper grapple and lower 49" wide rake have tines made from 3/8" material. Both the upper grapple and lower rake feature gripping notches to help retain loose materials.
The ESCG-48S model is made for loaders with the universal skid steer quick attach system, while the ESCG-48JD model is for machines with the John Deere hook and pin type quick attach mount.