Rain Bird recently introduced its IQ4 Central Control Platform software that the company says provides full remote irrigation system access and advance water management features from any web-based device.
"For years, our IQ Platform has been an ideal water management solution for HOAs, schools, parks and other sites that require flow sensing, have more than 22 stations or require comprehensive water management across one or more controllers," says Rick Malkin, central controls product manager for Rain Bird. "Now with IQ4, we're taking water management to the next level with full remote access, a modern user interface, streamlined navigation and permission-based, tiered-user access."
Available in English, Spanish, French, German, Italian and Portuguese language versions, the company says the IQ4 can manage small, single-controller sites as well as large multi-controller sites.
Rain Bird says the platform currently consists of two options: IQ4-Cloud and IQ4-Desktop, which the company says provides remote programming, management and monitoring of Rain Bird's ESP-LX Series Controllers from a desktop computer.
The company says the IQ4-Cloud also provides a web-based service that allows users to log in and control their irrigation systems from any internet-connected smartphone or tablet touchscreen. Rain Bird says it's an ideal solution for organizations with multiple irrigation system administrators or users who are often offsite.
Rain Bird says the IQ4-Desktop may be installed and operated on a single desktop computer, making it a good solution for sites with a single administrator who wants to control the irrigation system from his or her office. This software package provides five-satellite capacity, but the company says users have the option to expand in five-satellite increments.
The company says that both IQ4 versions offer administrative and water management features that can help irrigation managers save time and money, including detailed logs and reports, automated email alarm/warning and satellite station runtime reports, satellite two-way programming, auto data synchronization from IQ4 to the satellite and ET station runtime adjustments by site.
Minute-by-minute flow logs are available for those satellite controllers equipped with flow sensors, as well as graphical reports demonstrating actual flow vs. projected flow, according to Rain Bird.
"Rain Bird is dedicated to providing the best, most flexible irrigation control options available in the industry today," says Malkin. "With IQ4, users can truly 'take control' of their irrigation systems. It's another way we're helping our customers maintain healthier landscapes with less water."
Apex by Fecon introduces new lineup of hydro seeding applicators
Apex by Fecon recently introduced its lineup of hydro seeding and environmental spray applicators for off-road environments.
The company says these include pipeline seeding, landfill top cover, landfill ADC, slope stabilization, fire reclamation, land improvement and more.
Designed for the rigors of off-road use, Apex says these applicators provide the durability needed for remote applications, including rubber track-mounted options, units fitted with oversized floatation tires or tracks and other options to simplify remote, off-road projects.
The company says that large pumps and agitation systems mix the most viscous of matrixes and keep them in suspension in the stainless-steel body until ready to discharge through the vortex pump at distances of up to 325 feet.
Designed to maximize productivity and profitability, Apex says the hydroseed applicators can hold and distribute more slurry, and each component is designed for material versatility, durability, low maintenance and long service life.
A stainless-steel mixing tank with corrosion reducing materials for the tank top and working platform greatly reduces the maintenance required, according to the company, and a raised loading hatch, a fully enclosed engine compartment and an innovative hydraulic system maximizes efficiency while eliminating the high maintenance demands of traditional hydraulic systems.
Apex says the power pack design is removable, replaceable and upgradable to extend the life of your tank while keeping up with the latest technologies and requirements for engines and pumps.
The company says that all Apex applicators are supported by industry-best 15-year protection against tank corrosion, 3-year hydraulic components and 2-year engine warranty.
ASLA joins with ARLP
The American Society of Landscape Architects (ASLA) announced that it joined the Alliance for Responsible Professional Licensing (ARPL) to combine forces with other professional organizations determined to ensure that the public's health, safety and welfare are protected by strong licensure requirements nationwide.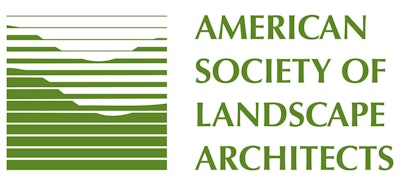 "The practice of landscape architecture includes keeping the public safe from hazards, such as those brought on by security threats, natural disasters and climate change," says Elizabeth Hebron, director of state government affairs at ASLA. "For the sake of public protection and to ensure practice competency, ASLA worked hard to ensure landscape architecture is a licensed profession throughout the country. Now those licensure laws are in jeopardy."
In the past four years, ASLA says it has responded to numerous state licensure threats across the nation, including direct attempts to deregulate landscape architecture.
ASLA says one of the group's highest priorities is ensuring the continuation of professional licensure for landscape architects in all 50 states. By bringing together the combined influence of several professional organizations of advanced professions, ARPL says it aims to educate lawmakers and the public on the importance of high standards, rigorous education and extensive experience required to practice highly technical professions like landscape architecture safely.
"Becoming a member of ARPL and joining forces with so many other advanced professional organizations will help us amplify our licensure education and advocacy efforts as we face the challenges ahead," Hebron added.
John Deere announces exhibits for 2020 CONEXPO-CON/AGG
John Deere announced that it will be exhibiting at CONEXPO-CON/AGG this March. Encompassing 70,000 square feet, John Deere says its booth area will include locations for the Construction & Forestry Division, John Deere Power Systems and the Wirtgen Group.
In addition to an expansive and interactive booth experience, John Deere says exhibition attendees can anticipate the following from John Deere and the Wirtgen Group:
Thirty-eight thousand square feet of carpet spanning the John Deere Enterprise booth area.
Two hundred fifty product experts available to speak with booth attendees onsite.
Seventy-four total products between John Deere and Wirtgen Group on display.
Over twelve displays featuring special technology, new machine features and support solutions.
Eleven total machines on display that feature grade control functionality.
Ten compact construction machines on view, such as skid steer loaders, compact track loaders, compact excavators and compact wheel loaders.
Ten total attachments, such as buckets, among others, which are compatible with the compact construction equipment within the John Deere Enterprise booth area.
Seven world premieres of brand-new equipment across the construction and compact construction segments.
Five simulator stations for attendees to interact with and compete against fellow operators.
Two educational sessions featuring commentary from John Deere experts.
One live presentation every morning to kick off the day at the John Deere booth.
Green & Growin' 20 kicks off later this month
Green & Growin', the annual green industry education conference and trade show presented by the North Carolina Nursery and Landscape Association, will be held Jan. 27-31 in Greensboro, North Carolina.
This three-day education conference and two-day trade show will feature two notable keynote speakers during the education conference Jan. 27-29.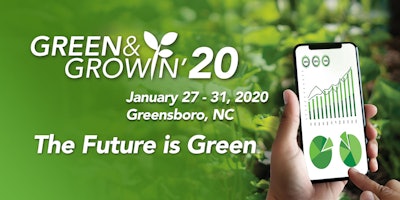 Steve Troxler, North Carolina commissioner of agriculture, will discuss the state of the green industry on Tuesday, Jan. 28. Troxler worked to include nursery crops in the Hurricane Florence Disaster Recovery Act, which earmarked $240 million in relief funds for agricultural businesses adversely impacted by Hurricane Florence and/or Hurricane Michael.
Tony Avent will talk about his life's work of plant exploration on Wednesday, Jan. 29. Avent established Plant Delights Nursery and Juniper Level Botanic Garden, a not-for-profit 28-acre research, education and display garden with more than 26,000 taxa, including an array of unusual specimen plants.
The education conference provides over 100 hours of training, specialty seminars and workshops taught by over 60 industry experts. Attendees can earn continuing education credits (CEUs) toward state and national accreditations and licensure in eight disciplines, including landscape, irrigation, pesticide, arboriculture and forestry.
At the Marketplace trade show Jan. 30-31, attendees can expect nearly 400 exhibitors from across the U.S. and Canada showcasing a broad range of plant materials, tools, equipment and landscape supplies.
New for 2020, the Marketplace kicks-off with a reception Wednesday, Jan. 29 from 5-7 p.m. to preview the show before its official open at 9 a.m. on Thursday, Jan. 30. An additional after hours event will be held Thursday evening from 4:30-6:30 p.m.
Green & Growin' 20 will be held at the Sheraton Greensboro at Four Seasons and the Special Events Center at the Greensboro Coliseum. The show is a closed event for professionals in the green industry.
Ruppert Landscape announces promotions and new branch
Ruppert Landscape announced the expansion of its landscape management operations to include a new branch in Delaware on the Delmarva peninsula.
Serving Lewes, Bethany, Millsboro, Rehoboth Beach and Fenwick Island in Delaware as well as Ocean City in Maryland, the company says this branch joins 18 existing landscape management branches and five landscape construction branches located in Maryland, D.C., Pennsylvania, Virginia, North Carolina, Georgia and Texas.
"The addition of the Delmarva branch places us in a healthy market that values quality landscapes and allows us to provide our people with more opportunities for growth," says Doug Halsey, region vice president. "There has been a strong interest from our local existing customer base, many of whom have properties in the Delmarva region, to enter this market, so it had been identified in our latest five-year plan as a target expansion location. We look forward to growing the Ruppert brand in this market and carrying the torch of excellent customer service for many years to come."
Ruppert says the Delmarva branch will be led by Garth Jorgensen, a 20-year Ruppert employee who previously managed the Toughkenamon, Pennsylvania, landscape management branch.
"For this location to be successful, it's critical to have a strong customer base and a trusted employee who understands the Ruppert culture," says Halsey. "We are fortunate that Garth has stepped up to fill this role, and we are looking forward to having an industry veteran present in the market."
Ruppert says Jorgensen has been in the landscape industry for over 30 years and holds a bachelor's degree in agricultural economics from the University of Delaware.
The company says he has been instrumental in helping the company maintain and further its presence in the Philadelphia market, having held several roles over the years including area manager, enhancement manager and business development manager. In 1997 and 2005, he was recognized with the company's Branch Impact Award for his dedication and contributions to the Pennsylvania branches.
The company has also promoted Brian Windley to fill the role of branch manager in the Toughkenamon branch.
Ruppert says Windley began his career in the landscape industry as a teenager, focusing on residential installations. In 1998, he joined a leading landscape organization as a field manager and was quickly promoted to area manager.
During his time there, Ruppert says Windley excelled in both enhancement sales and building strong customer relationships, playing an integral role in the success of his branch. In 2007, he decided to leave the landscape industry and pursue a career in law enforcement, joining the Maryland Transportation Authority where he eventually became a detective.
He spent 11 years on the force before deciding to return to his roots in landscaping. He joined Ruppert Landscape in 2018 as an area manager in the company's Baltimore, Maryland, landscape management branch.
"Brian was an easy choice for us to run the Toughkenamon operation," says Damien Barber, region manager. "He is focused on what really matters in our business; our people, our customers and delivering a quality product. Brian is an exceptional talent who has a ton of energy, and I can't wait to see what the future holds for this branch with Brian at the helm."
As branch manager, Ruppert says he will be responsible for the overall welfare of the branch, including the safety and development of his team, strategic planning and budgeting, training and day-to-day operations.