The Harvest Group is now offering an Account Manager Online Training program that helps landscaping companies better train their employees in this position.
"Professionally trained account managers lead to more satisfied clients, clients who will stay with you and who will send more business your way," The Harvest Group says. "Account managers with the proper training also contribute to better teamwork internally and externally."
The course features real world examples and quiz questions to help managers learn and test their knowledge. The program has 11 training modules with more than 150 video lessons, totaling 16 hours of content. The modules include:
Module 1 – Selling enhancements
Module 2 – Pricing and estimating enhancement jobs.
Module 3 – Building and sustaining customer relationships
Module 4 – Retaining and renewing client contracts
Module 5 – Time management
Module 6 – Client conflict resolution
Module 7 – Quality counts
Module 8 – Conducting successful walk throughs
Module 9 – Success behaviors
Module 10 – Job exits and turnover
Module 11 – New job startups
The training program also provides access to a private Facebook Group and monthly conference calls to share information, ask questions and get additional advice.
The training program is $895 and can be ordered here.
Project EverGreen celebrates SnowCare for Troops Awareness week
SnowCare for Troops is celebrating its 10th year of existence and Jan. 19-25, 2020, is National SnowCare for Troops Awareness week, which shines a spotlight on the organization's volunteers, the families they help and the need for more volunteers.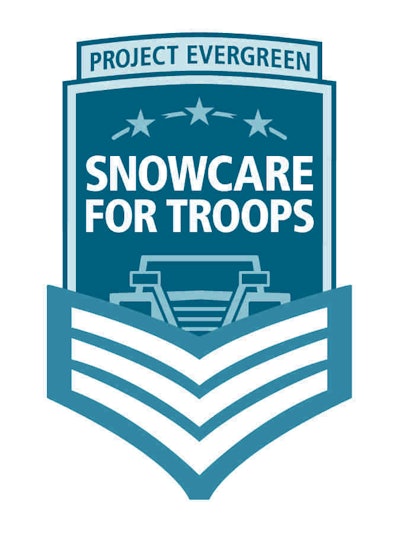 SnowCare for Troops is supported by Boss Snowplow as it is a way to help military families maintain their independence while their family member is deployed.
"Boss Snowplow continues its support of the SnowCare for Troops program because we have seen firsthand the impact it has on military families," says Mark Klossner, director of marketing, Boss Snowplow. "We are grateful for our armed forces and the freedom we have because of their sacrifice. This is one way we can show our support and appreciation."
The program says the need for volunteers is still tremendous as military deployments are still occurring regularly. Volunteers are matched with families within their service area.
"SnowCare for Troops provides military families in need with peace of mind and lifts a significant burden from their plates," says Cindy Code, executive director of Project EverGreen. "We're very grateful for the commitment of our dedicated volunteers and the continued support from Boss Snowplow. The leadership they have demonstrated in support of military families goes above and beyond the call of duty."
Click here to learn more about becoming a volunteer.

GIE+EXPO hotel registrations now open
The Louisville Housing Bureau has opened its hotel reservations early for GIE+EXPO 2020.
Anyone who books through the bureau will be entered to win prizes from a Louisville gift basket or personalized bourbon bottles to a complimentary hotel room during the show. You can view pre-arranged rates here.
"Louisville is a great city – easy to get to, easy to get around, and its hotel scene is booming," says Kris Kiser, managing partner of GIE+EXPO and OPEI president. "But they fill quickly, and the show keeps getting bigger. The new technology-centered education and a strong industry outlook will likely fuel even more growth so it's more important than ever for attendees to plan ahead and book both hotels and flights early."
GIE+EXPO is set to be held Oct. 21-23 at the Kentucky Exposition Center and plans are in the works for new features and education on industry hot topics, such as drone training and robotic mowers.
Registration for the trade show and education programs will open in April. Show management is currently working on securing airline discounts.
Exmark launches Honors Program for military and first responders
Exmark has created the Honors Program in recognition of the hard work and sacrifices military personnel and first responders make.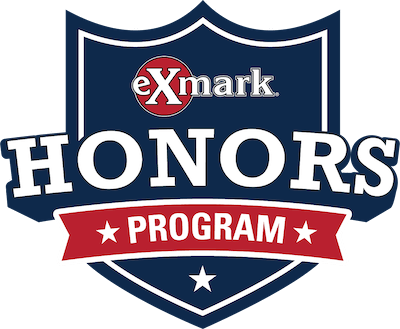 With this program, current and former military members and first responders are entitled to a discount of up to $1,500 on a new Exmark mower.
"We salute these heroes and recognize the tremendous debt of gratitude we owe them for their service, and the time commitment it requires," says Daryn Walters, Exmark general manager. "With the Honors Program, Exmark is making it easier for them to spend less time maintaining their lawns and more time doing the things they love."
The program is open to all current and former military, law enforcement, fire, rescue and EMT personnel. It includes the Exmark Radius, Lazer Z and Navigator ZTRs, Staris and Vantage stand-on mowers and Turf Tracer walk-behind mower models. The discounts rand from $300 to $1,500.
Click here to view all the equipment discounts and customer eligibility requirements. The program runs through Oct. 31, 2020.
Arborjet and Ecologel announce new product line
Arborjet and Ecologel recently introduced its new tree and shrub care program Arbor Rx, which is a liquid line of tree fertilization and soil enhancement products designed to improve tree and shrub vitality.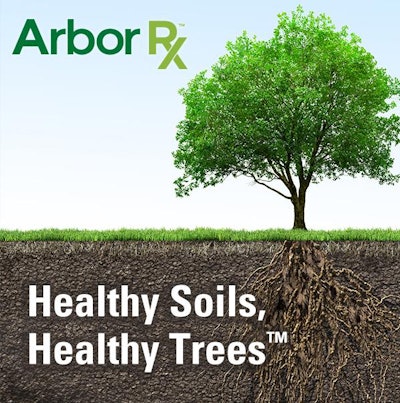 Trees and shrubs are often stressed in urban and suburban environments, dealing with poor soil, lack of moisture and nutrient availability and other harsh growing conditions. Arbor Rx has been created to mitigate these issues by providing deep root fertilization and soil enhancement. It maximizes tree and shrub health by combining plant nutrition with other special products to enhance soil quality, stimulate root growth and improve water availability.
"We are all very excited about the Arbor Rx launch," says Russ Davis, Arborjet president and CEO. "Arbor Rx reflects the first major combined plant care program for Arborjet & Ecologel as partner companies. Through our partnership, we've been able to adapt Ecologel's high quality nutrition and soil enhancement products to address key tree and shrub issues."
ArborPlex forms the foundation of the Rx program as it is designed to provide consistent extended feeding for trees and shrubs with slow release nitrogen from urea-triazone.
The Rx line also has primary and secondary product solutions to improve plant vitality. The entire line is comprised of liquid products that do not require mechanical agitation. They are also all tank compatible for easy combination applications.
Little Beaver updates UN-Towable drill for improved convenience and safety
The Un-Towable Drill from Little Beaver now has an updated transport frame that is safer for users.
While other drills of a similar size must be towed or loaded in a trailer, the UN-Towable can be carried in the back of a pickup truck. It also features an optional slide-in hitch receiver for an additional transportation method. It is designed to fit in any two-inch receiver.
The updated transport frame has an added stop so the unit can't be cranked past the designated cradle. Without this stop, the drill could lodge itself behind the cradle, making it difficult for one person to lift the drill back into the proper position.
"While our product line is tried and true, we're always looking for ways to improve," says Joseph Haynes, product engineer and fourth-generation Little Beaver team member. "Taking a great product and making it even better is what my great-grandfather had in mind when he started the company years ago. Improvements like this carry on his commitment to making dependable, easy-to-use products."
The UN-Towable Drill has an 11-horsepower Honda engine and is designed to be able to reach difficult to access areas. It has an integrated forward and reverse auger rotation component to protect the user if the auger gets caught under an obstruction.
The auger has three cutting tips available and comes with a two-year warranty.

Project EverGreen and STMA partner to renovate baseball field

Earlier this month, Project EverGreen and the Sports Turf Managers Association (STMA) along with the City of West Palm Beach Parks and Recreation Department and local volunteers worked to give Howard Park in West Palm Beach, Florida, a makeover.
The park's 13-acre softball field was in need of a renovation due to heavy usage. The transformation is valued at more than $50,000 as industry professionals pitched in to help with leveling and refurbishing the infield, laying new grass edges, inspecting the irrigation heads, core aerating the outfield, and many more tasks to ensure it remained a safe, sustainable playing surface.
"Neighborhoods deserve healthy parks or community green spaces they can call their own," says Cindy Code, executive director of Project EverGreen. "Thriving parks create a community hub for neighbors – young and old – to connect. Parks help to build community pride and confidence in residents and create spaces to safely exercise and enjoy the great outdoors."
More than 70 professional sports turf managers with STMA helped with the project.
"We were thrilled to be a part of this important project and bring a well-managed and playable ballpark to a deserving community," says Kim Heck, CAE, CEO of the STMA. "To use our professional expertise and know-how and bring a plan like this to life is a win-win for everyone."