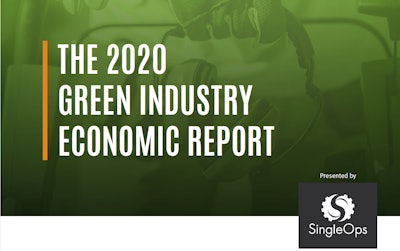 SingleOps, an all-in-one business management software system for outdoor service companies, recently completed a study of the North American green industry.
This is the first study SingleOps has conducted and it found benchmark key performance metrics such as acceptance rates and average job values across different regions and services provided.
The data comes from thousands of landscaping and tree care professionals in the U.S. and Canada who use the SingleOps system over the span of 2018 and 2019.
In 2019, tree care and landscaping companies using SingleOps bid a total of 398,223 jobs valued at a total of $817.83 million.
SingleOps found that proposals sent to customers by landscaping and tree care companies were accepted, on average, 63 percent of the time.
"Typically, high acceptance rates are the result of operating quickly and efficiently during the sales and estimating process," says Taylor Gould, president of SingleOps. "The fact that 63 percent of proposals were accepted suggests green industry companies are automating key processes like bids, project management and invoicing."
This is consistent with what digital analyst Brian Solis says about the American economy. Due to the prevalence of on-demand services, consumers expect instant gratification when seeking solutions.
SingleOps says 80 percent of jobs go to the first bidder, making speed paramount.
As for the specific verticals, landscaping companies that offered services including general landscaping, landscape design/build, landscape maintenance, landscape supply and lawn care had their proposals accepted 64 percent of the time.
Meanwhile, tree care companies that offered services such as pruning, tree removal, plant health care, cabling and bracing, transplanting, consulting, fertilization and lightning protection had 55 percent of their proposal accepted.
"Tree care jobs are often higher value than landscaping jobs (median of $800 for tree care jobs vs. $577 for landscaping)," Gould says. "A higher value job likely means that the property owner will get more proposals in order to ensure they're making the best decision and/or maximizing cost savings."
Regionally, SingleOps found that the Southeast had a higher proposal acceptance rate than other parts of the country at 66 percent compared to 50-57 percent for other areas, but they also say this region was strongly represented.
SingleOps encourages green industry companies to track their proposal acceptance rates so they can see where they need to improve.
"Do your proposals give your potential customers confidence that your company is fit for the job?" SingleOps asks. "Can your proposals be approved by a digital signature? Is your issue a low acceptance rate, or perhaps some other inefficient part of the process when you're performing the work itself? Or maybe your margins are too thin, so you need to raise prices and/or cut costs. But you can't improve what you don't measure."
The report also found that tree care jobs had an average value of $1,759 in 2019 compared to an average value of $1,980 in 2018. Landscape jobs had an average value of $1,558 in 2019 and an average value of $2,324 in 2018.
"Average job values decreased by less than 5 percent from 2018 to 2019, so we don't regard this as a significant change," Gould says. "Our historical data does include more companies in the 2019 data than the 2018 data, so that is a likely reason for the discrepancy."
Based on these numbers, Gould says landscapers can expect competition to increase in 2020 with customers increasingly accustomed to an "Amazon Prime" type of experience. He says landscaping companies have to continue stepping up their game and take advantage of business management tools that will help them attract and retain customers.
"Our goal in reporting these figures is to give tree care and landscaping companies insight into acceptance rates and job values nationwide, so they can measure themselves against their peers and assess if and what changes need to be made in order to grow revenue and increase productivity," says Sean McCormick, CEO of SingleOps. "We know there are tangible things green industry companies can do to improve acceptance rates and job values, including automating various aspects of the bid, project management and billing processes. We can tell from the high level of interest in our product that green industry companies believe this as well."
The full SingleOps Green Industry Economic Report can be viewed here.