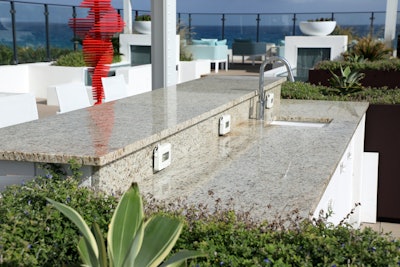 With people looking to spend more time outdoors than ever before, the addition of an outdoor kitchen is on everyone's wishlist. This feature allows your customers to eat, drink and be merry all while enjoying the beauty of their backyard landscape.
When creating an outdoor kitchen, there are many facets to keep in mind, but one of the most important is what type of material you will use when installing the countertops.
Choosing a countertop type can be challenging, as there are numerous types available, and you need to be able to match the right countertop with your customer's style preference, your customer's budget, what the countertops will be used for, and the climate of the area.
If your customers are interested in investing in an outdoor kitchen, take a look at some of the best options you can use when installing the countertops.
Granite
One of the most popular types of countertops is granite, and it's easy to see why. According to the website Countertop Specialty, granite is one of the best options when looking at the overall ease of use, color varieties, maintenance and durability.
According to Countertop Specialty's website, "Granite can handle the weather and all the fancy barbecue recipes, food, drinks, fun (and sometimes chaos) of outdoor dining and entertaining. In truth, granite sets the bar for comparing outdoor countertop materials, but others can make good outdoor kitchen countertops as well. It's just a matter of weighing the pros and cons and deciding what look or style works with all your other outdoor kitchen design ideas."
Experts from Houzz agree that when working with granite, it's hard to go wrong, as it stands up well to heat, the color tends to stay strong even when exposed to extreme sun and when it's sealed properly, it can be resistant to mildew, stains, and mold.
Countertop Specialty also notes that some types of granite are dense enough that you won't even need to seal them.
There is, however, one glaring con when it comes to choosing granite as your customer's countertop choice: price.
"Estimates assume a subcontractor markup of 10 percent for materials and labor," Houzz says online. "Costs can be higher depending on the locale, scope of the project and addition of a general contractor overseeing the project."
If your customers are considering granite, be upfront with them about the price before pursuing it further.
Quartzite/natural stones and concrete
As a close second to granite, Countertop Specialty says that the natural stone quartzite, not to be confused with quartz, has essentially the same qualities as granite but might not come with such a high price tag.
Natural stone can prove to be very durable, and it's hard for this choice to ever go out of style. Since no two pieces of stone are alike, it also offers a bit of variety and uniqueness in the look and design of the countertops.
There are, however, a few drawbacks to natural stone, according to Houzz. Natural stone countertops will require refinishing regularly, and since the stone is porous, it can end up staining more easily.
Concrete is also a highly customizable option for countertops, but it will eventually show some wear and tear. Countertop Specialty does say that concrete has the tendency to fade and turn yellow when it's exposed to a lot of sun, but this can be somewhat remedied if you either stick to lighter earth tones when picking the color or if the countertop will be completely shaded.
Marble
Another popular option is marble, which typically fairs well if customers aren't too concerned with staining and etching.
According to Countertop Specialty, when marble countertops have a honed finish, it helps the surface retain its shiny and polished look, even in the face of rain, snow, wind and more, but it can still be susceptible to etches and stains.
"Acidic foods and drinks like ketchup and piña coladas will cause etching (dull spots on the surface), so marble is not the best choice for a kitchen countertop inside or outside," Countertops Specialty says online. "Stains (liquid absorbs creating a dark spot) can be controlled with a stone sealer."
While it's true that these etches and stains can be removed or repaired, since these countertops will be used in an outdoor kitchen for food preparation, it's up to your customer to decide whether or not it's worth it in the long run.
Marble is a very durable and long-lasting choice, there's no doubt, but it all comes down to the time and money your customers will want to invest in making sure it always looks new.
"On the plus side, the weather will also work for you by washing out stains and blending in etch marks, aging the marble naturally for an authentic 'rustic' look," Countertop Specialty says online. "If you let it age naturally, then it's almost maintenance-free. Normal clean-up is, essentially, all that is required for years of use."
Before investing in one material over the other, be sure to sit down with your customers and talk through their budget and expectations for the project, and also take into account the weather throughout the year and how it will affect whichever material is used.