Darin Brockelbank, president of MetroGreenscape based in Charlotte, North Carolina, got into the green industry at a young age like many others, but it wasn't a love for landscaping that attracted him. Rather, it was his entrepreneurial spirit.
"I was a poor kid and I had to do something to make money to have extra things," Brockelbank says. "So, at 10 years old, I started to rake leaves and at 12 years old, I started to have grass cutting accounts. By 14, I went and launched the business officially."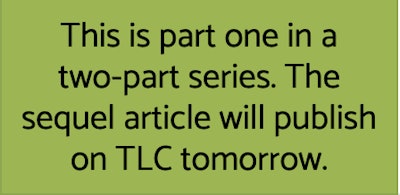 Originally, the business was just called Darin's Lawn Care, but after getting married, Brockelbank wanted to think bigger and give his company a name that was forward-thinking, so eventually they settled on MetroGreenscape.
The company's motto is "Everything outdoorzy" because Brockelbank wanted to show customers his company could do anything, and the outdoors consists of lots of different services.
The company has numerous sources for new clients, but Brockelbank says the main lead generators for the business are Facebook marketing, Google AdWords and SEO work, as well as customer referrals.
MetroGreenscape serves mostly residential customers with 21 percent of the business being maintenance and the rest of the work being design/build, but Brockelbank says they've moved more to the install side of things, as designing tends to slow things down.
"I would say 65 to 70 percent of our work doesn't have a design at all," he says. "It may just be landscaping, but it might be design/build, depending on how you look at it."
Brockelbank prefers residential work because there is a higher attention to detail.
Recession ready
The company didn't always have a maintenance side of the business. It was added to help the company survive the Great Recession in 2008.
Brockelbank says they sold their house, cars, furniture and moved in with his in-laws for six months, all in an effort to keep the company in business. He says that once you've been part of a major recession, it never leaves you and you never want to do things that put you in those circumstances ever again.
"Some of the things that we've done are we've built our maintenance department from nothing to have residual income," he says. "We have positioned ourselves with that 'everything outdoorzy' type of thing to do smaller jobs, as long as they hit the margin. This way we appeal to a bigger base of people."
Brockelbank says his people are paid based on performance and they have scorecards for every part of the business, so when the numbers are off, they can dig in and find out why.
"We have a plan at any moment of time that if half of our customers went away and half of our business went away, we know exactly what moves we would make within a week," Brockelbank says.
The average project price is $11,000 when it used to be $150,000, but Brockelbank says this allows them to serve a larger range of people. MetroGreenscape also offers financing so more customers can purchase their services.
"We give everybody the opportunity to have a financed price," he says. "This way, people see their projects in the form of a payment and not in the form of a dollar amount."
MetroGreenscape currently has 24 employees, and Brockelbank says they find them in a number of ways, but their main source is from their own team members bringing new employees in.
"We sub out probably 80 percent of our work," Brockelbank says. "So, if we had in-house employees, we might have a total of 70 for the size company we are. But we figured out a long time ago that actually helps protect us against the recession. Because if we drop our revenue, we just don't use our subs."
MetroGreenscape has 22 vetted subcontractors and around 11 or 12 that the company uses all of the time. Brockelbank makes sure to only work with subcontractors who have five employees or less, counting the owner.
"We purposely work with a smaller subcontractor, so that the subcontractor will be quality control on a couple of his jobs or her jobs," he says. "In that way, we can not have as much management on ourselves overseeing the job because it's an owner out there physically on the job, which they tend to take more pride."
Pain points
MetroGreenscape has some different pain points than most landscaping companies, as Brockelbank is an absentee owner and has been for the past two years.
"I'm 35 and I've got three children who are 14, 13 and 12," he says. "And when you build a business out of a recession, you put a lot of hours in and I wasn't going to, for any business or anybody or anything, let the business get in the way of lost time that I might have had with kids while they're at that age of still wanting to be around dad and let dad coach them and things of that nature that I didn't get to do when they were little."
Brockelbank actually runs three separate businesses in different industries, all absentee, and plans to continue to do so, unless there are some major things that happen that need his attention.
As an absentee owner, Brockelbank will come in once a month to go over the financials of MetroGreenscape and talk to his general manager a couple of times a week.
"You want to make sure you're keeping morale up, but you're not there to hear what's really going on," he says. "So, you're more looking at it from a numbers perspective and a culture perspective, but it's hard to gauge the culture when you're not around."
While some may think being an absentee owner is freeing, it can actually be more stressful at times.
"Somebody can make a half-million-dollar decision that puts the negative on your behalf and you could end up in there to clean up the mess if they every quit," Brockelbank says.
Another challenge MetroGreenscape deals with is one that all landscape company owners are familiar with, which is finding and retaining the best people in this current competitive market.
The last issue Brockelbank says the company has been facing is shifting from a high-end company that was slower on projects to one that is efficient and can turn work around quicker on smaller jobs.
Check back tomorrow for part two of this story where we'll look at MetroGreenscape's goals, community involvement and advice for others.