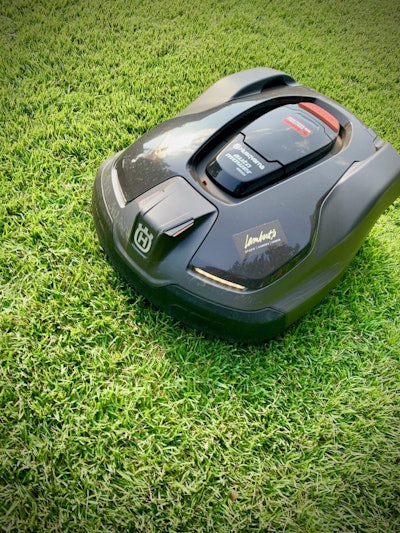 Robotic mowers have been on the rise in popularity over the last few years, and with this interest continuing to grow, more companies are jumping on the bandwagon with their own version of the mower.
While there are numerous options out there, take a look at just a few of the robotic mowers offered on the market and what they bring to the lawn mowing table.
Husqvarna
It's impossible to talk about robotic mowers without mentioning Husqvarna, as it has been in the robo mow game since 1995.
Husqvarna's had its share of autonomous mowers and this year it added two all-wheel drive (AWD) models to its Automower robotic series: the Automower 535 AWD and the Automower 435X AWD.
The company says the 535 AWD has an MSRP of $4,299, with installation sold separately, and can handle slopes up to 35 degrees, as well as maintain up to 0.9 acres of turf.
Husqvarna says technology that optimizes the control of each individual wheel enables superior operation in the most demanding terrain and rainy conditions. The company says the 535 AWD also helps maintain your team's safety by keeping them off hazardous and tricky slopes.
The company says the 535 AWD is equipped with Husqvarna's cloud-based Fleet Services management system, and the mower can be integrated into a full fleet solution that allows operators to monitor and control an unlimited number of robotic units at no extra fee.
Designed for more residential use, the 435X AWD has an MSRP of $4,299, and the company says it can handle slopes of up to 35 degrees and maintain up to 0.9 acres.
Husqvarna says the ultra-silent drive, weather timer and remote object detection are just a few of the features packed into this 38-pound all-wheel drive robotic mower.
The company says the 435X AWD controls each wheel to deliver superior operation in demanding terrain, and the X-line feature package offers Automower Connect, GPS assisted navigation, LED headlights, a front rubber bumper and the X-line body design.
Husqvarna adds that firmware over the air (FOTA) updates and a high-resolution color display are also available on the 435X AWD.
________________________________________________________
Stihl
With a model for smaller yards and one for larger projects, Stihl says customers will definitely be able to find the bot that fits their lifestyle.
Stihl says the RMI 422 P iMow robotic mower works well on small lawns, around pools and even in yards with steep slopes or numerous corners. In just a few hours, the company says the 422 P can mow lawns of up to a quarter of an acre.
Thanks to its 7.8-inch cutting width, Stihl says the 422 P can cover every last corner of your customer's yard, and by using tilt sensors, the 422 P automatically adapts its speed on uphill and downhill gradients. Stihl adds that the 422 P is able to handle slopes of up to 22 degrees.
For larger lawns, Stihl says the RMI 632 P can mow up to one acre. On one charge, Stihl says the 632 P is able to mow up to 150 minutes, and it features an 11-inch cutting deck. The company says the 632 P also features a removable control panel, which offers more ease and comfort when programming.
Stihl says the iMow works in accordance with a pre-programmed mowing plan, while still being able to react to changing conditions. Within a set timeframe called Active Time, Stihl says the mower
decides whether or not to mow, such as if it's a rainy day. For those who live in rainy climates, however, Stihl says the iMow's rain sensor can be deactivated and the mower can mow in the rain.
If the iMow robotic lawn mower has a large area to cover in a short time, Stihl says it can recharge itself faster, and if it's taking the night off, it charges itself slowly, thus extending battery life.
The company adds that the mulching blade is a double-sided ground blade that changes its rotational direction after each blade stop to ensure even wear.
________________________________________________________
Echo
Echo says its TM-2000 Autonomous Turf Mower can handle up to five acres of turf while also finely mulching clippings to promote turf health.
The company says that since the unit can be remotely commanded while monitoring performance via a web platform and mobile app, sports turf managers can put their time and labor toward other tasks.
The company adds that the unit can also be scheduled to operate around field usage and watering cycles, while the emissions-free operation keeps energy costs eight times lower than traditional turf maintenance tools.
With a speed of 2.2 mph and a mowing width of 40.7 inches, the company says this 156.5-pound mower can deliver a mowing height between 0.8 inches and 3.9 inches. Echo adds that the TM-2000 has five floating heads and three retractable and replaceable 2-inch blades per cutting head.
________________________________________________________
WORX
WORX recently introduced two new models of their Landroid robotic lawn mowers: Landroid M and Landroid L.
WORX says that communication with Landroids M and L is handled through a smartphone app, and both mowers are programmable so the operator can instruct the mower when, what time and at what frequency to cut the lawn.
The company says the Landroid L (WR150) mows lawns up to 1 ⁄2 acre and Landroid M (WR140) has a 1 ⁄4 acre coverage. Common characteristics between the mowers include the WORX 20V Max Lithium 4.0 Ah battery. Also, both mowers include the "Find My Landroid" GPS module that locates the mower in the event it's misplaced, lost or stolen.
Another new feature of the mowers is "cut to edge." WORX says Landroid's offset blade design minimizes the need for trimming, and with the mower's patented AIA technology, Landroid algorithm or problem-solving capabilities allow it to better navigate through narrow passageways compared to other robotic mowers.
Cutting height adjustments include 1.5 to 3 in. for Landroid M and 1.5 to 4 in. for Landroid L. Landroid M weighs 21.12 lbs with battery, while Landroid L is 22.88 lbs.
Built-in safety sensors stop the mower blade's rotation when it's lifted or tipped, and WORX says the sensors also reverse Landroid when it makes contact with a person, pet or object. The mower's three pivoting blades combine for 7-inch cutting width (9-inch on Landroid L).
The Landroid L and Landroid M accessories include one 20V Max Lithium battery, 20V 90-minute charging base, nine cutting blades, screws and boundary wire and staples. A hex key, two measurement gauges and eight lawn screws are included for securing the charging station. The Landroid mowers are covered by the WORX three-year limited warranty.
________________________________________________________
Mean Green Mowers
Last year, Mean Green Mowers unveiled its autonomous commercial electric zero-turn mower, also known as ATOM.
By partnering with The Kobi Company to create the ATOM, Mean Green says it hoped to develop a safe and affordable, large area robotic mower that could lend a hand to the increasing labor shortage facing the green industry.
According to Joe Conrad, president of Mean Green Mowers, there have been numerous autonomous mowers created over the years, but so far, none have been able to meet market expectations regarding accuracy, price, versatility and safety. That is, he says, until ATOM came on the scene.
The company says the ATOM utilizes an (AI) system to navigate around properties and mow. There is no setup or base station required on the ATOM; it simply operates off of the sensors and cameras.
By using the latest in computer vision technology and artificial intelligence, the company says it's been able to produce a system that can easily navigate any environment, even below trees and up close to buildings.
Since the machine is equipped with AI technology, the company says it has a human detection element that will prevent it from running into a person working alongside it on the jobsite.
Kobi says the KobiVision system continuously calculates the position of the mower with an accuracy of within half an inch. According to the company, KobiVision is typically more accurate, more reliable and faster than autonomous systems based on wires, beacons and/or GPS.
In addition to the cameras of the KobiVision system, Kobi says there are several other safety sensors. The company adds that it will also ensure safe distance and speed, as well as mowing close to boundaries and edges and around obstacles.
________________________________________________________
Honda
Whether your customers are looking for something that can cut small, easy lawns or something that can take on larger, more complex projects, Honda says it's got you covered.
The Honda Miimo comes in two models: the Miimo HRM310 that can cover up to 0.37 acres and the Miimo HRM520 that can cover up to 0.75 acres.
Honda says its Miimo mower offers three different cutting patterns. The first is random, which the company says is recommended for large, open areas. When in this pattern, Honda says the Miimo will turn 90-170 degrees, exit and continue cutting.
In the directional pattern, Honda says the mower will rotate 175 degrees, exit and continue cutting, and this pattern is recommended for narrow areas that are obstacle-free.
Recommended for larger areas and complex shapes, Honda says the mixed mode pattern allows the Miimo to mow for 15 minutes at random, 15 minutes at directional and 15 minutes back to random.
Honda says the Miimo's three special blades are durable, efficient and long-lasting, and the blade automatically switches between clockwise and counterclockwise spinning. Honda adds that if a hard object is struck, the blades will swing back into the blade disc.
The company says the Miimo is equipped with advanced sensors and a floating cover that detect obstacles. Honda says the Miimo will sense any contact and immediately change direction, and Miimo knows when it is lifted or tilted and will automatically stop its blades.
Honda says Miimo can handle slopes as steep as 25 degree, and if the mower encounters areas of longer, thicker grass, it will automatically cut in a concentrated spiral pattern, then it will change back to normal to cut the remainder of the space.
Honda says Miimo keeps the borders of the lawn looking neat and finished by cutting along the guidewire twice a week, and it can quickly and smoothly turn away from the boundary wire without stopping or backing up.
With the turn of a knob, Honda says the cutting height can be adjusted from 0.8 to 2.4 inches.
________________________________________________________
Left Hand Robotics
Left Hand Robotics introduced the Bolt RT-1000, which the company says is an autonomous workbot designed for commercial outdoor jobs. The company says this is the first self-driving robot for commercial outdoor jobs, focusing on mowing grass and clearing sidewalks of snow.
The company says this robot tractor is powered by a gasoline engine driving hydraulic pumps and features an articulating frame and all-wheel drive for traction, stability and long runtime.
Weighing about 1,250 pounds and reaching 93 inches in length, the company says the machine is compact enough to fit on a trailer used to transport a typical riding mower.
The company says the Bolt RT-1000 has a 12-gallon fuel tank and runs on a Vanguard 37HP EFI oil guard engine. Available attachments are a mower deck, snow broom and deicer box.
The company says the RT-1000 uses triple-band GNSS RTK technology to autonomously drive with centimeter-level accuracy. In winter, the company says users can assign the snowbot to clear sidewalks before snow accumulates or is packed down by pedestrians.
The company says the RT-1000 uses technology and sensors to detect and avoid obstacles and people, and each workbot is equipped with lidar, radar and six on-board cameras to stay aware and safe. Additionally, the company says the robot is equipped with bright LED running lights, safety bars and emergency shut-off buttons.