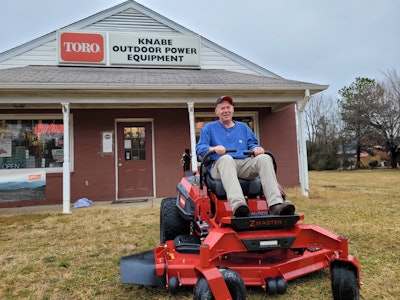 Photo: Toro
Brett Hill of Brett's Lawn Maintenance in Richmond, Virginia, was named the winner of Toro's first-ever virtual contractor event giveaway. His prize was the all-new Toro
Z Master 4000.
The company says the win came at the perfect time for Hill, who recently had to sell his stand-on mower when he ran into operational challenges due to Covid-19.
"Having this is truly a huge blessing, and my first impression when I learned that I won was that this is life-changing," says Hill. "I felt like I was on cloud nine. I was just speechless."
Believing he would soon need to downsize his business and focus on smaller customers' lawns that he could maintain with a walk-behind, the gifted Z Master 4000 Series will allow him to continue to serve his entire customer base.
Brett's Lawn Maintenance serves Richmond and surrounding areas in Glen Allen, Chesterfield, Henrico, Chester, Ashland and Varina. Toro says Brett's Lawn Maintenance works hard to provide services in lawn and yard maintenance, cleanup and hauling, fertilizer treatment and much more.
Hill's Z Master 4000 zero-turn mower is powered by a 31hp Kawasaki engine and is able to reach speeds up to 12 mph and 18,500 fpm blade speed. It is equipped with Toro's patented TURBO FORCE deck system constructed with 7-gauge high-strength steel.
"This giveaway caps a fantastic virtual contractor event," says Jared Nuessen, product marketing manager at Toro. "It is our goal to build the highest quality and most productive, durable and comfortable machines to help contractors grow their business. The newly launched Z Master 4000 fits that mold while also having the style to turn heads whether it's on a trailer or on the turf, and we are thrilled it will be a gamechanger for Brett. We wish him the utmost success as he explores what's possible with his new machine."
In addition to increased productivity, Toro says Hill will be able to tackle Virginia lawns all day with the custom comfort of the MyRIDE suspension system. The company says the system allows premier stick control for maintaining consistent speed and productivity while experiencing the ultimate smooth ride. Toro says Hill will also have the added conveniences of an electronic deck lift assist, two cup holders, tire-view pods, USB ports and deck step guide with anti-slip floormat.
Hill picked up his mower from his local Toro dealer, Knabe Outdoor Power Equipment, in Midlothian, Virginia.
The Greenery, Inc. promotes Melissa Brock
The Greenery, Inc. recently announced the promotion of Melissa Brock to the position of director of business development.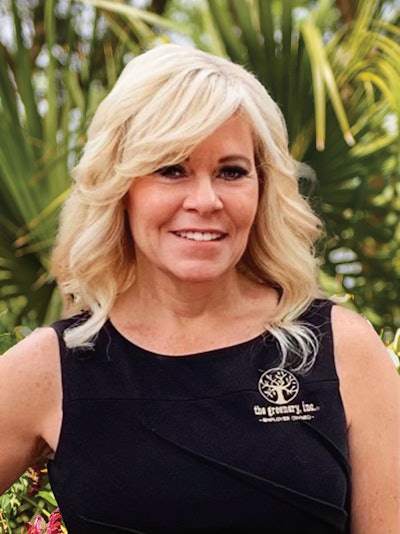 In this new position, the company says Brock will be responsible for overseeing the business development team. Her main focus will be to continue to build relationships with clients to generate opportunities for company growth in all markets served by The Greenery including Hilton Head Island, Bluffton, Beaufort, Savannah, Greenville, Daytona and surrounding areas.
"Melissa is someone that every company wants working for them – she's dedicated and driven and strong in customer relations," says Lee Edwards, CEO of The Greenery. "We are excited to have her bring new business to our growing company."
Brock has been with The Greenery for 10 years.
Takeuchi hires Clayton Whitesides as regional manager
Clayton Whitesides has joined Takeuchi-US as its Central Midwest regional manager.
Effective Feb. 22, the company says Whitesides will manage all sales development and activity within that territory, which includes Missouri, Kansas, Oklahoma, Iowa, Nebraska, South Dakota, North Dakota, Montana and West Texas.

"Clayton's previous industry experience managing a multi-state dealer network has prepared him well for his new role with Takeuchi," says Henry Lawson, director of sales for Takeuchi-US. "He's worked with dealers in all aspects of their businesses, performed competitive analyses and established sales goals. We welcome Clayton to the Takeuchi family, and we look forward to his contributions in the Central Midwest region."
As a regional manager for Takeuchi, the company says Whitesides' primary focus will be achieving market share objectives in that four-state region through numerous dealer activities, such as development, recruiting, goal setting, sales planning and performance evaluations.
He will also be responsible for inventory control, program promotion and communication, forecasting and national and direct rental account support.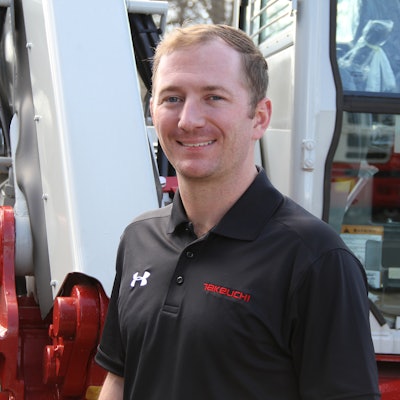 Whitesides comes to Takeuchi from Doosan Infracore North America of Suwanee, Georgia, where he began his equipment industry career as an inside sales coordinator. From there, the company says he became a district sales manager responsible for a six-state dealer network comprised of eight independent dealerships with 14 locations.
"Over the past six years, I've trained and supervised staff while planning and implementing sales strategies," says Whitesides. "I'm excited to put my proven track record to work for Takeuchi and collaborate with dealers in my territory to effectively promote, sell and service Takeuchi's top-quality equipment."
American Auguers, Trencor now sold through the Ditch Witch Division
The Ditch Witch Division announced that it will offer the full product lines, parts and service for both the American Augers and Trencor brands.
The company says dealership and factory personnel have been working together to prepare for distribution of these two brands through the worldwide Ditch Witch dealer channel. The manufacturing of Ditch Witch products will remain in Perry, Oklahoma, and American Augers and Trencor products will continue to be built in West Salem, Ohio.
"This is a great opportunity for our Trencor and American Augers' customers to receive all the benefits our Ditch Witch customers have been accustomed to for more than 60 years," says Kevin Smith, general manager of the Ditch Witch Division. "We are excited about the integration of these two brands into our organization. Our dealerships, along with the current product support expertise provided by the factory, are fully prepared to extend their outstanding services to even more customers all over the world. These brands have excellent reputations in our industry and our dealers are committed to providing quality sales, services, parts and support to all current and new customers."