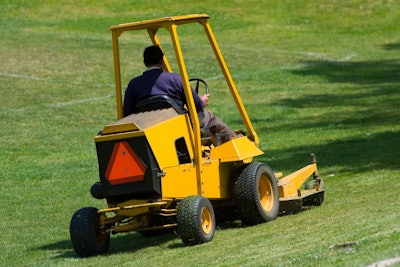 With the landscaping season now in full swing, it's important to make sure that you are keeping safety at the forefront of everyone's minds. Many landscape companies make safety a big focus at the beginning of the season but fail to keep up with refreshers and new education regarding best practices and safety. But a mistake can lead to an injury or accident—so this is a topic that can't be taken lightly.
Sam Steel, Ed.D., is a safety expert who is available exclusively to members of the National Association of Landscape Professionals (NALP) to answer questions and help consult on safety. Steel shared a few of his best safety tips to help landscape business owners make smart choices as the season progresses forward.
Stay on top of what's going on
Steel says that in order to have a smart safety plan, you must have a finger on the pulse of what's going on in your business. To do this, he advises performing regular safety audits. This will help you to understand exactly where risk lies and what areas your employees need some more education on.
In addition to looking at what's going on presently, you can also look at historical data to track and measure your success. Steel says this can be achieved by looking through your insurance claims history. What have your issues been in the past and how have you resolved them?
Implement the buddy system
As new team members may be added as the season goes along, it's important that they're not just thrown into the mix without any guidance. That's why Steel recommends a buddy system. All new employees should be paired with an existing employee, regardless of how much experience they bring to the job.
"The buddy system is a proven process," Steel says. "It's worked for decades for many businesses and is a great way to reduce your exposure to new employee accidents. Just be sure to choose experienced team members who are already safety-minded to serve as the buddy."
Communicate regularly
Steel also urges that it's important to communicate safety on a regular basis. Safety needs to be more than a one-time-talk at the beginning of the season. It should be part of the daily conversation. Make safety refreshers part of the daily huddle and don't be afraid to bring up near-misses as examples where the company can improve.
"You can learn from those close-calls," Steel says. "But if they're not talked about, that's a missed opportunity. Talk about what could have been done differently so that next time a close-call isn't a real accident."
Demonstrate safety from the top down
It's also important that you're doing more than just talking about safety but also demonstrating it, Steel says. You can't make safety a priority if there are managers who aren't following the same protocols as the rest of the team. For instance, if everyone on the job site is wearing a hard hat because of tree work and a manager shows up but doesn't put one on, it just sets the wrong tone.
"Safety has to come from the top down," Steel sums up. "You have to practice what you preach."