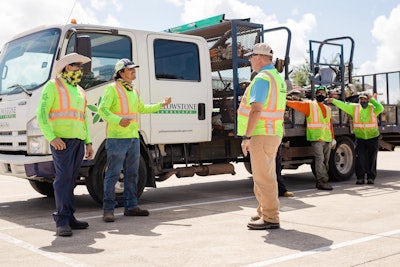 Yellowstone Landscape
How would you feel if you knew a prospective client was coming to visit your shop? Would it give you a competitive edge? Do you feel confident everything looks and runs efficiently—making you proud to show off your headquarters?
On the downside, if everything is messy and disorganized, it could set a bad tone for your company's appearance.
Joseph Barnes, marketing director for Yellowstone Landscape, a national commercial landscaping company headquartered in Bunnell, Florida, says that company shop visits are becoming more common and are sometimes even an expectation written into an RFP ahead of making a hiring decision. Many times, these visits may even be unannounced. It would benefit landscape companies to make sure their shop is functioning optimally, knowing that potential clients might want to have a look.
In fact, a recent shop visit helped Yellowstone land a large seven-figure job. The client told them that seeing the shop was a main deciding factor the client's decision to choose Yellowstone as their landscape provider.
"They visited twice and saw how we took pride in our shop," Barnes explains. "To the client, how you run the shop will give some insight into how you run your landscaping services. You want everything to be well-organized and setting those high-level expectations."
Neat and tidy must be precedents
One of the first things that potential clients will notice about your shop is whether or not it's messy. If the crew areas are completely disorganized, it could set a tone that you don't run a tight ship. The client may translate that was being problematic to how your services will be run on their property.
"As you think about what kind of impression your shop will give potential clients, think about those crew areas," Barnes continues. "Is it easy for crews to have access to edgers, blowers, and other equipment? Are there extras available and are they well organized? Can potential clients see that the crews have their safety gear set up and easy to grab? And how organized is it all?"
As potential clients look around your shop, it's also important to recognize that they'll likely translate "clean and tidy" as "safe."
That's a huge deal since safety is at the forefront of many clients' minds as they make a hiring decision. If they see chemical bags open or oil spills everywhere, they might start to question how you'll perform on their property.
"If you tell clients you make safety a priority but then they come to your shop and see spills everywhere and gear strewn about, it's going to sound a lot like lip service," Barnes warns. "Clients are coming to see in what conditions you operate and then making a determination as to whether you'll operate safely and efficiently on their property."
How you treat the crews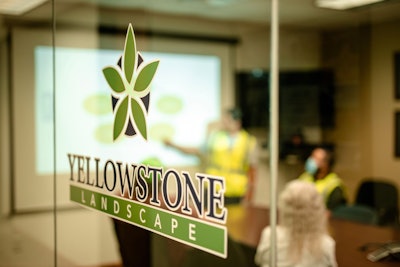 Clients might also be looking at how well you treat your crews in order to make a determination as to whether you have happy, hard-working employees. They're likely looking at the overall environment and getting a sense of your company culture.
"During a shop visit, prospective clients might also look at your break room and office areas," Barnes says. "Are there good meeting areas? How does it appear team members are treated? Does it seem to be a positive work environment?"
Of course, it's important to remember that potential hires for your team will also visit the shop for an interview—and how everything looks, and runs will also make an impression on them.
"At a time when hiring is so critical and labor shortages are a problem for everyone, you want to do everything that you can to differentiate yourself," Barnes adds.
A glimpse into your efficiency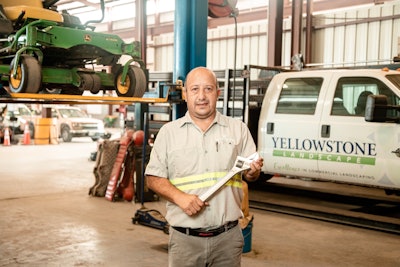 Your potential clients will also likely be taking a look at any equipment you have around the shop or out in the yard. Is there broken-down and banged up equipment strewn about? Are there broken down trucks in the yard? It's not that they don't understand equipment breaks down but if it's lying all about, it makes a bad first impression. Barnes says that Yellowstone employs in-house mechanics so if equipment or vehicles are in need of repair, it's obvious they're being worked on.
"I think a lot of clients might be interested to know how you handle repairs so that they can feel confident you'll always be up and running without downtime on their property," Barnes adds.
For clients, the way the shop is set up and running will be a glimpse into how efficient you are. At the end of every workday, Yellowstone has all of the trucks lined up and pointed in the same direction. They are filled up at night. That means that when the crews show up for work in the morning, they can pretty much just turn the key and be out the gate.
"We are a large national company but no matter what your size, this is something you can do," Barnes sums up. "Whether you're a small company working outside the back of your house or you're a larger company like us, take pride in your workplace. Show off that you are organized and that you run your shop well. It can be an important competitive advantage. But it will also make the business run better—which benefits everyone."