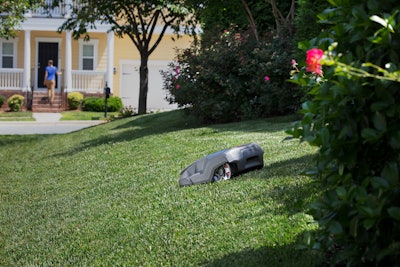 Husqvarna Professional Products, Inc.
Husqvarna has announced that it is increasing its investment and ownership in Robin Autopilot USA, a leader in the technological integration of robotic lawn care with professional landscapers. This growing strategic partnership enables Husqvarna to increase its presence in the autonomous mower marketplace.
"Expanding Husqvarna's partnership with Robin Autopilot aligns with our strategic growth objectives and connects Husqvarna's global leadership in professional robotic lawn care and technology with the innovative software solution that Robin Autopilot provides," said Steve Collins, vice president, strategy and business development at Husqvarna. "We greatly value Robin Autopilot's track record of growth throughout North America, and we look forward to continuing our successful collaboration to increase robotic mowing use among lawn care customers and green space professionals."
GoMaterials expands into Texas
Landscaping supply chain start-up GoMaterials has expanded its services into Texas. The launch of these services into Texas offers a no-cost solution for hundreds of regional landscapers who are struggling with plant shortages caused by the winter freeze.
Landscaping businesses in Texas can now utilize the service to source wholesale landscaping plants, trees, palms, and shrubs from hundreds of verified wholesale nurseries from right within Texas, Florida, or across the U.S. and Canada.
According to Marc Elliott, CEO of the company, "We free up your procurement time so you can submit more bids, train more employees, and grow your business."
Horizon Distributors, Inc., expands presence in key markets
Horizon Distributors, Inc., a full-service irrigation and landscape maintenance products wholesale distributor has opened new sales centers in Visalia, California and Melbourne, Florida. These sales centers expand the company's existing presence in two of the industry's key markets.
"Opening these new locations increases Horizon's ability to serve customers in rapidly growing markets," Jeffrey Clay, Horizon president said in a press release. "The Melborune sales center complements our expanded footprint in Florida following our December 2020 acquisition of TWC Distributors, Inc., while the Visalia sales center enhances our ability to serve central California customers and continues our growth in that strategically important market."