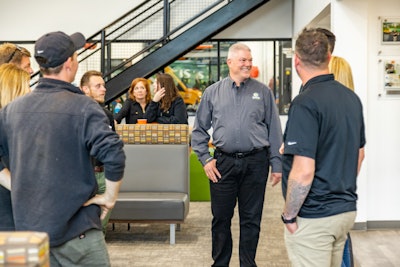 Oasis Turf & Tree
A lot of companies talk about training. But when it comes to actually following through, they don't always put in the hard work. However, training is what can be a differentiator. It's what can make your technicians a step above the competition.
This is something that Oasis Turf & Tree in Loveland, Ohio takes incredibly seriously.
Owner Rob Reindl, LIC, says that he believes a strong focus on training helps Oasis to retain more team members. They are happier because they work for a company that is investing in them. It also helps with the company's recruiting efforts. Reindl says that motivated people want to work for a company that offers opportunities for advancement.
He shares a few ways that they've kept a spotlight on training.
Incentivizing training
One of the ways that Reindl says Oasis has had a lot of success in encouraging team members to complete additional certifications is that the company offers an incentive.
Team members receive their first raise when they earn their Ohio Department of Agriculture license. They can then earn an additional raise when they earn the National Association of Landscape Professionals (NALP) Lawn Care Technician certificate. And the company goes a step even further, giving out a third raise for the NALP Certified Horticultural Technician certificate.
"We want our team members to know that we value them and encouraging them to earn these certifications is one way that we do that," Reindl says. "Of course, it also benefits us to have a better-trained team and they deserve compensation for that."
But training can be intimidating to some. Reindl says that many new team members have never been through so much training before, and they may be nervous about it. That's why support is really important.
"We know that our support is critical to them succeeding," he says. "We team members with the time and resources they need to be able to study and pass these exams. We provide a quiet place in the office and a bookshelf full of books for those that need them. We also have practice tests that we can give to help team members prepare."
Proudly displaying their success
Another way that Oasis Turf & Tree inspires more team members to go through training and become industry certified is that they print employees' certification plaques on glass and display them on an office wall.
This is an additional way to recognize those employees who have succeeded in earning these credentials. It's also a way to inspire others within the company to take the leap.
"We know that passing this industry test is no small feat and we want to show off the accomplishments of our team," Reindl says.
Hosting and attending additional training events
While becoming certified is really important to Oasis Turf & Tree, it's not their only focus. The company also hosts its own internal conference called The Oasis Turf & Tree Summit, which kicks off the start of each season. This is an opportunity to update the team on anything new and have managers speak on a variety of topics.
"We also attend industry events," Reindl says. "The entire team goes out to The Ohio State University Agronomic Field Day and the Tri-State Green Industry Conference. And a number of our team members attend GIE + EXPO and the NALP's LANDSCAPES event. We feel that keeping up with what's going on in the industry as a whole is important."