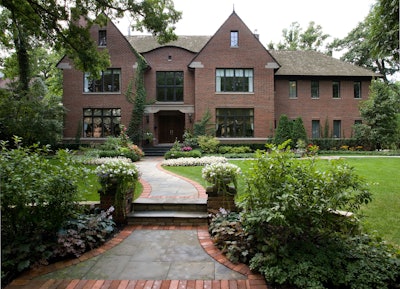 Schmechtig Landscapes
Staging the interior of a home ahead of selling it has become a commonplace practice in real estate. But what about the exterior? Since the outdoor areas of a home are often the first thing that buyers see, it also makes sense to stage the exterior if the landscaping is looking subpar.
Schmechtig Landscapes in Mundelein, Ill., has been offering exterior landscape staging since 2010 and company president Michael Schmechtig says it remains a desirable service. Since a home's landscape elements can make or break a first impression, Schmechtig says that staging solutions can be a critical part of a potential real estate sale—and even have a significant impact on the sale price.
What's involved in staging?
According to Schmechtig, every project is unique and what this service means for one client could be completely different for another. But in a lot of cases, staging might include mulching and the addition of some flowers—either in landscape beds or in pots. But it could involve a more elaborate effort including the addition of some furniture and accessories like colorful throw pillows to dress up a front porch.
"Most of the time, sellers are looking for quick fixes that have a lot of appeal without spending too much money," Schmechtig explains. "We are definitely looking to include elements that add a pop of color and some wow factor."
Because the services can really differ, there is no set price for staging. But Schmechtig says it can range anywhere from a few hundred dollars to several thousand depending on how much is done. Since these types of projects can easily translate into selling the home for more money, many sellers are eager to implement them and willing to invest the money knowing there will be a good ROI.
Schmechtig says he works with local Realtors and interior designers to find clients who might be in need of his services.
One of the biggest challenges is that they sometimes need to be able to act fast. In this volatile market, there isn't always a lot of time to prepare. But Schmechtig says they have learned how to pull together a look quickly—easily helping sellers to get more money for their home.
Some added bonuses
One of the nice bonuses that have come with offering this landscape staging service is the fact that a lot of times, the new buyers end up hiring Schmechtig's company for ongoing landscaping needs.
"If they're happy with how the property looks when they buy the home, that's naturally transitioned into some new business," he adds.
Staging homes for sale has also led to an additional service offering—staging homes for parties and events, Schmechtig says. With more people doing backyard weddings or more intimate gatherings, there's been an increased need to ensure the property looks its best.
"This might include some of the same services that we'd do to stage for a sale such as a fresh layer of mulch and the addition of some potted flowers around the property," Schmechtig says. "Again, we can customize our services to the needs of the client."