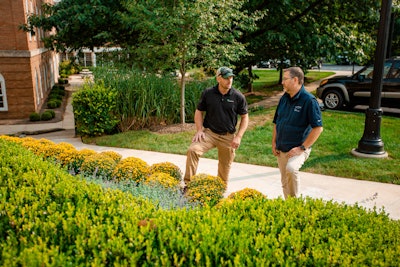 Turfscape
Editor's Note: This article was written by Chad Diller of Landscape Leadership
Image provided by Turfscape, Inc.
Whether you struggle to generate leads for your lawn or landscape company or if you have so many you don't know how to handle them, the last thing you want to see is wasted sales opportunities.
When working with our clients at Landscape Leadership, I often see companies making big improvements with lead generation but realize that they may not be closing enough deals.
The problem? Salespeople may be missing out on critical tools that can make them more successful. You may have already paid good money for these tools. Imagine a piece of equipment you spent good money on and it's just collecting dust in your shop. Maybe you need to invest more in these tools. Your revenue numbers may depend on it.
These marketing tools will not only generate leads but actually can save time and aggravation for your sales team while helping your company grow.
Here are five of them.
1. In-depth blog articles on your website
It's possible you already have a blog on your website but the vast majority of the time I find that lawn and landscaping companies are not using this tool to its full potential. Short articles without a lot of relevant, helpful information probably won't do much for you.
What I'm talking about is in-depth blog articles (800 to 2,000 words in length), which provide a lot of helpful content and have great photos with them. These articles should be interesting and entertaining to read—and they should answer tough questions or help prospective clients get a better understanding of a service you provide. They can also address concerns that arise during the sales process.
A good example is an in-depth article that explores how to compare one lawn care estimate to another so that your prospective client can make a smart choice. Another good example is an article that explains what the timeline will be like for a design/build project.
You can provide your prospective clients with helpful information while also showing them how you can simplify the process for them if they hire you.
2. Written case studies
Case studies are another powerful tool that can help your prospective client trust you. In-depth case studies prove that you've done this type of work before, which helps the prospect to gain confidence in your abilities. They also give a potential client an idea of what they can expect and what the process will be like.
This is a tool that can be particularly effective when closing the sale. If a prospect is on the fence between hiring you and another company—and you send them a solid case study—it could make a huge difference.
3. Marketing and sales videos
Of course, not everyone likes to read long articles—and that's why video is also so important. Both lawn care and landscaping produce visual results and videos are a great way to show them off. It also provides you with an engaging opportunity to have current clients share their experiences. This can go a really long way with prospective clients.
4. Dynamic image gallery
You probably already know that photos are a really important way to showcase your work. But there are more creative ways to organize photos than just using a standard gallery. Often the problem with website galleries is that each set of photos exists in a folder for a particular project. These groupings can be cumbersome for the client to navigate through.
Instead, I would suggest a dynamic gallery where you can take all of the photos you have but allow the prospect to filter images based upon a certain category they're looking for—like fire features, patios, or outdoor kitchens.
For commercial accounts, you might also set up a gallery that can be filtered by property type (HOAs, retail, campuses, etc.).
This makes the photos even more meaningful to your clients because they can find many more that pertain directly to their context.
5. Downloadable resources
Finally, we must remember that the prospect isn't always ready to buy when you're reaching out to them. Sometimes you'll have to nurture a client for a period of months—or even years. One of the useful marketing assets that can be used for these clients is in the form of guides, tip sheets, and reports.
You can position these on your website to be downloaded (when a website visitor enters their email address). But this is also a great tool to use when you want to "check-in" with a former prospect and let them know you're still interested in their business. Instead of just saying hello, you can send them a valuable resource that they can use—and which also positions you as a helpful guide to them, not a pesky salesperson.
Following through
Ultimately, your success with any of these tools boils down to following through on actually using them. Make sure that your salespeople know these tools exist along with how and when to get them in front of prospects.
Make wise investments in assets that enhance both marketing and sales. Help your salespeople help themselves. They can close more work and make life easier for everyone involved.