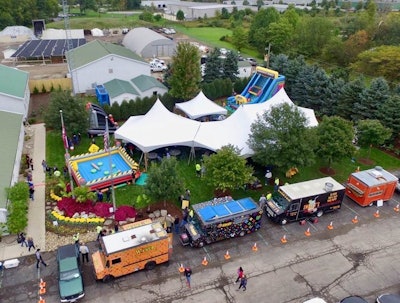 EMI
Showing your employees that you appreciate them is one of the best things that you can do for your lawn or landscaping business.
While your customers are providing the cash flow needed to keep the lights on, your employees are the ones who are out there interacting with them on daily basis and continuing to provide the quality work that keeps clients coming back.
"You're only as good as your people," says Skip Thompson, CEO of TideWater Landscape Management based in Savannah, Georgia. "It doesn't matter how good a CEO you are, or how good of a supervisor you are. If you don't have good people working with you, you're not going to be successful."
Here are some different ways that lawn and landscaping companies are paying their appreciation to their team.
Simple check-ins
Joe Lewis, an account manager for Environmental Management, Inc. (EMI) based in Plain City, Ohio, says that recently he and some of the management team (including ownership) have been meeting a crew onsite every day to bring breakfast or lunch and thank them for the work they're doing. He says they'll always ask how things are going and ask for any feedback.
"These interactions are so valuable because we are meeting with the crews on a more personal level," Lewis says. "It allows them to also interact with ownership in a small group setting and I feel it drives home that we are here for them."
Thompson says that TideWater has also started doing breakfast once a month for the team. They'll pick a random day and bring in breakfast for everyone as an opportunity to say thanks and to check in.
"We also always recognize birthdays and work anniversaries and just finding different ways to show that we care," Thompson adds. "We have some employees who have been with us for 30 years. It's so important that they know how important they are to our company."
Company-wide events


The sky's the limit when it comes to the ways you can celebrate your employees in a fun way. With everything from hosting company picnics, attending local baseball games, and opening Christmas parties to the whole family, there's a number of ways to create events that both your employees and their families will love.
Ever since EMI has been in business, it has held an annual Employee Appreciation Day to celebrate its employees' success.
On this day, there are team building competitions, lunch via local food trucks, and prize drawings for crews that were nominated throughout the season for excellence in customer service, safety, and overall job performance.
Joshua Tree, which has locations in Stockertown and Souderton, Pennsylvania, also hosts a number of company-wide events. According to Joshua Malik, company owner, these have included a Halloween costume party and contest, a secret Santa gift exchange, a Memorial Day party, and a Fourth of July picnic, among a number of other events. The team gets paid for their time in attending.
"In an effort to close out our season with a 'bang,' we also always host some really exciting events at the end of the season," Malik adds. "This has included paintball, horseback riding, ax throwing, pheasant hunting, an escape room, and even indoor skydiving."
Growth opportunities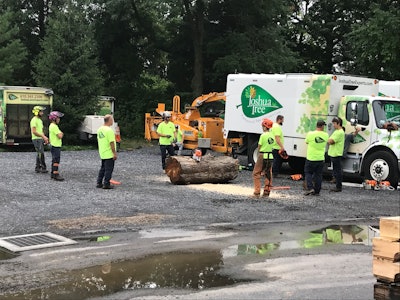 Ensuring that your employees have opportunities for growth within your company is also a way to show your appreciation.
Developing a tangible career ladder for employees can help them know where their next step is in the company, no matter where they are. Don't assume that your workers are satisfied with the status quo. You might lose workers just because they feel they are in a position with nowhere to grow.
"When you attract the talent, you retain them by training them," says Lewis. "Any successful culture throughout history, whether it's a civilization or business, they recruit, train and sustain that culture."
Joshua Tree also ensures that employees have opportunities to climb the career ladder. Malik says that education is a priority. The company wants all of the tree care team to become Certified Arborists through the Tree Care Industry Association (TICA), so they help set team members up for success. They also pay them to take time off to take the test.
On the lawn care side of their business, team members are encouraged to earn their applicator license and keep those skills fresh by participating in continuing education. Again, team members are paid for their time off to take the test.
At the end of the day, all of these efforts boil down to showing your people that you care. At a time when recruiting new hires is more challenging than ever, focusing on team retention is key.