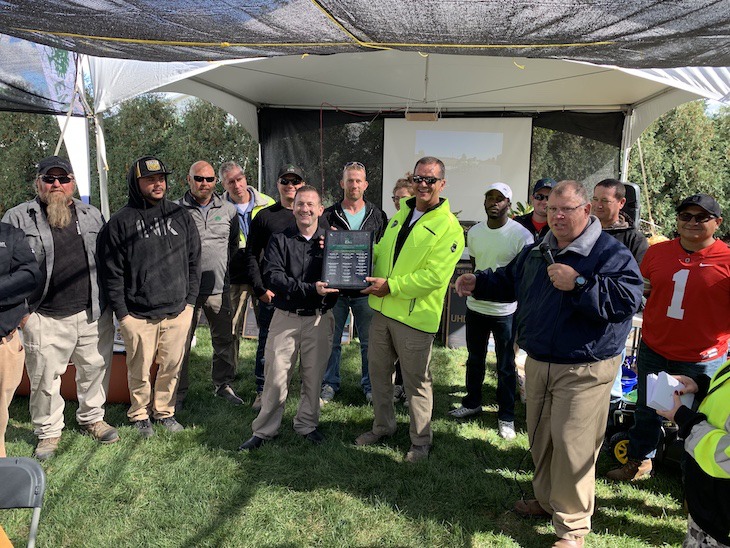 Today is Employee Appreciation Day but you don't have to wait for the first Friday in March to let your staff know that you appreciate what they do every day.
While your customers are providing the cash flow needed to keep the lights on, your employees are the ones who are out there interacting with them on daily basis and continuing to provide the quality work that keeps clients coming back.
"You're only as good as your people," says Skip Thompson, CEO of TideWater Landscape Management based in Savannah, Georgia. "It doesn't matter how good a CEO you are, or how good of a supervisor you are. If you don't have good people working with you, you're not going to be successful."
Bret Achtenhagen, president and CEO of Bret Achtenhagen's Seasonal Services in Mukwonago, Wisconsin, agrees that you have to surround yourself with great people, as you can't do it all by yourself.
Below are some of the ways that you can express your appreciation and what other landscaping companies are doing to convey their gratitude.
Tell them thank you
It sounds simple and you may think you already tell your employees thank you enough, but verbally communicating that you appreciate what your workers are doing can go a long way.
Never assume that an employee already knows they are appreciated.
At The Greenery, Inc., based on Hilton Head Island, South Carolina, supervisors stand by the exit gate as crews depart in the morning. While they're checking for possible safety issues, they also take the time to encourage employees, telling them to have a good day and saying, "We appreciate you. We appreciate what you do."
Praising workers for specific jobs well done can go even further because it feels sincere since you know the details of their hard work. Employees who feel appreciated and valued are far more likely to stay motivated and continue to excel.
"We recognize them," Achtenhagen says. "Every time we get a compliment, it goes out in a company-wide email blast and we recognize the people who are mentioned in the compliment."
Listen to them
Another way to boost company morale and to convey your appreciation is to take the time to listen to what your employees have to say.
This could be as straightforward as getting to know about your employees' interests and families to listening to your crews' equipment preferences.
Eric Schultz, owner of Schultz Industries, in Golden, Colorado, views his employees as essential to his company's well-being and has the mantra of "I work for them."
"Whatever they need, they get," Shultz says. "They tell us what they need and it's our job to make sure that they've got what they need in the field to succeed. I'm not sitting here because of me. I can tell you that."
Chuck Monico, president of CM's A Cut Above, based in Omaha, Nebraska, advises giving people a voice at the table where they are respected and have the opportunity to make decisions that can help move the division and the business forward.
Make it fun
The sky's the limit when it comes to the ways you can celebrate your employees in a fun way. With everything from hosting company picnics, attending local baseball games and opening Christmas parties to the whole family, there's a number of ways to create events that both your employees and their families will love.
Seasonal Services holds four to six appreciation events a year with everything from pancake breakfasts to taco trucks coming on site.
Ever since Environmental Management, Inc. (EMI) based in Plain City, Ohio, has been in business, it has held an annual Employee Appreciation Day to celebrate its employees' success.
On this day, there are team building competitions, lunch via local food trucks and prize drawings for crews that were nominated throughout the season for excellence in customer service, safety and overall job performance.
Meanwhile, The Greenery uses the whole month of October to celebrate its employees and announces their new share prices, as they are an ESOP company.
Offer bonuses and incentives
You might think it's a little unimaginative if you opt to give your employees monetary incentives like gift cards or bonuses, but no one's going to turn down some extra cash and it'll mean even more if it's a reward for reaching or exceeding a certain goal.
Schultz offers a bonus program that goes all the way down to foreman level where they all receive $50 if they reach their target goals.
"We kicked 15 percent of the net back to staff and the foreman level and then we went one step further and said anything beyond that goal, we'll give you half of it," Schultz says. "When we started the program the first year, it was about $140,000 in year one and the last year it bloomed to $800,000. Now, we've got staff thinking like ownership. Essentially, it's their money and that's the mentality that we've fed."
Another way to foster the ownership mentality is to establish an Employee Stock Ownership Plan (ESOP), which is what Berry Edwards, founder of The Greenery, did when he retired as a way to thank his employees for their loyalty.
ESOPs are added to employees' compensation plan, so they are not replacing a 401(k) plan but serve as a second retirement benefit.
Growth opportunities
One of Monico's keys to success is to treat your people right and to give them a future.
Developing a tangible career ladder for employees can help them know where their next step is in the company, no matter where they are. Don't assume that your workers are satisfied with the status quo. You might lose workers just because they feel they are in a position with nowhere to grow.
By expanding your employees' opportunities by paying to send them to specific training sessions or industry events, you are showing you appreciate their abilities and want to see them reach their full potential. Other professional development opportunities include earning a pesticide applicator license or the National Association of Landscape Professionals' Landscape Industry Certification.
"When you attract the talent, you retain them by training them," says Joe Lewis, an account manager for EMI. "Any successful culture throughout history, whether it's a civilization or business, they recruit, train and sustain that culture."