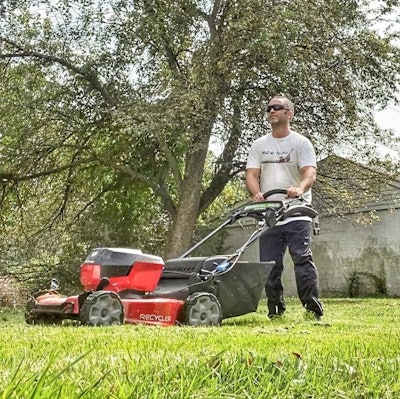 Brian Schwartz
In April 2021, Total Landscape Care talked to Brian Schwartz a digital advertising executive who had been laid off at the height of the pandemic and decided to start a free mowing service, I Want to Mow Your Lawn, which is now an official 501(c)(3) Non-Profit. The idea was to spend some of his newly found free time helping the elderly in his community. That led to a lot of media coverage, along with other people who were interested in helping across the country.
A lot more has happened since we last talked to Schwartz so we recently caught up with him to find out how I Want to Mow Your Lawn is doing now.
According to Schwartz, since April 2021, they've grown six times the number of volunteers. I Want to Mow Your Lawn is now in 38 states with 180 volunteers who have been onboarded and screened. They have also received more than 1,000 inquiries from clients across the country. It's honestly more than Schwartz has been able to keep up with, so he's constantly in search of more help.
While I Want to Mow Your Lawn started with a focus on the elderly and those that weren't physically able to take care of their own yards (and may not have had the means to pay someone to do it for them), the organization is also largely focused on veterans, too.
Helping to uplift others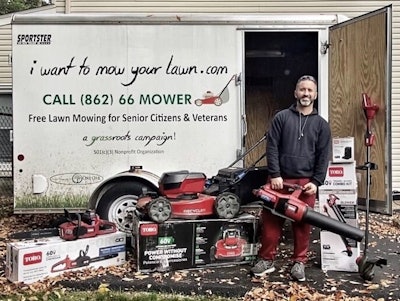 Another big change is that Schwartz, previously jobless, is now employed again and earning an income. While I Want to Mow Your Lawn was meant to be a temporary endeavor that would keep Schwartz busy during his job search, he says it has grown larger than him and he wants to continue the effort.
"I have my employer's blessing to continue this non-profit work," Schwartz shares. "I find a lot of meaning and purpose in it and now that I have built this platform, I want to use it to continue to help others. It may have started as just mowing for some neighbors but it has become something that is uplifting others across the country."
Schwartz has also continued to get media coverage which has allowed his effort to grow. That has even included being invited on the Drew Barrymore Show. Barrymore surprised Schwartz with a donation. He has also received a grant from Google and a donation of some electric equipment from Toro.
"One thing I do want to use this platform for is encouraging the use of more electric equipment in the landscaping industry," Schwartz says. "We certainly are not turning away volunteers that use gas-powered equipment but if we can play a small role in contributing to a cleaner Earth, we want to do that."
An opportunity for professionals
Schwartz says that I Want to Mow Your Lawn continues to offer opportunities to landscape pros who want to get involved. Landscapers who volunteer will receive client reviews and visibility for their efforts. This is just one way that Schwartz is using his skills as a digital advertising executive to help landscapers who help his non-profit.
According to Schwartz, volunteers get a shareable profile where they can manage jobs, upload photos of their work, and log hours in a customized dashboard. Those that use electric or a combination of electric and gas equipment can also get an "Eco-Friendly" badge to attach to their profile. Volunteers get a free logo tee-shirt after completing their first job. It can be a great opportunity for newer landscapers to start getting their name out there while also helping others in their local community.
Going forward, Schwartz hopes to partner with additional equipment manufacturers who might be willing to donate to his cause.
"There are a lot of people out there that need help," he says. "We want to keep getting that message out."