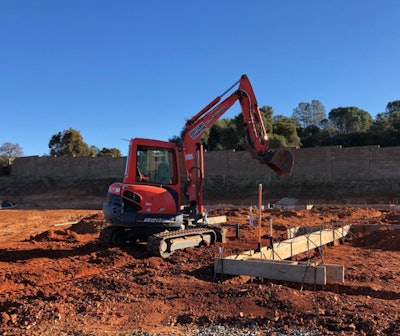 Boitano Excavation
Fuel is a critical component to the entire construction process. As a result, Associated General Contractors of America Chief Economist Ken Simonson says construction firms and their workers are much more exposed to fuel-price spikes than those in most other industries.
No category of construction has escaped the increases in fuel and material prices and additional increases could undermine demand for some construction projects, some experts say.
"I don't know that there's a magic bullet out there other than absorbing it and just being less profitable through these times," says Joseph Shrock, owner of Shrock Premier Custom Construction and Equipment World's 2019 Contractor of the Year.
What can contractors do?
Tariffs, sanctions and wars are obviously outside the purview of contractors to manage.
Simonson notes that contractors can at least direct customers or project owners to timely and credible third-party information about changes in material costs and supply-chain snarls that might impact costs or completion time for a project underway or bid on.
In addition, adjustments can be allowed in contracts to accommodate these issues.
"Nobody welcomes a higher bill, but the alternative of having a contractor go out of business because of impossible costs or timing is likely to be worse for many project owners," Simonson notes.
Both contractors and project owners must go into the bidding process with realistic expectations about current costs and the likelihood of increases.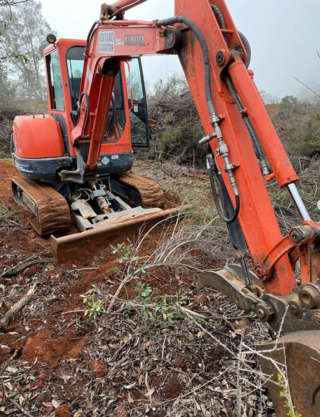 Brent Boitano is relying primarily on his 82-gallon transfer tank to keep him ahead of the fuel price increases.Boitano ExcavationBoitano Excavation in Valley Springs, California, is a smaller company operating only a handful of smaller machines. When owner Brent Boitano saw the increase coming, he filled up his 80-gallon transfer tank in the back of his truck, which he typically doesn't use. Because he has mostly smaller equipment, he usually fills them up at the gas stations around town.
Prior to the price increase, he went to a neighboring town to fill up the transfer tank with red dye diesel at about $4.75 per gallon. At the time, regular diesel prices had risen to around $5.89 per gallon. Currently, diesel is going for about $6.86 per gallon in California. The national average for a gallon of on-highway diesel is now $5.25, marking the first time diesel has crossed the $5 threshold nationwide.
Pending how much work he has going in each week, Boitano says, that tank will last him perhaps two weeks. With prices remaining high, he expects to continue using the tank regularly. "I'm going to have to do that just to try and save anywhere I can," he says.
In addition, before the most recent fuel hike, Boitano said, for nearly the past six months he has stopped idling his machines. "I used to always let them idle if I was doing anything out of the cab. Now if I'm out of the cab at all or even talking to somebody for a few minutes, I turn them off to save fuel," he says.
If I pay, you pay
One common option to solve the higher fuel costs is to add a surcharge to contracts. While not always popular with customers, sometimes it is the only way.
Brandon Johnson, owner of Elite Earthworks LLC in Joplin, Missouri, settled on adding a fuel surcharge after giving up on trying to find a fuel tank for his shop due to supply chain disruptions.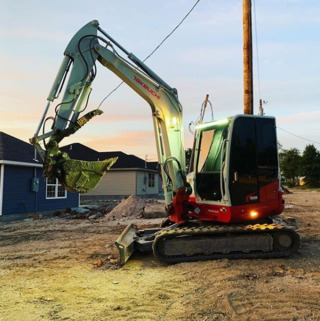 A one-man operation, Brandon Johnson of Elite Earthworks LLC is going to be adding a fuel surcharge to counter the rising fuel prices.Takeuchi
His costs rose quickly in early March when he spent nearly $1,300 over a period of six days on three machines and a dump truck.
A one-man operation, Johnson uses one compact track loader, a 6-ton compact excavator and an 18-ton standard excavator. Typically, he fills the smaller equipment and his dump truck at the local gas station and uses a 92-gallon tank in the back of his pickup for the larger machine.
Just the 18-ton excavator alone can use up to 35 gallons in a day's work. Combined with a dump truck that gets low mileage, costs add up quickly.
The size of machines on a job plays a critical factor in determining likely fuel consumption and cost. For smaller operations such as Boitano Excavating or Elite Earthworks, completing larger project may require renting a larger dozer or larger excavator.
"The fuel consumption on those can be two to three times what my usual machines are," Boitano says. "That's really where it hits even more because we have to fill those rental machines and the cost per gallon is almost double."
Prior to adding a fuel surcharge, raising prices is another option. Johnson had raised his by $5 per hour on each piece of equipment. Boitano, too, had added costs to contracts to cover the fuel. "I don't do a lot of big jobs, but I do a lot a ton of small jobs," Boitano says "I'm adding it in there. That's the unfortunate part. At the end, the final customer is who must pay for all this stuff."
In Johnson's case, the abrupt rise in fuel prices overcame his ability to keep in front of the cost.
"It's kind of hit the pocketbook a little more," Johnson says. "I don't have another crew that can be out doing something to generate a little more revenue, so I've really got to watch my Ps and Qs." He remains optimistic his customers will understand the need for a surcharge. Currently Elite Earthworks has about three months of work lined up, so Johnson is hopeful, while wary of the future.
"I can't come do a normal job where I'll burn say 100 gallons of fuel on the job and it cost me $200, and now it's going to cost me $500," says Johnson. "I can either charge them a little bit more for the work and stay in business, or I'll just have to go out of business."
The ongoing challenge with surcharges is the perception among general consumers.
Shrock says he has not had the best success in trying to add on surcharges because his customers don't take it very well even though they understand that prices have increased.
For larger municipal or state bid projects, the price is what it is, and the surcharge really isn't an option. As for the private sector work, Shrock says the company really works on maintaining a good reputation and good relationship with local people.
"It just doesn't go over very good with the consumers to get hit with fuel surcharges, even though it is fairly common," Shrock says. "We have not gone there just because I know how people perceive it."
Contractors can also negotiate with the project owner or general contractor to have them provide the fuel and then provide a deduction in overall pricing. No matter the financial solution, it is all about maintaining communication and building a trusting relationship with your customers.
A material world
While the increased fuel prices can be a thorn in your side, it is also the ongoing and seemingly never-ending material cost increases and supply chain issues that are having an equal or greater impact on the industry.
Combined, increases for fuel and other materials over the last two years have been significantly higher than they usually are on an annual basis. The combination of labor shortages, wages, supply chain disruptions, the pandemic and the war in Ukraine have resulted in drastic price fluctuations.
Shrock says his material and fuel prices will rise on average approximately 5% annually. Those same prices have inched up closer to 30% or more over the past two years. However, the increases themselves alone are not the only challenge for the contractors.
"Where I think we haven't leveled out yet is the consumer hasn't experienced the level of increase that in my opinion they're going to experience in the next year or two," Shrock says.
Contractors are trying to share some of the cost with customers, but it is not yet the full increase that they are feeling in their business. For example, with the 30% increase Shrock has experienced, his customers have seen maybe 15% to 20% increases, leaving the firm to eat 10% to 15%.
"We can't raise our prices to where they really should because we would price ourselves out of the competition," he says. "Consumers are complaining they're thinking everything's up but they're really not realizing how much it's really up."
The price increases are hitting the contractors and trickling down to consumers last as the contractors discover that they're not as profitable.
"Give it a year or two and I think the consumers are going to have an eye opener at where these prices are really going to shake out," Shrock says.
In his opinion, there is no good end in sight for the price increases.
"My honest opinion is that the increases are probably here to stay," Schrock said. "Fuel possibly not, but a lot of this other stuff, I think once there is a precedent set for a little bit higher prices, I don't see it going back."
He says it's going to take savvy businesspeople focused on their numbers and pricing to weather this storm, or it'll sneak up on them and they'll be upside down before they know it. "That's just the way it works," Shrock says.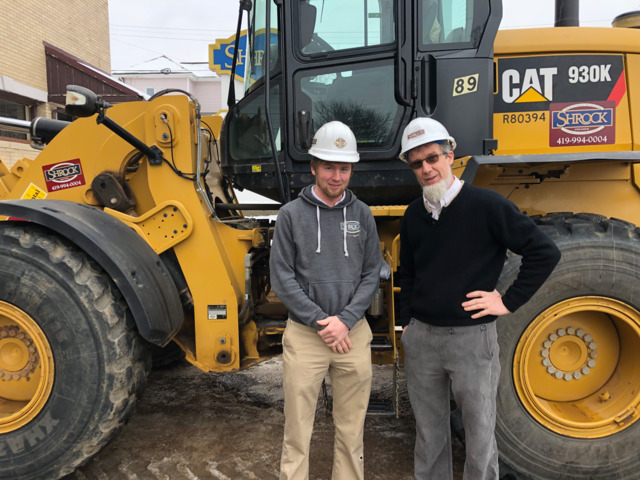 Joseph Shrock, owner of Shrock Premier Custom Construction and Equipment World's 2019 Contractor of the Year, right, and son Samuel. Shrock believes there is no "magic bullet" solution to the rising fuel prices.