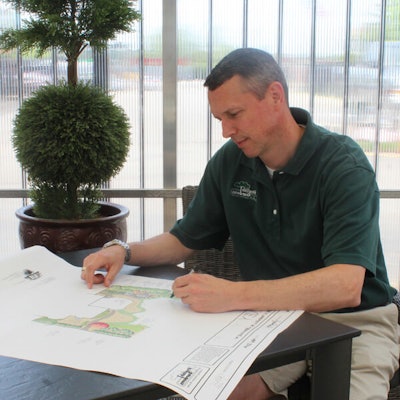 English Gardens Landscape Company
Implementing landscape business software is no small feat. It's realistic to be worried about the time involved with the learning curve. Even so, it will be worth the investment as software will eventually help your business to operate more efficiently.
James Morris of English Gardens Landscape Company in Michigan says that they are currently in the process of implementing Asset from Include Software and shared a few of his implementation tips.
Understand there is no "good time" to start
A lot of landscaping companies put off the adoption of software because they're waiting for that "optimal time." But Morris says one of the lessons they learned is there's never a perfect time. No matter when you start, it's going to be challenging.
Even if you start in the off-season and learn what you can, until you really get into the thick of busy season, you won't really know how the software is working for your business. And there will still be learning curves to overcome once busy season gets underway.
Morris says to just be prepared to dive in and get started. If you keep putting it off, you're only missing out on the benefits.
Go Into the process knowing it will be time-consuming
Morris says that it's important to have realistic expectations when beginning the software implementation process. He says that whatever time you think it may take, double it. Even if you're already a well-organized company, as he says English Gardens is, learning a new system is going to be time-consuming.
"We had an expectation for how long it might take and it's exceeding that," he adds. "It's better to go into the implementation process assuming it's going to take a while."
Ask questions and do your research
Morris says that they've leaned heavily on Include Software for support and asked a lot of questions. They also asked a lot of questions ahead of even starting the implementation process. But he adds that sometimes you don't always know what to ask until you're in the thick of it. He says: "you don't know what you don't know."
While English Gardens did a lot of research ahead of investing in software, Morris says you just won't completely understand the process of what questions will come up until you get started. Even so, he also recommends reaching out to other landscaping companies who have already implemented software and finding out what their experience has been like.
"Connecting with other landscaping companies did provide us with some idea of what to expect," he adds.
Focus on the end game
When your company is in the midst of implementing software, there can be periods of frustration. But Morris says that it helps to keep the focus on the end game. The early stages will be a lot of work but in the end, it's going to make life easier for the entire team and that will make it worth it.
"Change is never easy," he says. "But we try to emphasize that we are changing for the better. We are starting to see the vision of what the end result will look like and how it's going to improve our business, and that's motivating."
One of the biggest benefits will be streamlining all of the company's data so that they can make better data-driven decisions. They have always used multiple spreadsheets to track everything but as the company has grown, it's become cumbersome.
Morris says the end results will be a game-changer for the company. He sums up: "Having all of our data in one easy system will be a way to manage the entire business much more effectively."