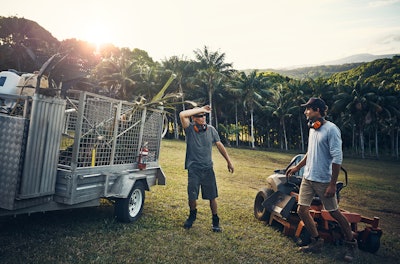 Like most businesses across the country, landscapers are facing four major economic challenges that are cutting into their bottom lines. Labor shortages, which push them to pay more to acquire qualified help. Gas price hikes increase the cost of every job. Supply chain issues increase the price and delay the delivery of goods. And then there's inflation, which further increases costs across the board.
To battle these hits to the bottom line, landscapers are examining every expense, looking for ways to maximize efficiency and deliver greater productivity in every facet of their operations. A key area of focus is transportation. Landscapers are finding that the vehicles that move their people and supplies are a source of hidden value just waiting to be unlocked.
They're pushing to drive greater efficiency in several ways – by minimizing downtime, increasing fuel savings, and implementing better asset tracking. Each vehicle in a fleet houses an extraordinary amount of data and insights that can benefit a business's bottom line. The key is finding the right way to tap into that data.
With advanced telematics, AI technology, and data visualization tools, landscapers can quickly and easily understand how their fleets perform on holistic and vehicle-by-vehicle bases. Sharper insights can help them manage their operations better and cut costs at a time when every dollar counts. Here's how they're doing it.
Maximizing efficiencies
Gas prices have risen by more than 50% over the past year, and inflation has reached its highest level in decades. Since landscapers rely on fleets to get from project to project, it has never been more critical to track the efficiency and use of each gallon of gas.
They can do this using telematics. Telematics systems are known widely as GPS mapping and safety tools, providing fleet managers visibility into vehicle location and data on idling, speeding, and other risky driving behaviors. But they're also cost-saving tools. These behaviors waste large amounts of fuel. While some idling is necessary, consistent misuse throughout the workday, multiplied over 300 days per year, adds significant cost to a landscaping operation.
Aggressive driver behaviors such as rapid acceleration and hard braking also impact fuel efficiency. Sudden increases and decreases in speed can use 20% more fuel. A telematics solution generates insights into fleet vehicles' fuel and energy use, so managers can identify problem areas, create targeted training programs, incentivize good behavior and save money in the process.
Fuel management solutions enable businesses to dive into more granular details of fuel consumption to see their usage on a monthly, quarterly or yearly basis as well as cost per gallon and cost per mile.
Reducing carbon footprints
This ability to optimize fuel consumption also enables businesses to understand how their fuel consumption is impacting their carbon footprint. Fuel management systems can provide prompts to help increase efficiency and decrease fuel usage. For example, users can reduce CO2 emissions by cutting back on idling.
Having more data is only worthwhile if it's easy to visualize. Intuitive data visualization makes the difference between poring over spreadsheets and having quick actionable charts and graphs that make it clear where you can reduce your fuel consumption, and in turn save money. Aggregating the data in this way makes it simple for users to make quick, at-a-glance decisions to optimize fuel consumption and create more sustainable fleets that will impact the environment, not just businesses' bottom lines.
Providing a holistic view of all assets
Telematics also increases operators' visibility into the status and scheduling of individual assets. Companies with large fleets of trucks want to know where drivers are and whether they're on track to reach destinations on schedule, and taking the most efficient route. Large landscaping companies fall into this category. But even small landscapers can benefit from better oversight of vehicles and other lawn care equipment.
How much can telematics impact business operations? One company serving the landscape industry, New York-based DeLea Sod Farms, runs 25-30 sod delivery trucks per day, not counting vehicle trips for farm pickups and the delivery of topsoil, sand and gravel. The company estimates it saves 12-15 hours per week in schedule tracking. Also, it said the use of in-vehicle cameras has exonerated 75% of the motorist complaints called in against its drivers, resulting in reduced insurance costs and the elimination of untold management headaches.
A change for the better
While economic cycles come and go, businesses today have the luxury of using technology to blunt the impact of factors that, in past years, would put pressure on their ability to compete. Today, landscapers, among others, grapple with stiff challenges that are exacerbated by the impacts of the global supply chain disruption, fuel price surge, and labor shortage. They're looking for an edge wherever they can get one. Using advanced telematics, AI technology, and data visualization tools, they can gain new insights and manage more efficiently in a difficult economic climate.