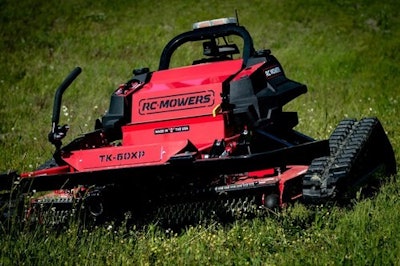 RC Mowers
RC Mowers, a manufacturer of remote-operated robotic mowers, announced it has added another West Coast dealership to its expanding network with the onboarding of Cal-Line Equipment in California.
"Cal-Line has had a fantastic reputation as a top-notch equipment sales and service provider for nearly 40 years," said Tim Kubista, vice president of sales and marketing for RC Mowers. "While they're primarily known for the sale and rental of large tree-clearing equipment, their strong standing in the landscaping community makes them a welcome addition to the RC Mowers family."
Cal-Line Equipment was founded in 1986 by Dennis G. Knoll in Livermore, California, as an equipment sales and service business for the tree and landscaping industries. In 2021, the family-owned company joined the Owen Family of Companies, which includes Owen Equipment and Blaze Equipment. The Knoll family is still involved in the daily operations of Cal-Line and continues to provide a wide range of woodchippers, stump grinders, horizontal grinders, and whole-tree chippers.
"While we specialize in tree-clearing equipment, our roots are still very deep in the landscaping industry, and we envision RC Mowers' products as the gamechanger in this market," said Cal-Line President Denny Knoll. "These products will revolutionize landscaping as we know it, and we're proud to be on board with such an innovative company."
RC Mowers has been traveling throughout the United States on an extensive Great American Road Show to demonstrate its remote-operated mowers to dealers and potential customers. The success of this tour has resulted in sales growth that has exceeded projections and introduced their unique robotic mowers to potential dealers throughout the country.
In November, RC Mowers expanded its dealer network to the West Coast for the first time by adding Cal-Line's sister company, Owen Equipment, in Washington and Oregon.
Kubista said dealers are carefully selected, provided with extensive training and supported by the RC Mowers team during the entire sales and post-sale cycle. With the addition of Cal-Line to the RC Mowers dealership line-up, the robotic mower manufacturer now has 25 dealers throughout the United States.
WorkWave announces Rusty Wallace as keynote speaker
WorkWave, a provider of cloud-based software solutions that support every stage of a service business's life cycle, announces racing legend Rusty Wallace as its 2023 Beyond Service User Conference keynote speaker. Wallace was the 1989 NASCAR Cup Series Champion, 1984 Rookie of the Year, and 55-time Cup Series race winner — and will go into history as one of NASCAR's finest drivers. He will provide unique insight into driving business growth and success and will highlight the leadership and teamwork skills needed to effectively build your business.
Wallace's keynote will be held on Tuesday, Jan. 10 from 8:30-9:30 a.m., with a VIP meet-and-greet to follow. WorkWave's CEO David F. Giannetto will be kicking off this year's conference with a keynote presentation on Monday, Jan. 9 from 8:30-10:30 a.m., where he will be joined by other WorkWave executives to discuss the successes the company has experienced in 2022, and its future vision for 2023 and beyond.
"I am thrilled to be joining the WorkWave family at the 2023 Beyond Service User Conference to help its critical customer base of field service professionals build and grow their businesses so they can position themselves for future success," says Wallace. "It is an honor to join WorkWave on its mission to empower its customers to grow their businesses, this time through the unique and impactful insight they will receive from the 2023 User Conference."