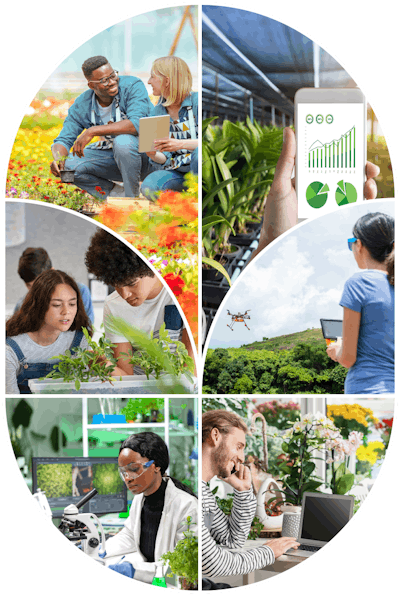 Seed Your Future
Seed Your Future (SYF) and the American Floral Endowment (AFE) are launching an in-depth survey that promises to shed light on the salary potential in horticulture jobs. The Industry Salary Survey for Horticulture Sectors is designed to expand the understanding of wages and benefits in horticultural sectors ranging from floriculture, public gardens, garden centers, and landscaping to fruits and vegetables.
"As Seed Your Future continues to work to promote horticulture careers to students and their families, we often run into a roadblock — the perception that all horticulture and related sector jobs are low paying," says Seed Your Future Executive Director, Jazmin Albarran. "While entry-level positions can be low paying, there are many more horticulture and horticulture-related careers that have robust salaries. This survey will give us a better understanding of which positions are providing living wages and higher."
Albarran says that having data to compare salaries across all of horticulture will allow the industry to compare across fields and hiring outlook data.
"It's time to know precisely where we stand as viable careers for the next generation," she says.
Broad participation is vital. "The more participation in the survey, the more valuable the results will be for the entire industry," Albarran says, encouraging employers to fill out the survey and share it with other employers in one of the horticulture sectors. The survey will take approximately 15 to 30 minutes to complete.
"AFE is excited to partner with Seed Your Future and support this important project to gather real data on salaries and benefits within floriculture and horticulture. The results will create a baseline for the future and help industry organizations understand how their own salaries and benefits rank in comparison to similar businesses, says AFE's Executive Director Debi Chedester, IOM, AAF. "As an industry, we must remain competitive to recruit and retain top talent. This survey will help bridge the gap in many areas."
The survey will be open from September 1, 2022, through October 31, 2022.
Industry participation to share this data is vitally needed, so SYF and AFE are encouraging all businesses to participate, confidentially, and to share their salary/benefits information for positions throughout the organization. Be sure to forward the survey to your HR staff/department to complete this.
Results from the comprehensive survey will be made available to those participating in the survey first, as a thank you. It will then be made available to others 90 days following the initial release through the SYF and AFE websites. In addition, the results will be published on the website.
"In order to attract both students and employees, we have to show that we're competitive from a salary standpoint," says Albarran. "Our goal in conducting and publishing the results of this survey is to alert people to the wealth of job opportunities in horticulture and encourage them to consider horticulture as a career."
Landscape industry members who are willing to participate can access the survey here. Your participation can play a role in helping to attract new people to the industry.