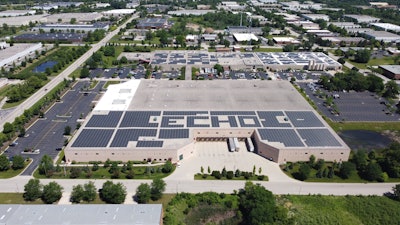 ECHO
In a time when more and more companies are beginning to pay attention to green initiatives, ECHO, Inc., is building upon existing efforts that they started long ago.
According to Ryan Ladley, ECHO's vice president of operations, sustainability is one of the company's core principles.
Recycling scrap
One way in which the company has significantly boosted its sustainability is through recycling. Twelve years ago, ECHO started recycling whatever scrap pieces that they could. This was long before the worldwide resin shortage but it helped to offset that problem with less re-ordering during a time of tight supply.
"One of our top problems, like others, is resin supply but being proactive in recycling has allowed us to control our own destiny," Ladley says. "Those efforts that we started 12 years ago are really paying off now."
According to Ladley, they even take the dust created in the regrind processing and send it out to be re-pelletized.
"We're not throwing that dust away, we're reusing it, which shows how committed we are," he says. "That's basically a cost-neutral effort but we feel better about not letting anything go to waste, particularly at a time when commodities are more scarce."
Green headquarters
In addition to sustainable manufacturing efforts, ECHO has also implemented green initiatives at their plant in Lake Zurich, Illinois. A big effort has been the installation of solar panels (spelling ECHO) on the roof that offset around 38 percent of the company's energy usage. According to Ladley, it's the largest use of solar panels in their area and it's setting a green example for others.
"We already had LED lighting throughout the facility and we buy 5 Star Energy-rated machines, so we're continuing to take steps toward being more environmentally friendly every day," Ladley shares. "The introduction of solar power is another big step in that direction. We love the idea of setting an example that others want to follow."