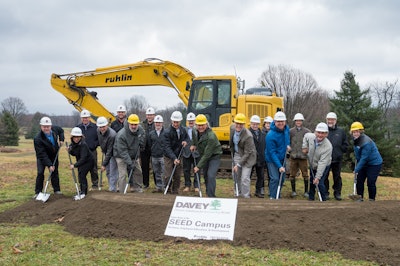 Davey Tree
Members of Davey Tree's leadership team and project partners from The Ruhlin Company and SmithGroup recently broke ground at Davey Tree's new S.E.E.D. (Science, Employee Education & Development) Campus.
The S.E.E.D. Campus is on a 170+ acre property that formerly housed the Oak Knolls golf course and Franklin Elementary School on State Route 43 in Kent, Ohio.
It will be the new home to specialized training and research facilities for Davey Tree and will include a 25,000-square-foot training center and associated offices, a 10,700-square-foot indoor climbing center, 18 spans of non-energized utility right-of-way, laboratories and greenhouses, a container nursery and multiple research plots and fields.
Mean Green opens new facility
Mean Green, a battery-powered, commercial-grade turf care manufacturer and a Generac Power Systems company has announced the opening of a new facility in Hamilton, Ohio to meet the growing interest and demand for electric-powered, zero-turn mowers. The new facility, located in Butler County, is approximately 10 miles from the company's existing operations in Ross.
The new 100,000-square-foot facility will focus on manufacturing Mean Green's ride-on and stand-on electric mowers, as well as a comprehensive line of accessories. Production is already underway, with more than 30 jobs added with the new opening and plans to hire more than a dozen additional team members by the end of 2022.
"As consumers focus on the electrification of everything in their lives, the lawn has not been overlooked," said Matt Bieber, president of Chore Products for Generac. "Mean Green Mowers has led the charge for cleaner, environmentally friendly, commercial-grade mowing solutions since our start in 2009, and we're excited to further expand our operation and continue supporting our customers with quality commercial-grade products that deliver electric power that lasts all day."
Michael Sims to retire as CFO of TruGreen
TruGreen chief financial officer, Michael Sims, announced he will be retiring from the organization at the end of 2022. He will move into a senior advisor role, amid the transition to TruGreen's newly appointed CFO, Ben Dunham.
Since joining TruGreen in 2019, Sims has brought strategic financial leadership and operational excellence to the organization. As executive vice president and CFO, he drove revenue and EBITDA growth during a turbulent environment of the COVID-19 pandemic and inflation. His contributions have been instrumental to TruGreen's positioning within the marketplace today.
Over the last several years, Mike has navigated unforeseen challenges with cross-functional collaboration and strategic guidance," said John Cowles, President and chief executive officer of TruGreen. "His depth of experience – coupled with his strong leadership style – has benefitted not just our team, but the TruGreen experience for our customers. It has been a pleasure to work alongside Mike and I thank him for his commitment to TruGreen."