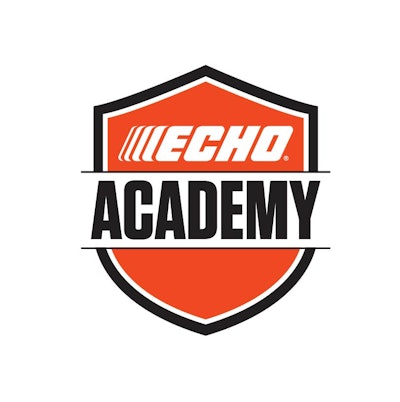 ECHO
ECHO, Incorporated recently announced the launch of its new virtual learning management system, ECHO Academy, an online platform that offers high-quality training content to ECHO's distributors, dealer network, and other departments within ECHO.
ECHO Academy, available online or via mobile app, will provide users with the tools needed to be successful in both the sales, service, and marketing of ECHO products, and kicks off with more than 100 training courses that provide in-depth technical training for the ECHO dealer network.
"Most dealers today carry multiple product lines and trying to stay up to date with the latest training can be a struggle," said Fernando Iacona, vice president corporate development and product service, ECHO Incorporated. "There are many dealers who want product knowledge, but they don't have the time to train. We specifically designed these programs with that in mind and they're accessible either online or ECHO Academy mobile app 24/7," he said.
In addition to convenience, the technical service programs posted on the site are multi-lingual, covering English, Spanish, and French. And for those who crave even more learning, there's a function that allows the dealer technician to find and register for available hands-on service schools in their area. Also available at ECHO Academy is a new technician certification program, consisting of three levels, from new dealers and technician staff to a Master Certification level.
"The shortage of technicians in our industry is concerning, as there are more than 9,000 job openings, with many techs leaving the workforce," said Tim Dorsey, CEO, ECHO Incorporated. "Recognizing the need to grow the manufacturing industry, while closing the gap of this national job shortage, is a priority for our company. ECHO provides high school and technical college students with equipment, tools, and training programs, including ECHO Academy. Additionally, we work closely with SkillsUSA, a partnership of students, teachers, and industry working together to ensure America has a skilled workforce, and we're involved in both state and national competitions."
For more information about ECHO Incorporated, visit www.ECHO-USA.com.
STIHL presents Fire Fighter of the Year Award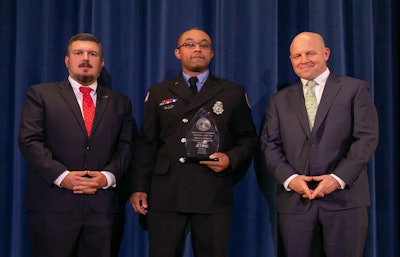 The Virginia Beach Fire Department held its annual award ceremony on Oct. 26, 2022, at Landstown High School in Virginia Beach. Members and residents were recognized for their outstanding service to the community and city, including the STIHL-sponsored Fire Fighter of the Year Award presented to Vincent G. Smith III.
"This is a great honor," said Smith. "I am just happy to have the best job around working for one of the best departments."
For several years, Smith has overseen meter maintenance and led servicing of all hazmat meters on rescues, ladders, and boats for the department. He spearheaded an effort to obtain new meters for all ladders and rescue companies. Additionally, Smith has worked with two battalion chiefs and two captains to help create the Swiftwater Rescue Team.
"STIHL has sponsored the Virginia Beach Fire Department Fire Fighter of the Year Award for more than five years," said Chris Keffer, STIHL Inc. vice president of sales and marketing. "Our company is committed to providing world-class professional products that meet the needs of firefighters worldwide. From research and development to design and production, our employees are dedicated to ensuring that you have the right equipment you need for your work."
Since 1974, STIHL Inc. has been a member of the Hampton Roads community and is proud to support the vital work of local organizations such as the Virginia Beach Fire Department.
"This fire department is critical to the well-being of our community," said STIHL Inc. Product Manager John Allen. "STIHL will continue to focus on providing the professional tools and solutions needed to support its mission."
Bobcat employees donate more than $25,000
Doosan Bobcat North America (Bobcat) employees recently wrapped up their fall giving campaign, exceeding total donation goals. The company donated more than $250,000 to local organizations in North Dakota, Minnesota, Wisconsin, North Carolina, and Georgia focused on education, community prosperity, and health resources.
Bobcat's fall charitable giving campaign took place over a two-week period in October, allowing employees to concentrate their efforts on giving back to nonprofits working to cultivate local communities. In addition to the funds raised by employees, Doosan Bobcat matched nearly half of total employee donations to further amplify employee generosity.
New to this year's campaign, employees could choose any organization with a 501(c)(3) status, rather than selecting from a set list of nonprofit organizations.
United Way remained a featured charity for the campaign, receiving strong employee and organization support in addition to more than 100 other nonprofit recipients selected by employees. Doosan Bobcat has been a partner to United Way for more than 20 years, supporting its mission of inspiring and activating communities to improve lives.
"As an organization, our employees are passionate about giving back and improving the lives of those within our communities," said Tina Amerman, director of talent experience at Bobcat. "By providing employees with the opportunity to support organizations that are close to their hearts, we can accomplish more through our efforts to make a positive social impact."
The fall giving campaign wrapped up a season of volunteering and community efforts on behalf of the company. In September, Bobcat announced that more than 425 employees dedicated their time and talents to participate in 35 community projects toward the company's annual Doosan Days of Community Service events, a companywide volunteer effort aimed at giving back to the communities where Bobcat employees live and work. Projects during this particular event spanned across Bobcat's footprint, including efforts in and around Bismarck, Gwinner, Wahpeton, and West Fargo, N.D.; Litchfield, Minn.; Johnson Creek, Wis.; Statesville, N.C., and Buford, Ga.