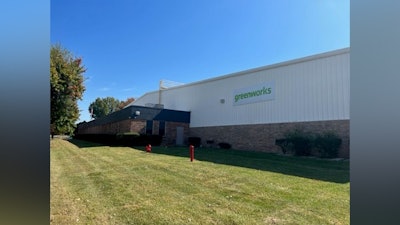 Greenworks
Greenworks Commercial, a provider of lithium-ion battery-operated, zero-emission outdoor power equipment, expanded its global footprint by opening the doors to its 180,000-square-foot Commercial Center of Excellence for Manufacturing and Engineering in Morristown, TN, its first in North America.
"I'm extremely proud that Greenworks chose Morristown/Hamblen County for its newest manufacturing plant," said Hamblen County Mayor, Bill Britain. "Greenworks brings new technology and job opportunities to our community. I wish the company well and am committed to its success."
The facility's initial $25 million investment will focus on the manufacture of commercial and residential lithium-ion battery ride-on mowers. This advancement in technology will bring more than 150 sustainable, high-tech careers to East Tennessee by the end of 2023 with up to 400 more promising career opportunities by 2025; creating a sustainable hub of innovation and technology for generations to come.
This initial phase provides an annual production capacity of 30,000 ride-on mowers, gradually increasing to 80,000 by 2025.
"It's hard to find the right words to express just how pleased I am to have Greenworks select Morristown as its location for growing their company's goals," said Morristown Mayor Gary Chesney. "Greenworks' history of meeting today's consumer needs while exploring how new equipment will meet trends of the future is a particularly unique fit for Morristown's industrial base. I'm proud to say, 'Welcome Greenworks.'"
The state-of-the-art facility currently houses:
Two leading-edge automated guided vehicles (AGV) based assembly lines
A fully robotic vehicle chassis welding center with five fully robotic welding stations
High-precision tube and sheet metal laser cutting, stamping, and CNC tube-bending equipment
A shot-blasting metal preparation center and powder-coating line
A state-of-the-art final inspection station including a light tunnel for visual inspection
An exterior bumper and track test facility
Planned expansions for late 2023 and early 2024, include:
Installation of an e-coating workshop and an injection molding center
Automatic assembly lines for large commercial-grade battery modules for ride-on mowers and battery packs for commercial handheld and walk-behind product lines
Manufacturing of commercial walk-behind mowers
A parts and service warehouse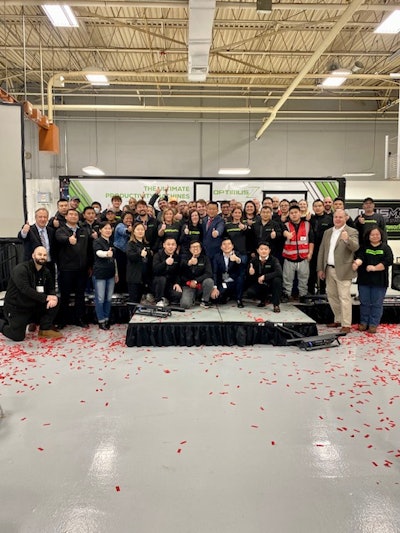 The Morristown facility is also home to the North American Center for Advanced Vehicle Engineering within the Greenworks corporate group, with over a dozen mechanical, electrical, and testing engineers calling Morristown home by the end of 2023. The U.S. engineering team collaborates with Greenworks' main R&D campus in Changzhou, China, and its Autonomous and Robotics R&D Center in Jönköping, Sweden.
"It is always a pleasure to welcome an expanding new industry to our community, and Greenworks is no exception. We are fortunate to have a manufacturer replace a major company that provided jobs for our citizens for the last 50-plus years in the East Tennessee Valley Industrial District," said Industrial Development Board Chairman R. Jack Fishman. "Greenworks technology not only brings another major diversification of industrial skills but also a production of products that will help our city and improve climate changes. The jobs they bring to the Lakeway Area are significant, and the dollars they will also bring to our tax base is important in continuing to make Morristown and Hamblen County a great place to live and make a living."
This world-class facility is the embarkation of a groundbreaking journey for the city of Morristown. With a mission to facilitate the world's transition to sustainable energy through its innovative products for people's daily lives.
"TVA and Morristown Utilities congratulate Greenworks on its decision to establish operations in Morristown," said TVA Senior Vice President of Economic Development John Bradley. "Helping to attract jobs and investment to the region is fundamental to TVA's mission of service. We are proud to partner with the Morristown Area Chamber of Commerce to help further that mission and celebrate this announcement together."
The Greenworks Commercial Center of Excellence is part of a 7,000+ global workforce, with 10 global manufacturing sites, four global R&D centers with more than 750 engineers, 130 finished goods production lines, and a 1.5-million-unit manufacturing output per month.
Greenworks currently produces more than 20,000 batteries, 30,000 motors, and 100,000 PCBAs per day using advanced manufacturing equipment. With more than 80% vertical integration, Greenworks brings innovative and industry-leading designs to market with short development times and cost-effective manufacturing.
Total Landscape Care covered Greenworks' introduction of the OptimusZ range of mowers in October.