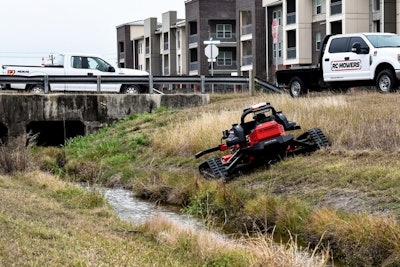 RC Mowers
RC Mowers, a leading manufacturer of remote-operated robotic mowers, announced today it has entered into dealership agreements with Pennsylvania-based Stephenson Equipment, Inc. (SEI) and Iowa's Elliott Equipment Co. to add them to its dealer network.
"Both Stephenson Equipment and Elliott Equipment are not only market leaders in the crane and heavy equipment space, but they have excellent reputations in both the private and public works industries," said Tim Kubista, vice president of sales and marketing for RC Mowers. "Their in-depth knowledge of the types of machinery necessary to get tough jobs done makes them perfect partners for RC Mowers. Because both of these dealers already work with public works departments and other industries adjacent to the commercial landscaping industry, RC Mowers' product line will be better positioned to get in front of the right commercial and governmental customers."
Founded in 1957, SEI operates nine branches in Pennsylvania and New York and a service operation location in Maryland. They market a complete line of cranes and asphalt, road repair and maintenance and construction equipment. Their agreement with RC Mowers extends to their New York markets.
Elliot Equipment was founded in 1970 out of Glen and Eilene Elliott's small home in Fairfield, Iowa before establishing a business location in Davenport, Iowa two years later. Through the years, the company has grown and expanded to meet the demands of customers seeking high quality municipal equipment. The company is now headquartered in Grimes, Iowa and they have four other locations in Des Moines, Iowa, Lincoln, Nebraska, Grandview, Missouri and Commerce City, Colorado.
"We are excited about our partnership with RC Mowers and anxious to introduce their remote-operated and autonomous mowing robots to our customer base," said Charlie Walsh, president of SEI. "While we concentrate on the heavy equipment used to build and maintain roads and clear large areas of land, we believe RC Mowers' product line will dovetail nicely with our selection of this type of equipment."
Elliott Equipment CEO Gene Elliott said his team is also looking forward to its partnership with RC Mowers.
"This partnership with RC Mowers will make our product line more robust for our public works customers," Elliott said. "We already offer the rugged, heavy-duty and multi-functional garbage and street- and sewer-cleaning trucks that make municipal tasks both easier and safer. In offering our customers the remote-operated and autonomous mowing robots RC Mowers builds, we become the one-stop shop for public works crews."
Kubista said dealers are carefully selected, provided with extensive sales and product training and supported by the RC Mowers team during the entire sales and post-sale cycle. With the addition of SEI and Elliott to its dealership lineup, RC Mowers now has nearly 30 dealers throughout the United States.
Boss Software releases new tools
The Integra Group, the force behind the landscape industry's original enterprise business management software, announces the release of BOSS 10.1 – the latest iteration of the software that landscape and snow removal professionals rely on to effectively manage their growing business operations.
Highlights of the new release include:
New production dashboard
New business intelligence (BI) dashboards
SiteRecon integration
Job cost overtime
New pivot table report for FSE/audit
Add tabs to job screen for tickets, invoices, material
Mobile link to property location and directions
PO - Update Item cost from receipt or receipt history
BOSS Scorecard updates
"We are pleased to deliver BOSS users with enhanced tools that provide greater ease of use and flexibility on how they view and organize their data," said Mike Cossins, CEO & founder of The Integra Group, developers of BOSS Software. "These tools will enable landscape contractors and snow removal professionals to make decisions faster and with greater certainty as they grow their businesses."
New Production Dashboard
The new production dashboard offers landscape and snow removal professionals greater ease of use and flexibility on how they view and organize their schedule. Highlights include:
Several options to display your production dashboard: day view, week view, work week view, month view and timeline view.
New drop-down menu to filter by services and default schedules.
New display feature allows you to filter crews.
A new Ellipsis feature will make it easier for iPad users and more intuitive for all users.
Color-coded tickets to visually help see the ticket status immediately.
Eight New BI Dashboards
The release also features eight new BI Dashboards that have been created to provide additional insights into various aspects of your business. The new dashboards, which can be included in reports, include:
Employee count and hours worked
Estimated hours vs. actual hours
Gross profit by month
Gross profit by year
Labor efficiency
Sales by branch and job type
Sales by revenue class
Sales renewal status by branch
Additional tools support enhanced accounting, sales and purchasing functions include:
Sage 50 provides another accounting integration option.
Two new payroll export options – PRISM and iSolved.
A new filter option on the sales dashboard – show sales rep by assigned branch.
An enhancement to purchase order module to add a Ship to Address option in the property address.
A modified manage invoice module with more information on invoice credit memos.
As businesses grow, there is a need a strong business management software like BOSS. BOSS helps landscape and snow removal companies grow by unlocking information and reducing friction. It provides features that growing companies need while being easy to use and easy to implement. And with real-time insights into all your lines of businesses, you can make better informed decisions.
BOSS Software is recognized for its adaptability and ability to be tailored to meet the ever-expanding needs of landscape companies. It stands alone when it comes to delivering return-on-investment and unmatched levels of client service and support.
If your business is outgrowing your current business management software, consider BOSS. Want to learn more about what BOSS can do for your business? Schedule a consultation.
Ruppert Landscape expands into Tennessee
Ruppert Landscape has expanded its landscape construction operations to include a permanent location in Nashville, Tennessee. This branch joins 30 existing branch offices located in Pennsylvania, Delaware, Maryland, D.C., Virginia, North Carolina, Georgia, and Texas, supporting both the landscape construction and landscape management divisions of the company.
"We have frequently stepped out of our geographic footprint when opportunities arise to take on large-scale landscape construction projects at a national level," said Patrick Luzier, regional vice president in the company's landscape construction division. "Our expansion into the Nashville market was initially determined by relationships we have with clients in other geographic locations, who reached out to us for projects in the Nashville market. The success of these initial opportunities and several subsequent projects, enabled us to develop a more permanent presence in the region."
The Tennessee branch is overseen by Marvin Clermont, who has recently been promoted to branch manager. In his new role, Clermont will oversee all planning, budgeting, and personnel development in the branch and ensure customer satisfaction on all landscape construction projects within the Nashville region.
Clermont holds a master's degree in City and Regional Planning from the Georgia Institute of Technology and a bachelor's degree in marketing from Florida State University. He garnered several years of community development and project management experience before joining Ruppert's Maryland landscape construction branch in 2015 as an assistant project manager. He was promoted to production manager before transferring to the Georgia landscape construction branch in 2017, where he served as a project manager for two years before being promoted to operations manager in early 2020.
In 2021, he took the opportunity to relocate to Nashville to help open the satellite office in the role of associate branch manager.
"Marvin's strong leadership and customer service abilities have played a key role in our ability to turn the Nashville satellite operation into a permanent branch," said Luzier. "We are pleased to see Marvin take this next step in his career and know that the future of Ruppert in Nashville is in good hands."
"This team is very talented and eager to take on the complex and challenging projects that come our way," added Clermont. "Nashville is one of the fastest-growing markets in the country and has a strong economy and diverse culture. We are looking forward to continuing to build our team and tapping into the skilled and engaged workforce that this community has to offer."
Ruppert's Tennessee branch serves large-scale landscape construction projects in the Nashville, Memphis, and Knoxville regions, including Davidson County, Williamson County, Robertson County, Sumner County, Rutherford County, Cheatham County, Wilson County, Shelby County, Tipton County, Fayette County, and Knox County. Services include estimating and pre-construction services; installation of landscape, hardscape, and special decorative structures; and irrigation and water management.