Yanmar CE North America
Yanmar Compact Equipment North America (Yanmar CE North America), encompassing the Yanmar Compact Equipment and ASV brands, breaks ground on a 32,000-square-foot expansion to its Grand Rapids, Minnesota facility. The expansion will greatly increase manufacturing capacity and allow for Yanmar compact track loaders to be manufactured alongside ASV compact track loaders.
Yanmar CE North America kicked off the project during an event on June 2 celebrating the Yanmar Compact Equipment and ASV brand histories and the company's employees. More than 500 people attended.
"We've talked a lot about expansion plans over the past year to our customers, dealers, and those we visited with at CONEXPO, so it is thrilling to break ground and see those plans come to fruition," said Tate Johnson, president of Yanmar CE North America. "This project is ultimately about better serving our customers, both through expanded manufacturing capabilities and increased staffing to make sure their needs are met."
The expansion will allow for the manufacturing of Yanmar's recently announced compact track loaders while continuing to manufacture ASV compact track loaders at the same facility. Additionally, company executives project the addition of hundreds of jobs over the next five years.
The new section will house a paint system that will increase paint capacity by up to three times. It will also boost parts manufacturing capacity by up to two times in the previously occupied space. The new powder paint system will be more efficient and have less environmental impact.
Several officials spoke at the groundbreaking, including Yanmar CE North America President Tate Johnson, Grand Rapids Economic Development Authority President Sholom Blake, Itasca County Commissioner John Johnson, Iron Range Resources and Rehabilitation Deputy Commissioner Al Becicka, and Honorary Consul of Japan — Ron Leonhardt.
The Minnesota Trade Office selected Yanmar CE North America as a recipient of the 2022 Governor's International Trade Award in the Large Company category as a result of the expansion project.
The company expects project completion in Spring 2024.
See available job openings at www.YanmarCE.com/careers.
Bobcat Company celebrates completion of Johnson Creek renovations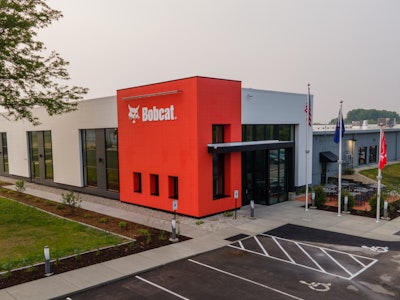 Bobcat Company, a global compact equipment, innovation, and worksite solutions brand, today celebrated the completion of its $5.3 million renovation at its Johnson Creek, Wis., location. The Johnson Creek facility manufactures mowers, turf, and grounds maintenance equipment.
"We continue to make investments in our facilities and operations, as part of our commitment to support our employees with a collaborative, inspiring workplace and to serve as a strong community partner where we operate," said Mike Ballweber, president, Doosan Bobcat North America.
The investment in the Johnson Creek facility modernized the office and employee spaces with an open-concept design, which includes multiple meeting and conference rooms, updated furniture, and an enhanced employee break room.
The renovations are consistent with the interior design, finishes, and furnishings of other Bobcat locations throughout North America. Featuring open seating and no cubicles, the space is intended to encourage collaboration, drive innovation and support cross-functional teamwork. As an ode to its Wisconsin location, the facility's meeting rooms are named for various local wildlife such as Badger, Whitetail Deer, Red Fox, Sandhill Crane, and Bald Eagle.
The renovation additionally transformed the former employee break room into a more versatile and welcoming café area.
Exterior building signage also received a refresh aligned with Bobcat facility branding throughout North America.
"Seeing the many enhanced spaces throughout the facility and the new Bobcat signage has been exciting, and we are so appreciative of the support from our employees and construction partners during this process," said Chris Knipfer, vice president of grounds maintenance equipment business, Doosan Bobcat North America. "Johnson Creek is an important part of our company's operations, and we are thrilled to build on our success here in Wisconsin." Doosan Bobcat acquired the Johnson Creek facility and its product lineup in 2019 to diversify its product portfolio, complement its existing business offerings and expand its footprint. The location houses more than 375 employees working across sales, human resources, strategic sourcing, design and test engineering, and manufacturing operations for some of the company's turf and grounds maintenance equipment products.
Bobcat has grown its product lineup significantly, launching more machines in the past five years than previously in its entire history. In addition to the mowers, turf, and grounds maintenance equipment produced at the Johnson Creek facility, Bobcat offers an extensive line of compact equipment, including loaders, excavators, compact tractors, utility products, telehandlers, attachments, implements, parts, and services.
Shultz + Associates Architects supported the architecture plans, while ABC Construction served as the general contractor and Midwest Electric worked on the electrical aspects of the facility.
In addition to its operations in Johnson Creek, Bobcat has an extensive presence throughout the U.S., employing more than 5,000 people at offices, facilities, and manufacturing operations across North America.
Senske Services expands reach into Texas
Senske Services, a provider of recurring residential lawn care, pest control, and home services, has announced the acquisition of Emerald Lawns. Headquartered in Austin, Texas, Emerald Lawns is a lawn care, tree care, and pest control company. This strategic move unites two industry powerhouses and propels Senske's presence into the Southwest region.
Founded in 2006 by Mary and Luke Hawthorne, Emerald Lawns has built a reputation as the go-to provider of top-notch lawn care services in Austin, San Antonio, Temple, and surrounding areas. After an extensive evaluation process, Emerald Lawns concluded that Senske was the perfect partner, ensuring an exceptional experience for both customers and employees.
Luke Hawthorne, the visionary behind Emerald Lawns, will continue to lead the operations at the company.
Mr. Hawthorne commented, "While selling Emerald was a tough decision it was made easier knowing that this acquisition will open doors and offer growth opportunities for my employees that I just could not have gotten for them on my own. The sales process was seamless and I can sincerely say the whole Senske team was a pleasure to work with. I'm excited to see just how far we can take the continued expansion of Emerald Lawns with the combined resources of Senske and GTCR. It's a new chapter for myself and Emerald but one I'm looking forward to."
"We are thrilled to welcome the 178 talented employees of Emerald into the ever-growing Senske family of brands," stated Casey Taylor, CEO of Senske Services. "Having spent time with their team, it is evident how they have evolved into a well-established and trusted service provider in Texas."
Senske Services and Emerald Lawns will continue to operate as separate entities, retaining their respective brands, teams, and service offerings.