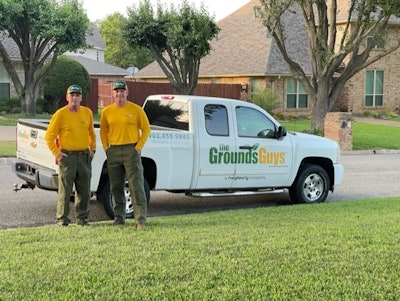 Grounds Guys of Sherman
The Green Industry is full of a lot of family member partnerships. It can sometimes be equally challenging and rewarding to work with the people that you love. Whether it's spouses, siblings, or a parent/child partnership, owning a landscape business with a family member can be a great experience.
For Scott and Braden Smith, a father/son duo, the decision to go into business together has been a win. One year ago they opened The Grounds Guys of Sherman, TX.
Scott (Dad) says that the two previously coached together, which helped them transition into owning a business. They already knew how well they could work as a team.
We recently caught up with Scott and Braden to find out more.
What got you interested in owning a landscaping business?
We both cut lawns in high school. The opportunity to be in the service industry and provide a needed service for people is a motivating factor for the landscape industry.
What led you to work together?
Having both cut lawns during high school, though in different decades, we both had strong work ethics. The fact that The Grounds Guys was looking for someone to franchise in the Texoma area came at the right time as Scott was moving to the area where his wife, Kelly, is from.
Do you handle different areas of the business?
Scott runs the day-to-day operations while Braden handles the technology side of the business.
Tell us about your football coaching background?
Scott coached for 41 years and Braden coached for 10 years. Scott coached his oldest son Shea at Odessa Permian and coached Braden at Rockwall. Both sons had an opportunity to work under Scott at Legacy Christian Academy in Frisco, Texas. Scott played football at Baylor University, Shea at Air Force, and Braden at SMU.
What lessons did you learn from football that have translated to owning a business?
There are so many lessons learned as a player and as a coach that have translated to owning a business and working together. Football, like most sports, is a microcosm of life. The ups and downs, seasons of training and seasons of reaping, and working with a group of people to achieve something that cannot be achieved alone. To sum up the correlation, working hard, improving every day, being unselfish, and being the best is the recipe for both business and football.
What advice do you have for other fathers and sons going into business together?
We are still early in the process. As a father and son, it is important to be able to separate work and family time. You must be able to spend time with the family and not be focused on the business. The business will take a lot of time and communication, so it is good to be able to separate the two at times.