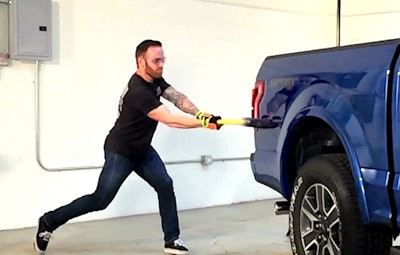 From the outset, quite a few folks have questioned the durability of the 2015 Ford F-150's aluminum body. That was obviously something we wanted to ask folks in our industry about to which they replied with the exact opposite response. The construction professionals we talked to said years of experience with aluminum dump truck bodies had long reassured them of the metal's toughness. Rather, they were more worried that when the new F-150 does get a pretty good ding, that it would cost more to repair.
The folks at Edmunds took a more direct approach to answering these questions. As soon as they could, they slapped down $52,000 for a new F-150…and then took a sledgehammer to it. And not just any part of the truck, one they knew would prove especially tricky to repair. And if we're being honest, one that has a pretty good chance of taking a hit both on the jobsite and in a parking lot.
"After much thought we chose to smash the bed side because it would need to be repaired, as opposed to a dented door, fender or hood, which could simply be replaced," reads one of the posts chronicling the website's findings. Watch the sledgehammer carnage below.
As you can see in the video, after two hits, the truck comes away from the ordeal with some tennis ball-sized dents and pretty serious creasing in the panel around the dents. It will definitely need replacing. And when the Edmunds folks took it to their Ford repair shop they were told that while they had the training to do the repair, it "would be much harder to fix than steel," because it "required special tools and would take extra time."
The good news is they received the truck back from the shop almost good as new, so Ford has trained their shops well. The bad news? The bill totaled $2,938.44. And $887.25 of that was for the F-150 Lariat's LED taillight with blind-spot sensor. (The standard taillight would have only run $106.28.)
Unsurprisingly, the lion's share of the bill was labor. But here's the kicker, the manager at the shop cut them a deal on labor: $60 per hour rather than the normal $120. At the normal rate for labor, the repair bill would have totaled $4,138.44—a difference of $1,800 over the cost of repairing the same spot on a 2014 or older, steel-bodied F-150. Beyond that, Edmunds has concerns about insurance costs going up for aluminum repairs due to all the concerns about the metal voiced in the last year or so.
So, in the end, can the new F-150 take a punch like a champ? It can. But when it comes time for a repair, at least here in the early going, let's hope your wallet has a strong chin as well.