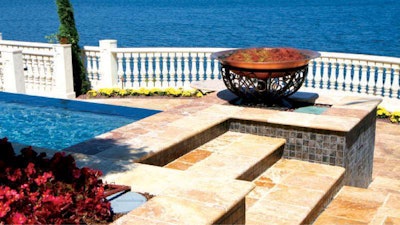 Why: Outdoor living spaces are among the hottest landscaping trends
How: Install natural or cut stone, custom metal or kits
When: Sell a fire pit as an option to a comprehensive plan
Bottom line: Net from $2,000 to $50,000
From Hollywood celebrities to New Jersey plumbers, Americans are rediscovering a forgotten pastime: warming their hands over a crackling fire in their backyards. And, landscape architects are making upwards of $2,000 to $50,000 installing them on $800 to $5,000 in materials and skilled labor.
"The fire pit is a year-round feature that is extremely low maintenance, as opposed to a pool. It completely defines a space, making it a true outdoor room," says Anne Rainey Rokahr, managing director for Colombo Construction in Brooklyn, New York. "If you want people to spend time outdoors, a fire will get them there. The same way people always end up in the kitchen at a party."
"If we listen to our consumers, they are trying to make home more like a vacation," says Eric Kent, owner of Archadeck of Charlotte. "People are taking fewer vacations, spending more time at home and looking to create exciting landscapes that they can enjoy with family and friends. The whole outdoor living trend is exploding."
Material and margins
Landscapers are meeting the demand with custom-built pits made with natural or synthetic-looking stone, as well as fire pit kits. For materials, landscapers report using large boulders, various clean-cut natural stones, concrete, copper, mild steel, Corten steel and stainless steel. They mark up these materials 100 percent, says Joe Rider of Stone Age Fireplaces.
As for profit margins, landscapers can earn from 35 percent to 50 percent, experts say. More profit can be earned with fire pit kits because they are easier and quicker to install. Also, fire pit kit manufacturers and distributors often give discounts, so savings can be passed on to customers.
Marketing and design options
It is recommended to market fire pits as an add-on to existing or future outdoor living spaces, which helps realize overall profits.
Placement of the fire pit is one of the most important considerations. For example, New Jersey-based Garden Associates Landscape Architecture typically designs fire pits separate from the main patio. This avoids conflict with outdoor table seating, says senior landscape architect Michael Medea.
"Consider views as well with location, even views from inside the house," Medea says. "Seeing the fire from the house or the main entertainment space draws you toward it, encouraging full use of the yard."
Details to consider
1. Use the flame creatively.
A client of Stone Age Fireplaces used glass crystals to spell out his favorite college team – Oklahoma State Cowboys. These crystals have grown in popularity because people like the sparkling reflections projected from the glass.
2. Add roasters, grills and outdoor stoves. According to a 2009 Hearth, Patio & Barbecue Association study, 45 percent of Americans grill one to two times per week.
3. Focus on steps and chairs.
People like to walk down to the fire pit and sit around. Look for areas where you can create steps that can serve as chairs, too. Medea uses large boulders as chairs.
4. Check local ordinances before building a fire pit.
Some metropolitan areas prohibit outdoor fires. In Des Moines, Iowa, a fire pit can be used if it has a cooking plate or grill, and air can come in underneath the cooking surface.