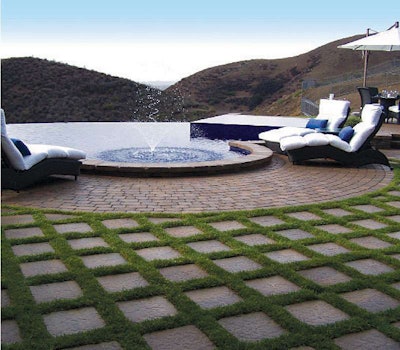 Patios of the past: Rectangle concrete slabs laid outside a sliding glass door.
Today, your clients are more discerning, and you'll increase your chances of winning projects if you offer creative options for designs, placement and materials.
Make the area functional
"The big trend now for outdoor design is to take a space and divide it into several outdoor rooms," says Scott Cohen, president and supervising designer for The Green Scene in Northridge, California, and author of several books including, Patio Covers, Pergolas and Pavilions.
"For entertaining, it's better to have several smaller patios than one large one. When socializing, people tend to break off into smaller groups. This lends itself to that idea."
As with any project, the first step is to gain an understanding of the client's vision.
"I ask what they want to see, feel and experience, and for how many friends," says Jan Gerrit-Bouwman, senior landscape architect and partner of Grant & Power Landscaping in West Chicago, Illinois, and a 2010 TLC Landscaper of the Year finalist. (Pathways or stepping-stones can connect patios to encourage guests to circulate.) While one area may feature a fire pit, another may focus on dining or cooking.
Materials for each patio don't have to match, just complement one another, as well as the home. "Think about your house. There could be tile in one room and carpet in another," Cohen says. "The materials help define the space." For example, one patio may use clay pavers while the second uses stone. The colors and themes may complement one another, but by laying different materials, each develops its own personality.
While several small patios may work well for entertaining, make sure each is large enough to be functional. For example, if the patio will host a dining table, calculate space for the table and an additional three feet behind chairs so there is adequate clearance for them to be pulled back.
"If you think your patio space may be too small, always err on the side of caution and make it bigger. It's easy to do, and we have never had clients tell us they wish their patio was smaller. But we have had customers tell us they wish it was larger," says Larry LaFleur, owner of Nevada Landworks in Gardnerville, Nevada, and a 2008 TLC Landscaper of the Year finalist.
Consider the entire yard in your plan
For patios that include an outdoor kitchen, building close to the house takes advantage of existing electrical sources and shortens the trek between the indoor and outdoor kitchen for optimal meal preparation.
However, don't overlook other areas in the yard for building. While some clients may use a patio for cooking and entertaining, another may prefer a quiet spot away from the house to escape.
"There's a tree in the corner of my yard where a cool breeze comes through. It's a comfortable place to sit. A lot of clients may not see the potential of such a space. You need to walk the property with them and see how the lay of the land can be used," says William Dickerson, owner of WT Dickerson Enterprises in Monticello, Florida, and a 2011 TLC Landscaper of the Year finalist.
One caution: While it may be desirable to build near trees for the shade and a beautiful view they provide, some trees with intricate root systems, such as magnolias and maples, should be avoided since they can push up pavers as they extend and grow, Dickerson says.
Incorporating plants into the design is a must. They can be potted or planted into the ground and will anchor the patio to help it blend with the surroundings.
Don't take the big-box-store approach to materials
Repurposing has paid handsomely for Rich Kanary, owner of Kanary's Landscaping in Sheffield Village, Ohio. He acquired 9,000 tons of hand-cut sandstone from a reservoir near Cleveland. The stones once lined the bottom of a retention basin laid in the late 1800s. "They fit together like a giant puzzle," he says.
When the city decided to rebuild the basin and discard the rocks, Kanary acquired the stone for free. He uses them in many of his patio projects. Customers like the idea of using materials that come with a story, he says.
If obtaining recycled materials isn't practical, you can still achieve a custom-built look with prefab pavers and wall components that have an Old World or vintage appearance offered by several manufacturers.
"For a long-term investment, pavers are the ultimate patio surface. With their colors, shapes and textures you have many choices," LaFleur says.
TLC Landscaper of the Year finalists' fine points:
Use the highest quality pavers available. Pavers from box stores have up to 50 percent less cement than commercial pavers, which is why they crack so easily," says Mark D. Halla, owner of The Mustard Seed in Chaska, Minnesota.
Use polymeric sand to prevent ants, weeds and erosion, Halla says. Spread over the top of the pavers once the project is completed, and then sweep it into the joints. Use a sled tamper to set the pavers. Clean the top of the patio with a blower before the sand is wet down and activated. It will swell to fill the joints completely to prevent ants from burrowing and weeds from growing.
"Give your customer samples of the materials to review [in the setting where they'll be installed] for a few days since bricks and stones often change, depending on the light and weather," says Thomas Nierman, owner of Nierman Landscape and Design in Woodstock, Illinois.
"Drainage: How does water approach and leave the area? This is an important thing to take into consideration," says Dickerson.