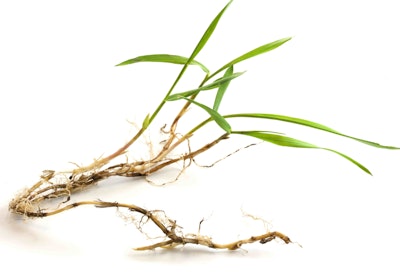 Pre-emergence prevention is one of several strategies to combat these tough weeds.
By Cindy Ratcliff
Planted and planned, one man's weed is another man's turfgrass. But when bentgrass crops up unannounced in your carefully manicured Kentucky bluegrass, this monocot is nothing more than a weed.
Grassy weeds are among the toughest to combat, and your strategy for handling them will differ greatly from that for typical broadleaf weeds. Because grassy weeds are monocots and most broadleaf weeds are dicots, their tolerances to chemical herbicides can be quite different, particularly to post-emergence products.
"It is much more difficult – and in some turf species almost impossible – to remove existing grassy weeds without injury to the turf," says Wayne Wells, turfgrass specialist and extension professor at Mississippi State University. "Weed management is dictated by timing of weed germination and population dynamics. Grassy weed management strategies rely heavily on pre-emergence herbicide applications to prevent establishment prior to germination."
While a pre-emergence strategy gives you the edge on offense, Wells stresses the best weed management is a good defense: Quality turf, as a healthy, dense turf canopy, is a strong competitor with weeds.
"A good analogy is a picture puzzle. Any missing pieces leave holes, and the picture is never complete," he says. So, when any other maintenance practice (mowing, watering, nutrition, other pests control, etc.) of turf management is lacking, holes are left for weed encroachment.
Proper mowing is critical to quality turf, Wells says. "Every turf species has an optimum height range, and this should be maintained by never removing more than 1/3 of the total leaf area at a single mowing." For example, a Bermuda grass lawn maintained at 1 1/2 inches should be cut to never remove more than 1/2 inch in a single mowing. "The lawn needs to be cut regularly with a sharp blade to prevent scalping and leaf shredding. Regular mowing also eliminates many weed seedheads before the seeds mature so the seed bank is greatly reduced."
Smart watering: A thorough but less frequent watering regime is more effective in producing quality turf than applying small amounts every day, which encourages shallow turf rooting. Watering early enough in the day to allow the foliage to dry before nightfall will reduce the potential for disease problems, which can open the canopy for weeds.
Picking products: Grassy weeds appear in two basic forms: annual types, such as crabgrass, goosegrass and annual bluegrass, and perennials, such as Bermuda grass, Bahia and Dallisgrass, which are major problems for Southern lawns. There are considerable differences in managing cool-season versus warm-season turf species with herbicides and timing of applications.
"There are several effective products to choose from to apply preventatively," Wells says, addressing control for warm-season turfs. Most have cell-inhibiting activity, but selection should be based on specific local conditions. "The keys to success are proper timing and rate of application, thorough uniform coverage and activation prior to seed germination."
For established grassy weeds, selecting the best herbicide is more challenging. "Bahia can be removed from most other warm-season turf species with metsulfuron," Wells says. "Sethoxydim is effective in removing several grassy species from centipede. Many of the newer sulfonyl-urea type products are effective for removing several cool-season grasses from warm-season turf species."
Critical conditions: Warmer temperatures can wreak havoc on the cool-season grasses of the Midwest, opening the door for grassy weeds. The stresses put on turf by brutal temperatures weaken turfgrass plants, making them more susceptible to weed invasion, says John R. Street, associate professor of horticulture and crop science at Ohio State University.
"Normally, cooler, less humid nights help the turfgrass rebound from the daytime stresses, but the higher day and nighttime temperatures result in significant stress on both the shoots and root systems of all our typical cool-season grasses, like Kentucky bluegrass, perennial ryegrass, fine fescue and bentgrass," Street says.
The result is a bumper crop of grassy weeds, especially crabgrass.
In a more typical season, the timing of a pre-emergence herbicide can make or break your success at combating grassy weeds. "The timing of pre-emergence herbicide applications is the most critical component of an effective chemical control program," Street says. "It is a sound agronomic strategy to apply the pre-emergence herbicide a little earlier in the spring than to delay the application and miss the target date window. Improper timing is considered one of the major reasons for pre-emergence herbicide failures."
In the Midwest, this means applying a pre-emergence herbicide in the early spring, one to two weeks prior to crabgrass seed germination. Annual bluegrass germinates significantly earlier in the spring, so you'll need to apply chemicals even earlier for maximum efficacy. "Late fall applications of pre-emergence herbicides may be an alternative approach where annual bluegrass is the key target weed," Street says.
Heed directions: Any time you are implementing a chemical control for weeds, there is the potential to harm desirable turfgrass, which is why it is critical to read and follow all label instructions and precautions.
Improper timing is one of the major reasons for pre-emergence herbicide failures.
"We don't take prescription medicines without following instructions, so treat your lawn the same way," Wells says. "Hundreds of test and trials have been done to establish use rates and application guidelines. If these are followed, it is extremely rare that injury will be greater than described on the product label. However, misapplication, adverse environmental factors and turf stress conditions can often impact turf tolerance."
Maintenance matters
Controlling grassy weeds is typically an early-spring activity. Depending on your region, this is a time of year when you're not yet overwhelmed with mowing, so take advantage of it to concentrate on pre-emergence herbicide applications for grassy weeds.
"In the South, preventative weed control applications offer an opportunity to keep busy during dormant periods when the turf is not growing," Wells says.