Chicago-area residents left the frenzy of the city for a glimpse into a peaceful town with this stop on the "Through the Garden Gate" tour, which featured seven unique garden spaces at homes throughout the architecturally rich community.
The model train garden, created by Bruss Landscaping, spans the majority of their clients' backyard and includes a town, tunnel, bridge, water features and streambed. The stream, which doubles as a drain and aesthetic element, is comprised of Holey boulder, cobblestone and small decorative gravels.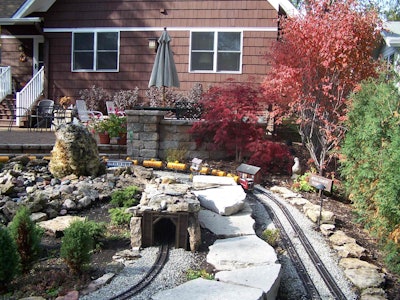 To keep the "Prairie Crossing" project from derailing, the landscapers spent months working on the design and installation.
"The town had numerous requirements for intricate slope and drainage controls to eliminate impact on neighboring properties," says Eric Bruss, president of Bruss Landscaping.
Bruss and his team also planted varieties of dwarf conifers and perennials that were in scale with the miniature town: junipers, pine, arborvitae, sedum and thymes. To encompass the area, they used larger foliage, including three Japanese maples and focal redbud and birch plantings. Adjacent the railroad is a clay paver patio, which is intertwined with flagstone pathways and outcroppings.