You should care about your gas cans, says the crew over at our sibling magazine ProPickup.
In a recent post by contributor Tim Walton, says "here's what will give you insight into staying safe and legal, or citation free."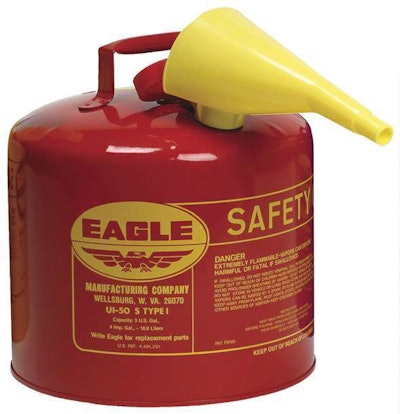 The Feds
Occupational Safety and Health Administration (OSHA) requires that a gas can be a closed container that with a maximum capacity of 5 gallons.
The can must have a flash-arresting screen and a spring-closing lid, and be able to safely relieve internal pressure. "Safety cans," which meet OSHA requirements, are exempt from most states' spill-proof container regulations.
A legal fuel can must be approved by a nationally recognized testing laboratory, such as United Laboratory (UL), to satisfy OSHA requirements.
The Department of Transportation (DOT) considers flammable and combustible liquids to be hazardous materials and subject to strict transport rules.
There is, however, an exemption for Materials of Trade (MOT), which excludes gasoline used "to support the operation or maintenance of a motor vehicle (including its auxiliary equipment) or to directly support a principal business of a private motor carrier such as landscaping, pest control, painting, plumbing or welding.
Gasoline is a medium or lower hazard and therefore the maximum package is 8 gallons for liquids (which is higher than the OSHA requirement).
Basic Can Safety
Always place the can on the ground and keep the nozzle in contact with the can during the entire filling process to avoid ignition of vapors from static electricity.
Don't over-fill. Leave room in the container for expansion of the gas. Vapor volume will increase as temperatures rise, so leaving open space for that expansion is important.Loaded and Locked
When transporting any kind of hazardous liquid it's import to protect the containers from movement and potential damage. Gas cans sliding into trimmers, rakes and other tools can be a big problem. Lock gas cans down before a wheel moves.
Eagle
Eagle's OSHA-approved Type I Safety can (shown above) is constructed of hot-dipped 24-gauge galvanized steel, which means it is lead-free and environmentally friendly. The pour spout and flame arrestor are made of non-sparking brass.
These double-interlocked, no-weld bottom seam cans are available in 1-, 2- and 5-gallon sizes. Eagle: eagle-mfg.com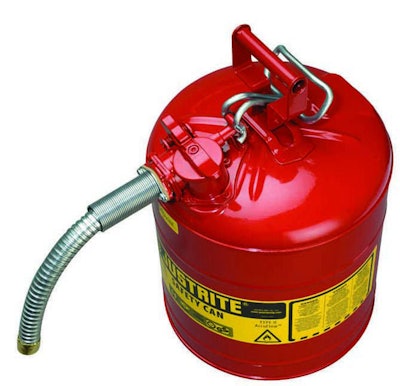 Justrite Fuel Can
The Type II Safety cans from Justrite feature their AccuFlow Innovative Manifold allowing for faster, smoother and more controlled pouring. The quick-open fill port with ergonomic lift level allows for easy filling while auto venting protects against pressure build-up.
Justrite's precision flame arrester screens are made of stainless steel, providing excellent corrosion and chemical resistance, with long length for safe insertion of gas nozzle, while reducing fire risks. The cans have large ID zones to designate content, which can reduce misuse or incompatible mixtures. Justrite: justritemfg.com
Kolpin Fuel Pack Jr
Fuel Packs from Kolpin offer versatility that provides convenience for transporting fuel with unlimited mounting capabilities on your trailer, garage wall, pickup bed or service body. Made of high-density polyethylene, the containers are puncture resistant and crush proof.
Kolpin's versatile brackets, combined with their ¼-turn release/locking action, allows for quick and easy removal.
Kolpin: kolpinpowersports.com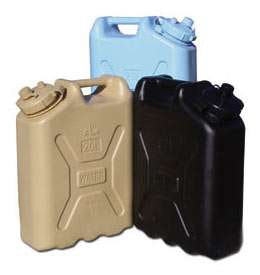 Scepter Fuel Cans
Scepter is a Canadian manufacturer that uses its expertise of injection molded plastic technology to design a next generation, three-handled polyethylene Military Fuel Can (MFC).
Scepter Military Fuel Cans are widely regarded as the best quality, safest jerry can on the market today. Since their creation, the Scepter MFC have quickly become the fuel container of choice for armed forces around the world, including NATO. Scepter: sceptermilitary.com