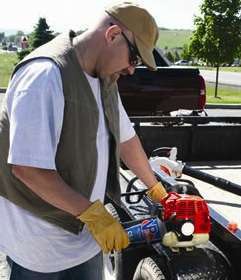 You would have thought will all the noise being made in landscaping about the evils of ethanol that an announcement on a proposed solution would have generated more interest. Alas, attendance was so sparse at VP Racing Fuels' press conference at the GIE+Expo in Louisville last week that Steve Burns, VP's CEO apologized for taking the stage — and thus separating himself from the few editors in attendance.
All of which was fine with me. I love it when I seem to stumble on a story that others are ignoring.
Burns has not made it his life's work to excel in making power point presentations. Rather, his passion is designing unique racing fuel blends that will help him in his quest for optimum horsepower. Since he founded the company in 1974, he's designed boutique fuels for drag racing, motocross and road racing.
And now he wants to take on the outdoor power small engine gasoline market — and it's ethanol problem.
Small engine manufacturers have loudly protested EPA's push towards using gas with ethanol. EPA now is permitting 15 percent ethanol. E15 "destroys small engines," said Kris Kiser, president and CEO of the Outdoor Power Equipment Institute, speaking at a GIE+Expo press conference last week.
Among ethanol's problems: excessive heat, melting of plastic guards, fuel leaks, evaporative emissions issues, unintended early clutch engagement and permanent engine damage. "The effects of just E10 are coming on strong," Burns says.
"It's like a cancer, taking time to break down components. Outdoor power equipment is highly sensitive to fuel."
Burns contends the answer isn't a fuel stabilizer, since stabilizers treat pump fuel. "Pump fuels are blended to a minimum spec at the lowest cost and are inconsistent," Burns says.
To address ethanol problems, VP has designed three VP Small Engine Fuel versions, including a gasoline for 4-cycle engines and two blends pre-mixed with oil for 2-cycle applications. The fuel comes in four sizes: quarts, gallons, 4-gallon pails and 54-gallon drums, and will remain stable "for years in its original sealed container," says the company.
According to VP, stabilizers only retard problems related to ethanol, while it products prevent the problems from occurring in the first place. And it says the fuel can remain in an idled machine with no negative impact on fuel systems — eliminating a pesky beginning-of-the-season oil drain.
VP hopes soon to announce distribution agreements with rental and equipment dealers, and major retailers.
"Fuel is a component that needs to be chosen just as carefully by engine manufacturers as a cylinder head design," says Burns. "It makes sense that engines will start to require premium fuel."
~~ Marcia Gruver Doyle
Editorial Director, Construction Media
Equipment World