It's hard to keep a good man like Jason Gordon down.
But today his injured back has reduced him to laying on a pillow in the backseat of his pickup truck while being interviewed about his business, Total Turf. Inc in Westchester County, New York.
Total Turf is a finalist for TLC's 2013 Landscaper of the Year Contest and serves mostly high-end residential properties in the area just north of Manhattan.
At first, Gordon struggles to get comfortable, and flips from his back to front, trying to find some marginal spot where he can speak without his back complaining. But as he begins to describe his business, how he started, and how it's prospered, he gains spirit and energy and seemingly forgets the pain, if just for a few minutes.
In 2001, he began working for friends and neighbors performing small plantings, irrigation installation and maintenance work. Today, the company has more than 100 residential clients and several homeowner association accounts, all of which can be demanding clients.
Yet, Jason seems calm and confident. "The thing that separates us from competitors is that we truly care about our clients," he says.
"If that means taking a hit because we made a mistake — or a client thinks we made a mistake– so be it. We gain trust and come out winners in the long run."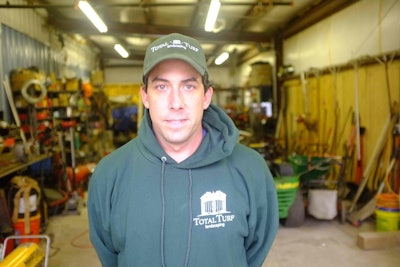 Among the more unusual properties we visited was an estate with its own exotic zoo, including a couple of conspicuous albino kangaroos, birds of every size and stripe, camels, and even what appeared to be Galapagos turtles.
At another home, obscured by a massive planting of new trees was a the retreat of a well-know comedic movie star, who once asked for $40,000 worth of LED lights, all arranged in one tree.
No matter what the task, Total Turf is prepared to handle it. Another excellent finalist in this year's contest.
On a personal note: We wish Jason a speedy recovery!
To learn more and register for the next round of LOY, click here.