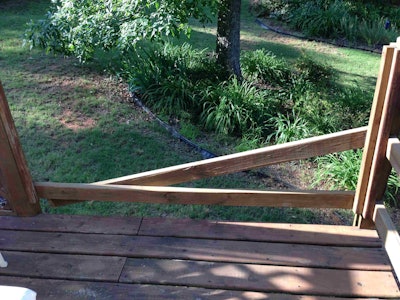 Trying to recover from a near-death — or at least possibly painful — experience was not exactly how I planned to spend my wedding anniversary with my husband. But there we stood, staring at what used to be our deck railing, as we caught our balance.
While leaning against the side of our deck, the rails popped off like they were connected with flimsy tape. We didn't fall and had no injuries, but that isn't to say I felt any better about the situation. When I called my dad to give him a good laugh at our expense, he jokingly said, "I guess you should sue the homeowners."
Although bringing charges against myself didn't seem like a great idea, it did make me think. Bad things can happen, even if you do everything right with a project. Hopefully you would create a deck better than the one in my backyard, but it is a good idea to have coverage for your business and employees.
Insurance companies, like Progressive, have tailored packages for your landscape business. You can get coverage for everything from vehicles and workers compensation to liability. Not only does insurance cover you with accidents, it also gives your business credibility. And in some states, having general liability issue is required by law.
In some plans, you can also specialize your plan to include tools and equipment, auto pollution liability, workmanship error and herbicide and pesticide application.
So, make sure you and your business are covered — and not falling apart like my deck.