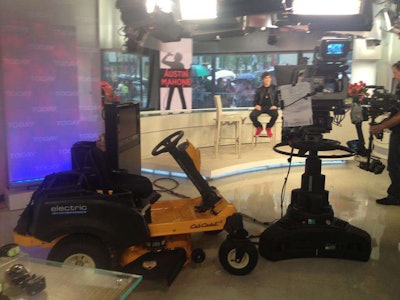 With Father's Day just two days away, you might still be racking your brain for something to get your dad. If he shares your love for landscaping, here are some good options.
I was watching the Today Show with Kathie Lee and Hoda the other day when they shared their top Father's Day gifts.
One of the new products they mentioned was Cub Cadet's RZT S Zero electric mower, which is ideal for homeowners with 1 acre or less to mow. (If you want to see how mowers like this are changing the industry, stay tuned for my July "Mowers of the Future" article.)
If your dad enjoys spending time outdoors like you, take him on a landscape and garden tour, like the one in East Meredith, New York. On the tour, you and your dad will get a look at eye-catching foliage, water features, artwork, vegetable beds and wildlife.
For unique and neat gifts, check out Opulent Items. They offer outdoor, personal, home, pet and just cool products. From a two-person umbrella, labyrinth aquarium and bike tent to a picnic suitcase, you won't find gifts like these anywhere else. (Warning: You may end up buying more things for yourself, instead of your dad, when you visit the site.)
But as we all know, it isn't about the yearly gift and card — although you probably want to get him something. For me, I'm taking my dad to a baseball game. What says "thanks, dad" more than hot dogs, popcorn and rooting on the home team?