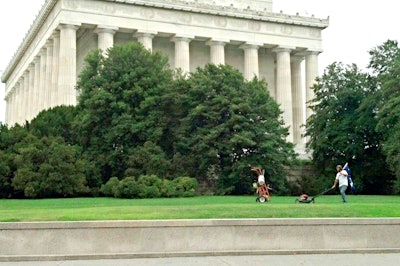 I've never been one for politics.
However, I am forced to touch on the Government Shutdown because of one man.
Social media started exploding around the Washington D.C. area on Oct. 9 after one man appeared at the Lincoln Memorial with a lawn mower.
Many businesses, including memorials, have been closed due to the Government Shutdown, but one man showed his loyalty.
People from all over started tweeting about the man carrying a South Carolina state flag who was mowing the Lincoln Memorial lawn.
"A guy has taken it upon himself to mow the lawn at the Lincoln Memorial. God bless that man," one Tweet says.
"Strangest thing I seen during #shutdown man cutting Lincoln Memorial lawn… @Lincoln Memorial" another says.
Wherever your opinion stands with the Government Shutdown, a civilian, who has been identified as Chris Cox, showing up to take care of his nations' capitol is an impressive sight.
Cox had initially expressed his concern with the Lincoln Memorial being shutdown to his state representative. However, it was a few days later when his representative saw Cox taking care of the property on his own.
"Today I went for my run down to the Lincoln Memorial, and there in front of the memorial I saw a South Carolina flag hanging from the back of a lawn mower," says Representative Mark Sanford (SC-1) in a statement. "Curious I went up to the flag, and who should be there, but Chris. It turns out he had taken it upon himself since our visit last week to keep up the Lincoln Memorial, Vietnam and World War II memorials and surrounding grounds.
"He bought a lawn mower, a blower and told me he had spent the days and evenings since our visit, picking up trash, cutting grass and blowing leaves to keep walkways clean. An hour before we met, a park service officer had come up and told him he was no longer allowed to do so…though the park service would not maintain these monuments now."
I guess it goes to show, don't ever underestimate the power of a man and his lawn mower.